Fingernail Care
If there is one area of discussion that players recommendations are all over the board on - it's fingernails for classical guitar. The technique and subject for classica guitar is appropriate for ukulele as well. The ukulele is almost a mini classical guitar missing two strings.
William Kanengiser Video
No need to reinvent the wheel. This video in the Learning with Legends - William Kanengiser provides one of the best and clearest explanations of the contentious topic of fingernail care as it applies to technique.
More...
A book that I remember that had a good explanation of different nails and their care is **Pumping Nylon: The Classical Guitarist's Technique Handbook** by Scott Tennan.
Learning with Legends - William Kanengiser
Nail Tips • Curt Sheller
With fingerstyle and fingerpicking a big part of playing the ukulele, keeping your right hand fingernails in top shape can be tough at time. Here are a few tips to protect your nails and keep out of trouble.
Keep nails short. DO NOT clip you nail on the plucking hand.
Organize your pockets for potential nail damaging objects suck as keys.
Learn to reach and use your left hand more. You're left hand is already pretty developed from playing. Door knobs are what get me the most and wearing bi-focal glasses are what get me the most.
For gigging musician loading gear ina and out — Wear gloves.
End of Lesson - Thanks, Hope You Enjoyed It!
Related Lessons
Related Lessons for Fingernail Care at this time.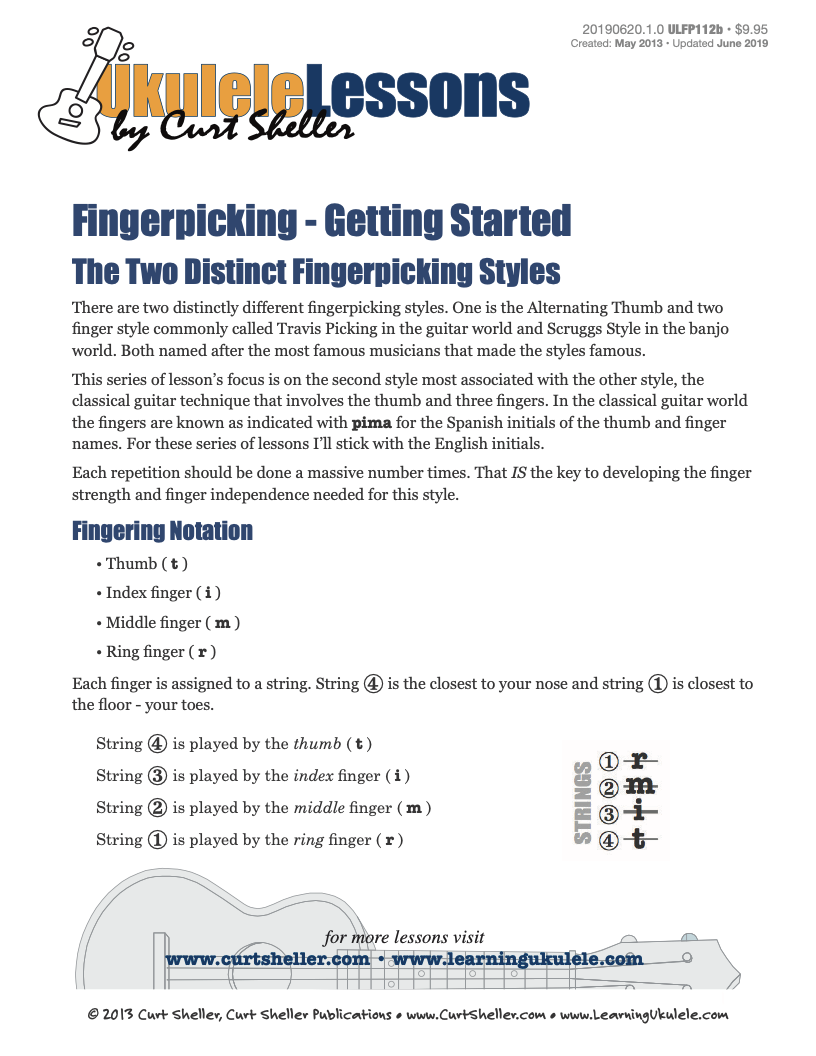 Fingerpicking for Ukulele - Getting Started
• Updated: Jun 20, 2019
There are two distinctly different fingerpicking styles.
One is the Alternating Thumb style commonly called Travis Picking in the guitar world and Scruggs Style in the banjo world. Both named after the most famous musicians that made the style famous.
Second is the Classical (pima) style most associated with classical guitar that involves the thumb and three fingers.
This focus of this series is on the second, classical style.
Related Books
Related Books for Fingernail Care at this time.
Related Songs
Related Songs for Fingernail Care at this time.
Related Lesson Series
Related Lessons Series for Fingernail Care at this time.
Alternating Thumb Fingerpicking on Ukulele

Updated: Jan 1, 2003
This is the common alternating thumb and two finger strumming style utilizing the thumb, index and middle fingers. Commonly called "Travis" picking in the guitar world. This series of lessons explores and adapts this style to ukulele. Travis Picking is a finger-style made famous by Merle Travis and Chet Atkins. This style is commonly played on steel string acoustic guitars. You'll find this series of lessons to be the most complete, comprenhesive and organized series of lessons offered anywhere - GUARANTEED.
NOTE: Each higher access level includes ALL the benefits of the lower levels. Private Lessons include all the benefits of a Premium Access Plans as long as you remain a student on the schedule.
Just browsing over both books, they look fantastic! I'm a guitarist and uke player for over 25 years and was thinking about writing a ukulele book but you've already written what I think are the best, most comprehensive and thorough books I've ever seen for the instrument. I just might end up buying every book you've written and I'll be giving my highest recommendation for your books to my friends and students. Thank you so much for taking the time to write such great books! — Peter Rhee
Aloha, Curt, All I can say is WOW! What you have accomplished is simply incredible! All the best — Glen Hirabayashi, The Aloha Boys
Folks, if you haven't stopped by Curt's site, do so right now! ..And get his books, they are fantastic. This guy knows his stuff and is able to pass it along too. — Alan Johnson Proprietor, The 4th Peg
I can highly recommend Curt's Uke books — I have four of them and they are excellent. — fatveg — Portland
Thanks for visiting and checking out the site!

Original Curtie Animation from 1987 for my first web site on a Macintosh II.
33 years ago.
"Built for myself (Curt), and sharing with the `Ukulele community!"
LearningUkulele.com has one of the largest collections of lessons, songs, and TABS, luthiers, ukulele builders, ukulele festival and club information, and, ukulele links on the web. I've been on the ®Internet since the early 1990's and This site just never stops growing!!!
Content is added and updated almost daily - so check back often.