If there is one area of discussion that players recommendations are all over the board on - it's fingernails for classical guitar. The technique and subject for classica guitar is appropriate for ukulele as well. The ukulele is almost a mini classical guitar missing two strings.
William Kanengiser Video
No need to reinvent the wheel. This video in the Learning with Legends - William Kanengiser provides one of the best and clearest explanations of the contentious topic of fingernail care as it applies to technique.
More...
A book that I remember that had a good explanation of different nails and their care is **Pumping Nylon: The Classical Guitarist's Technique Handbook** by Scott Tennan.
Learning with Legends - William Kanengiser
Nail Tips • Curt Sheller
With fingerstyle and fingerpicking a big part of playing the ukulele, keeping your right hand fingernails in top shape can be tough at time. Here are a few tips to protect your nails and keep out of trouble.
Keep nails short. DO NOT clip you nail on the plucking hand.
Organize your pockets for potential nail damaging objects suck as keys.
Learn to reach and use your left hand more. You're left hand is already pretty developed from playing. Door knobs are what get me the most and wearing bi-focal glasses are what get me the most.
For gigging musician loading gear ina and out — Wear gloves.
End of Lesson - Thanks, Hope You Enjoyed It!
Related Lessons, Videos, Lesson Series, Songs, Books & Reference Charts, Resources & Assets, Workshops are below.
Related Lessons
Related Lessons for Fingernail Care.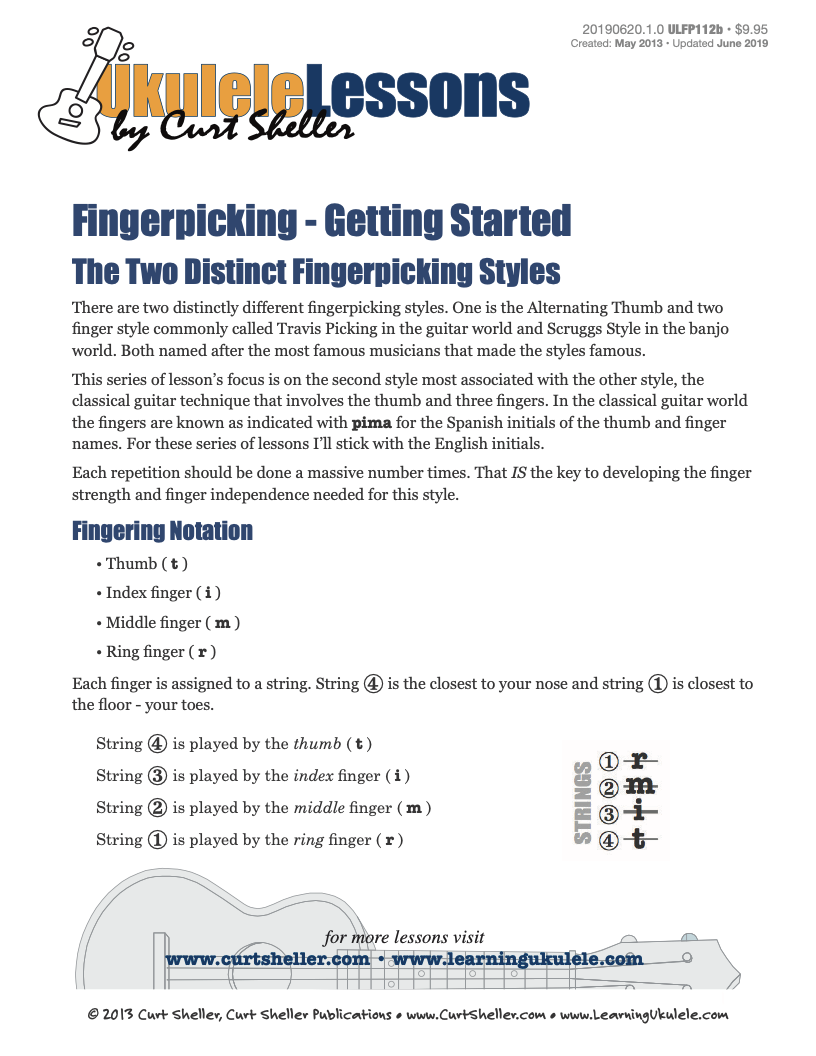 Fingerpicking for Ukulele - Getting Started
Updated: 20 Jun 2019
There are two distinctly different Fingerpicking Styles. The Classical (pima) and "Alternating Thumb Style" commonly called "Travis Picking" in the guitar world and "Scruggs Style" in the banjo world. The focus of this series is on the classical (pima) style.
Related Lesson Series
Related Lessons Series for Fingernail Care.
Alternating Thumb Fingerpicking on Ukulele
Updated: 01 Jan 2003
This is the common alternating thumb and two finger strumming style utilizing the thumb, index and middle fingers. Commonly called "Travis" picking in the guitar world. This series of lessons explores and adapts this style to ukulele. Travis Picking is a finger-style made famous by Merle Travis and Chet Atkins. This style is commonly played on steel string acoustic guitars.
Related Songs
Related Songs for Fingernail Care.
Related Books & Charts
Related Books for Fingernail Care.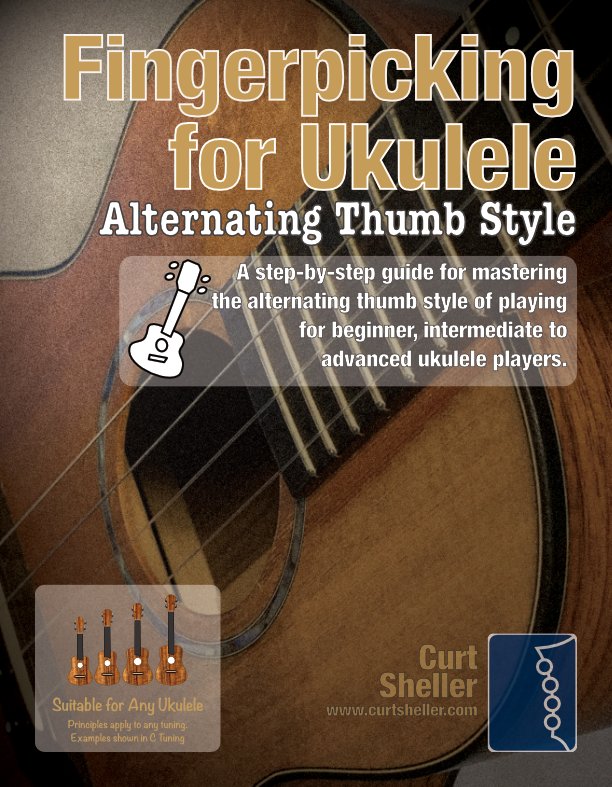 Fingerpicking for Ukulele - Alternating Thumb Style
Updated: 07 Aug 2018
Fingerpicking for Ukulele - Alternating Thumb Style, 2nd Edition is a new expanded edition that focuses on the alternating thumb fingerpicking style through a series of graduated lessons-chapters incorporating your index and middle fingers with the alternating thumb.