View the Download section of this page to download the song files for the complete and most up-to-date versions.
**Take Five **is a jazz piece written by Paul Desmond and performed by The Dave Brubeck Quartet on their 1959 album Time Out. Recorded at Columbia's 30th Street Studios in New York City on June 25, July 1, and August 18, 1959, this piece became one of the group's best-known records. It is famous for its distinctive catchy saxophone melody; imaginative, jolting drum solo; and use of the unusual quintuple (5/4) time, from which its name is derived. The song was first played to a live audience by The Dave Brubeck Quartet at the Village Gate nightclub in New York City in 1959.
The inspiration for this style of music came during a US State Department sponsored tour of Eurasia and Brubeck observed in Turkey a group of street musicians performing a traditional Turkish folk song with supposedly Bulgarian influence that was played in 9/8 time, a rare meter for Western music (traditionally called "Bulgarian meter"). After learning about the form from native symphony musicians, Brubeck was inspired to create an album that deviated from the usual 4/4 time of jazz and experimented in the more exotic styles he experienced abroad.
Take Five - Premium Playalong Track
This play-along is ONLY available to active Gold Premium Site Members. Can't give it all away.
Here is a FREE track as a sample of the quality of these custom play-along tracks.
Desafinado - Premium Playalong Track with Guitar Melody Played
I, (Curt) originally created these track to perform over for gigs and this was a demo for booking gigs.
The Premium Playalong Tracks available to LearningUkulele.com Site Members are my personal one-of-kind tracks I (Curt) and Chuck Anderson recorded and arranged.
Download the Lead Sheet and have a go at it.
Main Song Download(s)
The main downloads for this Song.
top
Take Five - Lead Sheet with Melody for Premium Play-long Track
Leadsheet for the premium play-along track. This is a reallu cool to songs to play.

Members Only
Log-in to access.
Take Five - Premium Play-long Track
Premium play-long track for Take Five, the Dave Brubeck classic.

Members Only
Log-in to access.
Song Road Map
Tips and tricks for remembering a song.
top
A Road Map Through Song
Remembering songs is all about the form and harmonic content and movement with taking in the similarities between songs. And, just like a road map they're landmarks that will trigger memories of how to get through various sections, changes or parts of a song.
This section of a song's page presents some tips on how I try and remember a particular song.
No Road Map for Take Five check back soon.
Related Song Files, Resources and Assets
Related Assets for Take Five at this time.
top
No additional asset for Take Five at this time.
Related Lessons
Related Lessons for Take Five at this time.
top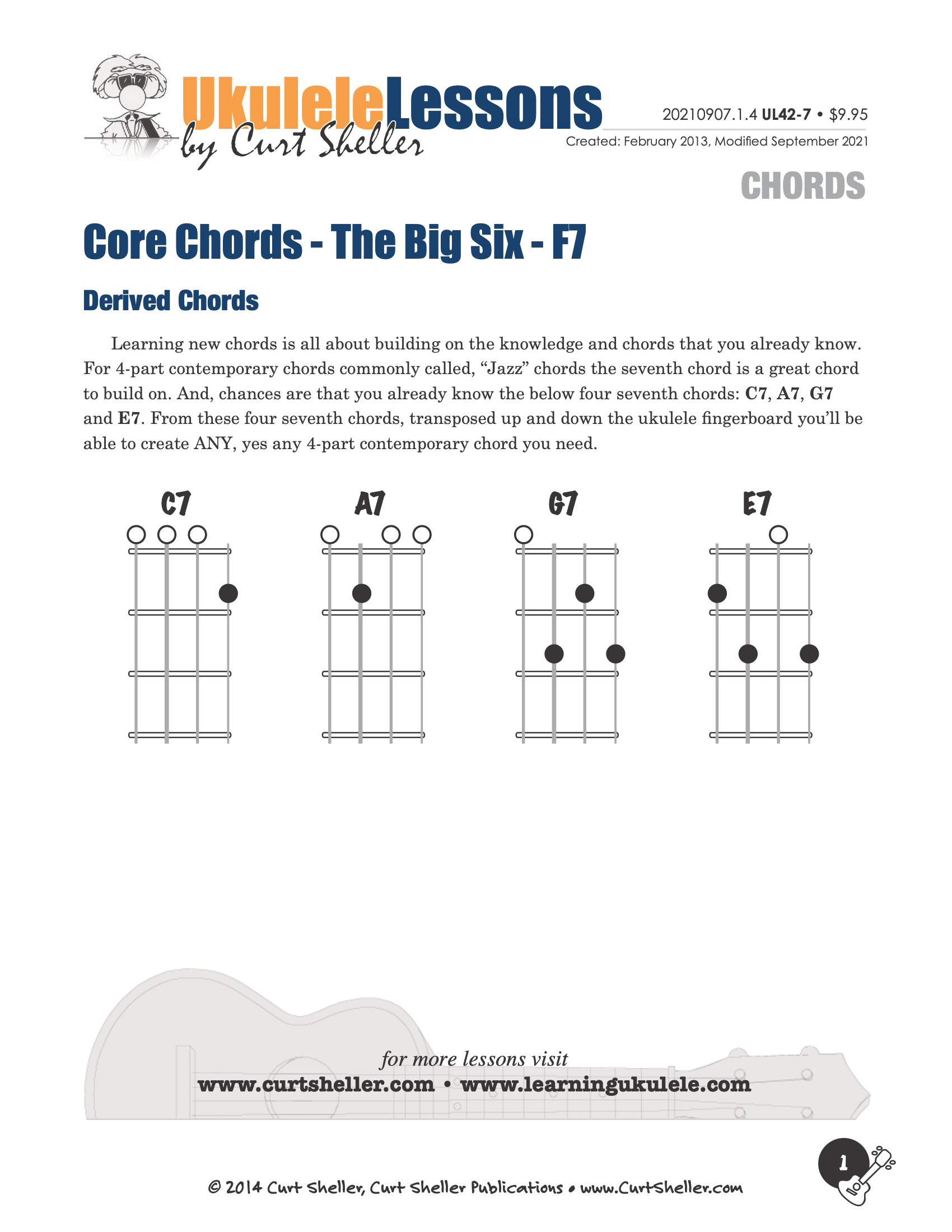 Core Chords is a series of lessons for building your core, essential 4-part chords. These chords commonly called jazz chords, are really just 4-part chords used in a wide range of musical styles.
Related Song Books
Related Books for Take Five at this time.
top
Related Lesson Series
Related Lessons Series for Take Five at this time.
top
Reading for Ukulele - The Next Steps
Reading can be thought of on many different levels. 1) the ability to slowly and painfully work out the written music. 2) the ability to hear the music by looking at the notation. 3) the ability to notate< your ideas in standard music notation. 4) the ability to read music as you read a book or an article. 5) the ability to communicate with other musicians in the written language of music. 6) the ability to learn songs that you have never heard.
This series of lessons picks up after right after the Reading Music on Ukulele - Primer which focused on reading in the open position. This series is a Pro level series of lessons to get you really reading.
Related Songs
Related Songs for Take Five at this time.
top
No related songs for Take Five at this time.
Related Videos
Related Videos for Take Five.
top
No videos for Take Five at this time.
NOTE: Each higher membership level includes ALL the benefits of the lower membership levels. The Private Lesson Plans include all the benefits of a Premium Access Plans as long as you remain a student on on the schedule.
Just browsing over both books, they look fantastic! I'm a guitarist and uke player for over 25 years and was thinking about writing a ukulele book but you've already written what I think are the best, most comprehensive and thorough books I've ever seen for the instrument. I just might end up buying every book you've written and I'll be giving my highest recommendation for your books to my friends and students. Thank you so much for taking the time to write such great books! — Peter Rhee
Aloha, Curt, All I can say is WOW! What you have accomplished is simply incredible! All the best — Glen Hirabayashi, The Aloha Boys
Folks, if you haven't stopped by Curt's site, do so right now! ..And get his books, they are fantastic. This guy knows his stuff and is able to pass it along too. — Alan Johnson Proprietor, The 4th Peg
I can highly recommend Curt's Uke books — I have four of them and they are excellent. — fatveg — Portland
Thanks for visiting and checking out the site!

Original Curtie Animation from 1987 for my first web site on a Macintosh II.
32 years ago.
"Built LearningUkulele.com for myself, and sharing with the `Ukulele community!"
LearningUkulele.com has one of the largest collections of lessons, songs, and TABS, luthiers, ukulele builders, ukulele festival and club information, and, ukulele links on the web. I've been on the ®Internet since the early 1990's and This site just never stops growing!!!
Content is added and updated almost daily - so check back often.