Ukulele Tonewood Information
Ko'olau Guitar & Ukulele Company
Ukulele Tone Wood Characteristics

Ko'olau makes some of the finest ukuleles in the world. I'm a little partial as I have two CS Tenor models ( Rosewood back and sides / Cedar top ) I use for everything. As well as several solid-body tenors and we carry their Pono line of ukes at our Funky Frets Music Store.
Mahogany top, back, and sides (All Mahogany) - This is a traditional combination used for many years by many famous makers such C.F. Martin Company for guitars and ukuleles. warm and mellow tone. Very even note equalization. The most traditional combination of woods for an 'ukulele have been either all Koa or all Mahogany.
Mahogany back and sides with Spruce or Cedar top - with the addition of Spruce or Cedar to the top of a guitar or ukulele the overall tonal range is increased. In other words, because Spruce or Cedar are technically "soft" woods, with more tensile flexibility, they can vibrate more freely and thus create clearer and pronounced treble and bass notes. Again, not better, just different.
Mango is a wood we are using more often. It's usually plentiful (as long as it's not mango season, when cutting down a mango tree is very popular). Mango wood grain is sometime unpredictable, and so we only select some, and reject most. The appearance is wildly beautiful. And on our fancy models we try to use the most figured and curly grain. As for tone, Mango is similar to Mahogany in weight, density, and tone.
Acacia Koa top, back, and sides (available on Ko'olau models only): somewhat similar to Mahogany, but due to it's density and weight (41lb/ft and .55sg, compared to Mahogany at 34lb/ft and .54sg), Koa produces a brighter, more projecting tone.
Acacia Preta similar to Acacia Koa, similar density, lighter weight. Warm tone.
Acacia (Koa or Preta) with a cedar or spruce top. As mentioned above, cedar and spruce are soft woods and flex and vibrate more freely than hardwoods. Thus more projection and a wider tonal range.
Ebony: the ebony we use is a rare species of ebony. The most common ebony used throughout the centuries has been from Africa, usually called Madagascar Ebony. And traditionally has been all black (though much of it is stained black because the accepted perception of ebony wood is black).
The Difference Between Spruce and Cedar
Both are considered "soft" woods, from evergreen trees. Both have a tensile flexibility that's different from "hard" woods, such as Mahogany, Koa, Rosewood, Maple, and Ebony. Due to their flexible or "bendable" nature they are excellent as top soundboard woods. Simply stated, when strings are played the top vibrates, which causes a "pumping" action, and thus projecting tone out the soundhole. Although Spruce and Cedar both great top woods, due to their density and specific gravity (weight) the tone is different. Spruce is slightly harder than cedar, and it's cell structure is different, and so tone and volume is bright, clear, and projecting. Cedar is softer and thus produces a warmer tone, somewhat like an aged spruce. Our Spruce is Englemann Spruce from British Columbia Canada. And our Cedar is Western Red Cedar from Vancouver Island Canada.
Tony Graziano Ukuleles
Ukulele Tone Wood Information &
Tony Graziano Ukuleles, Tony Graziano has been building musical instruments since 1969 and became interested in the Ukulele in 1978 , and then in 1995, after several years of building both guitars and Ukuleles, Tony began building Ukuleles almost exclusively. Tony likes to think of the ukulele as an instrument of the millennium. Its compact, easy to travel with, and brings joy to all who hear and play them. All Tony Graziano Ukes are built by Tony in his Santa Cruz shop using of the finest woods available.
Check out the Tony Graziano Ukuleles web site.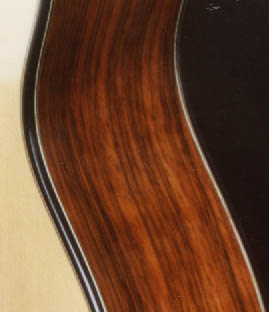 Rosewood
Great for a enhanced bass tone. Works well in baritones with a spruce top.(as shown here) very good low end.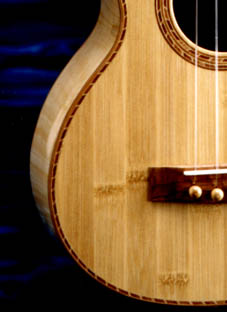 Bamboo
A non endangered tropical wood. Great bright sound and great unique look. Bamboo literally grows like grass.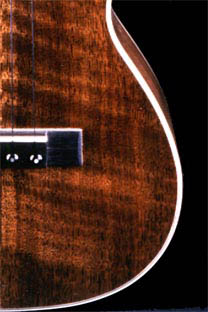 Walnut
A very pretty domestic hardwood.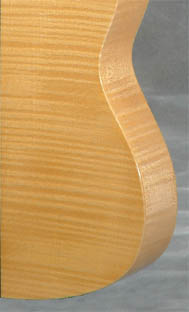 Maple
Bright sound, clearer treble response.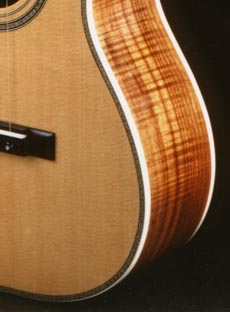 Spruce
An excellent Top wood with a warm full sound. Makes for a louder Uke with more sustain. Shown here on a Uke with Koa sides.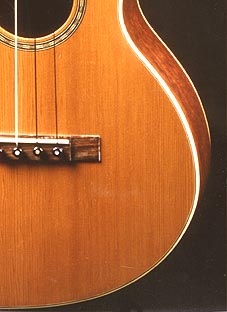 Cedar
Similar to spruce, but with a "darker" sound. Responds quickly with no break-in time required.
">
Tone Wood Information &
Here are a few sites that have great information on tonewoods.