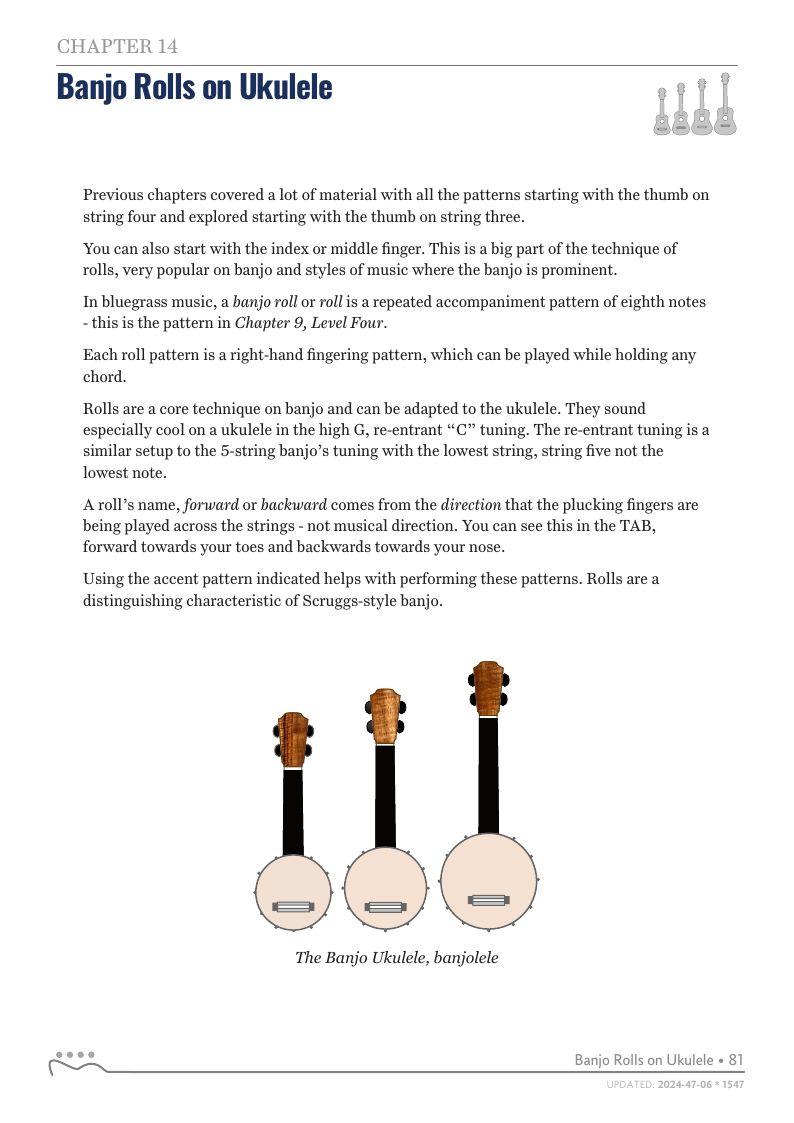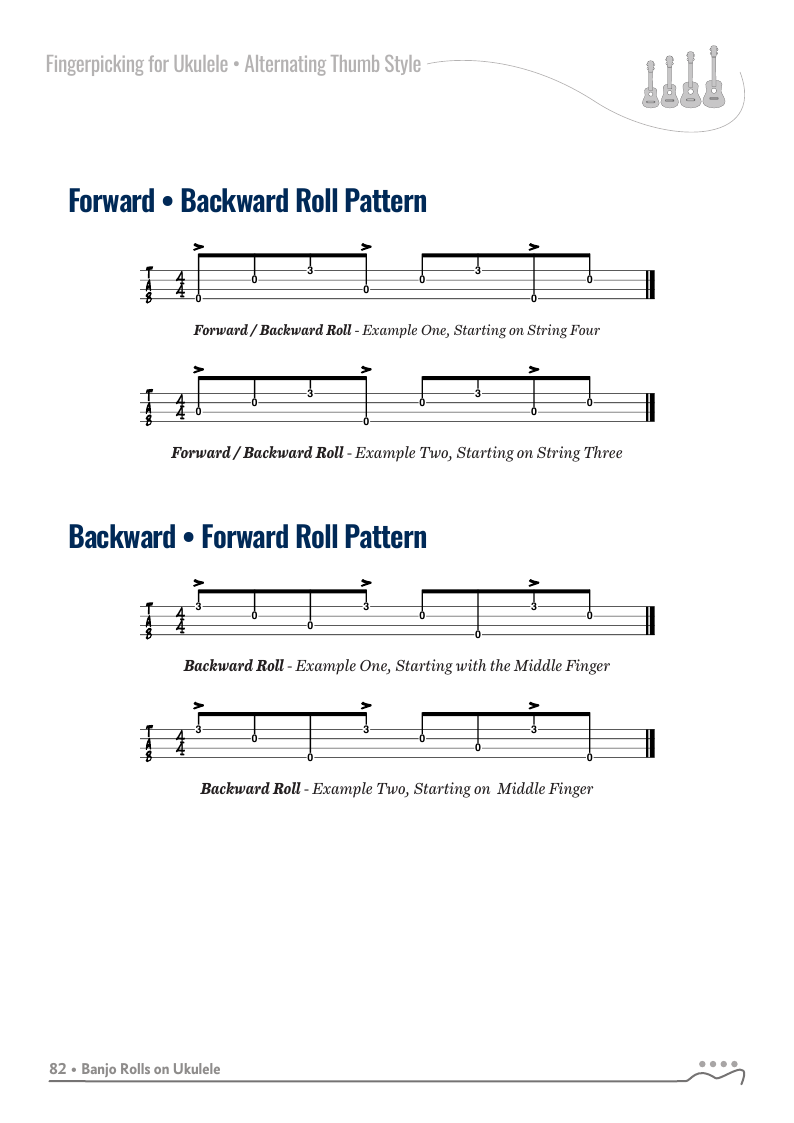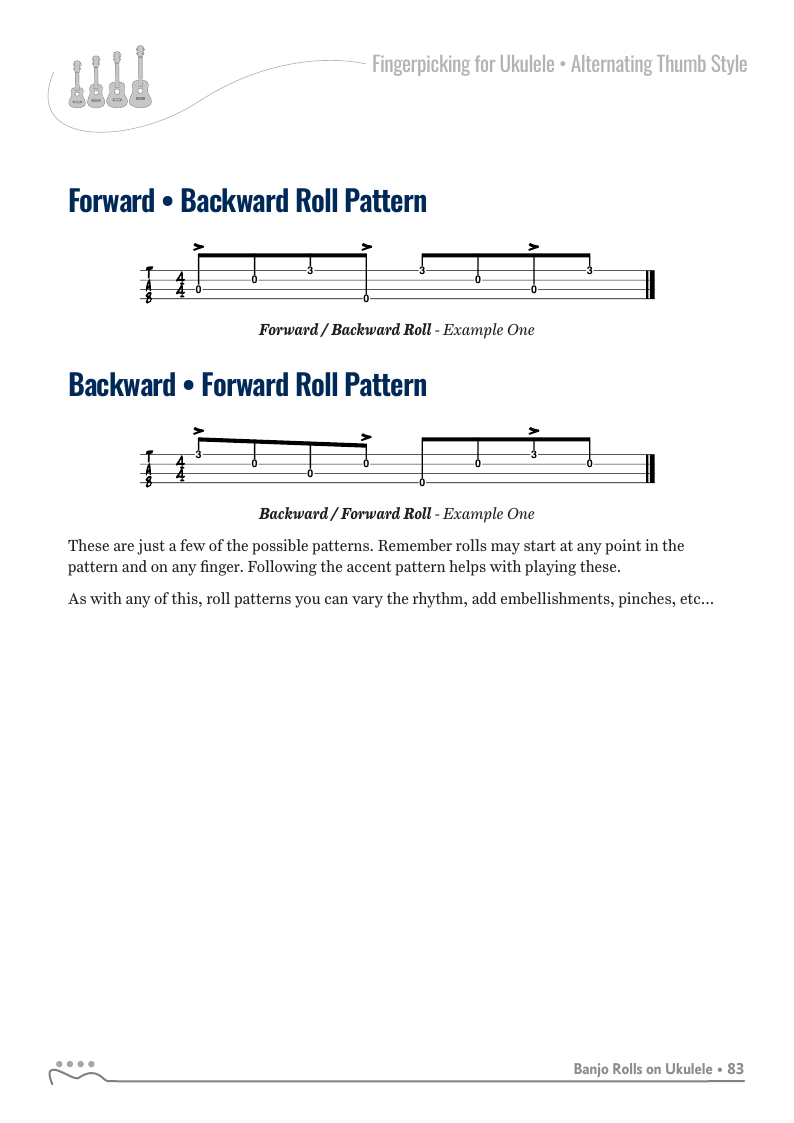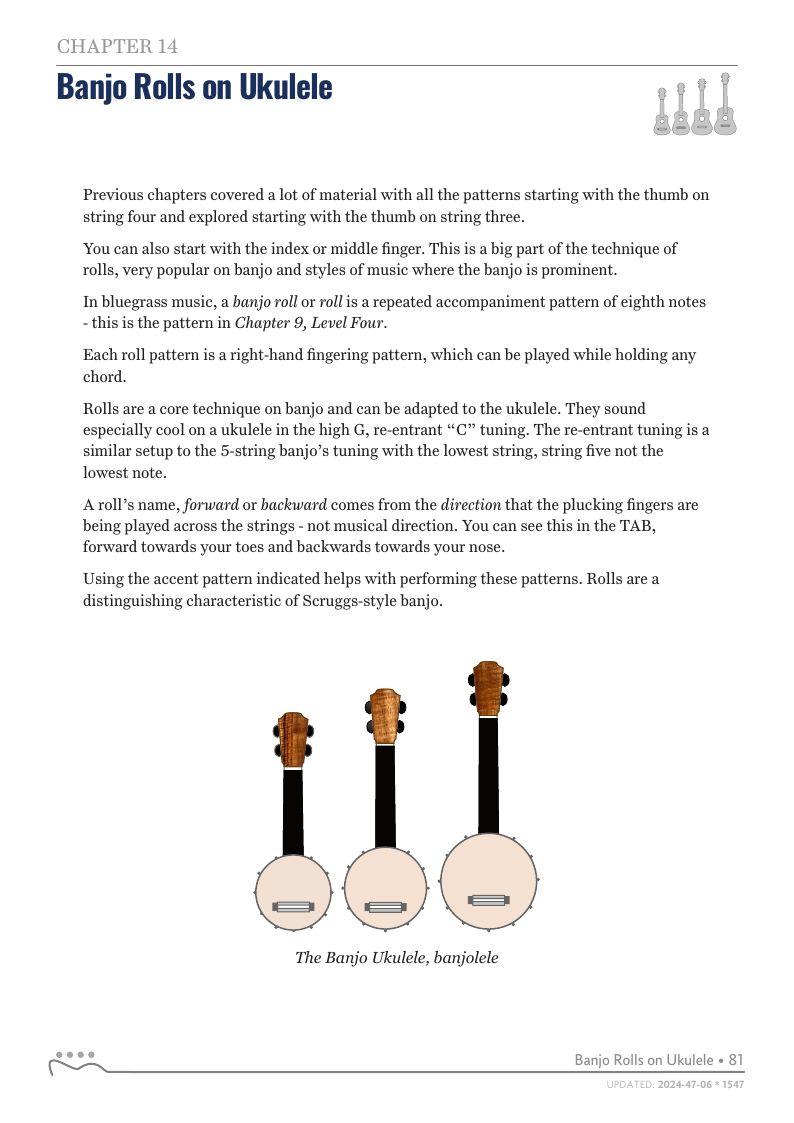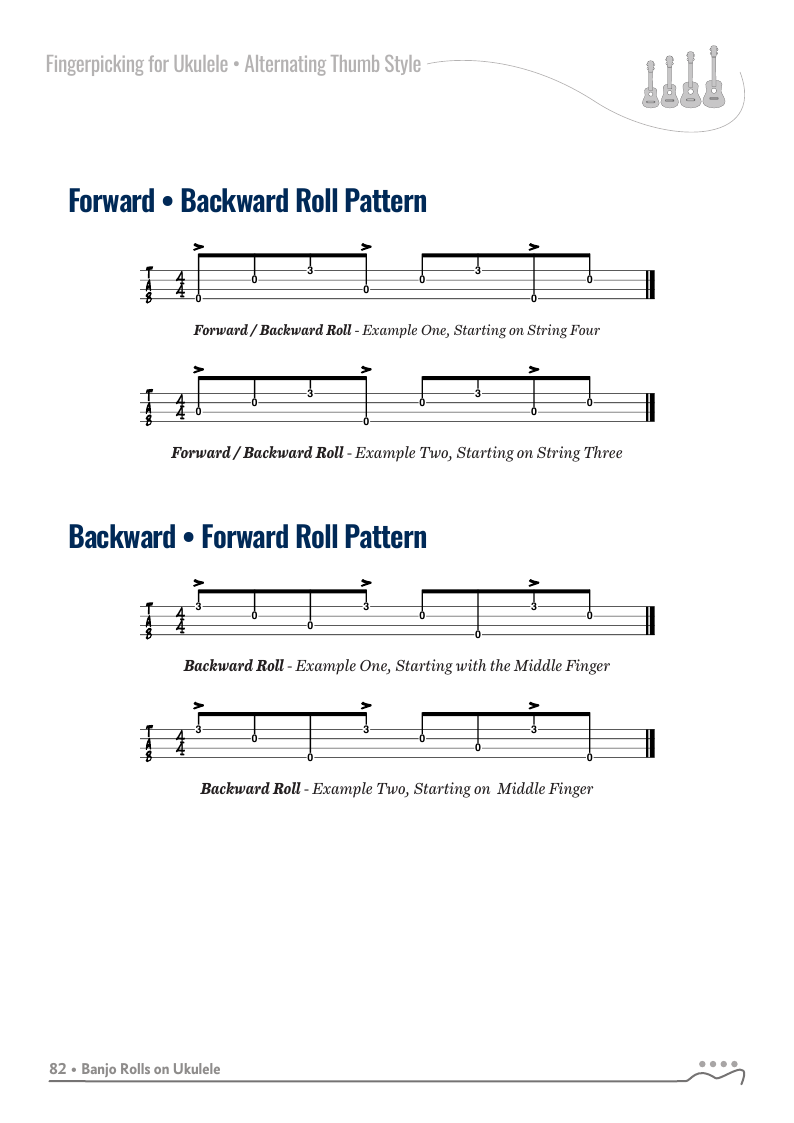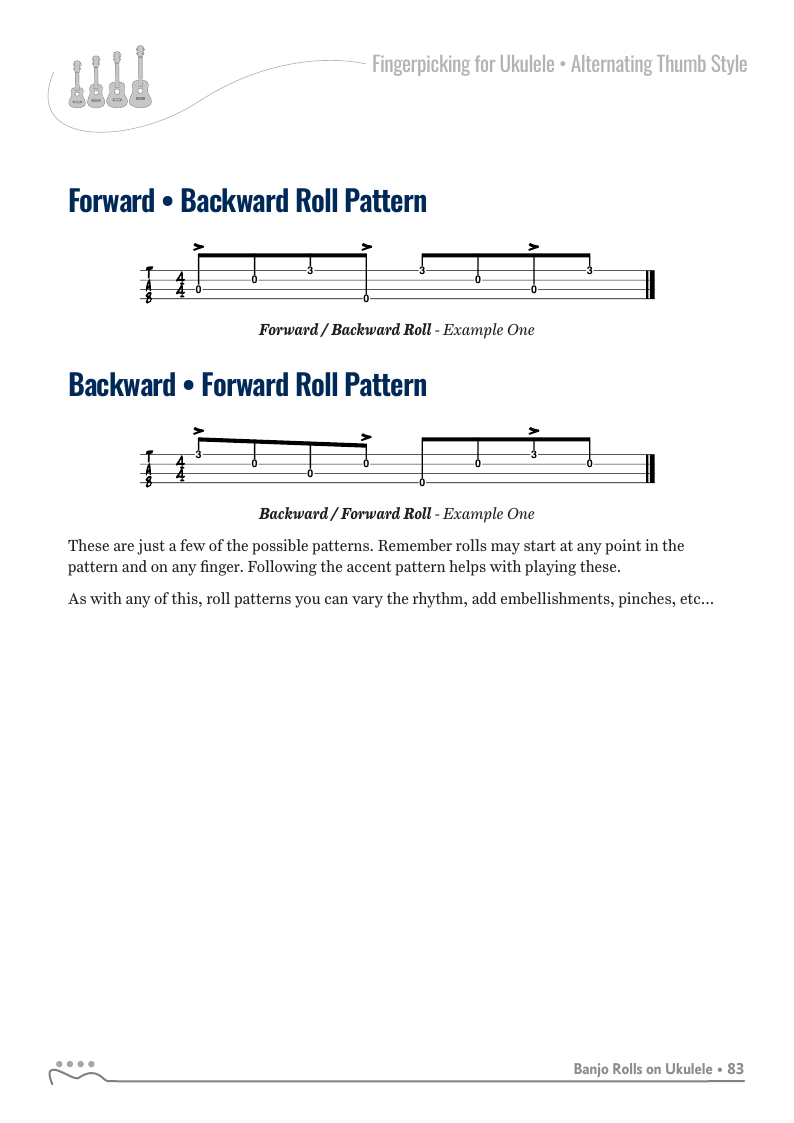 All 4 sample page(s) are viewable on-line.
If you are a registered site member and have the correct permissions you can view ALL the pages of this PDF at a larger size. You can resize the browser window smaller to a tablet or phone size and the pages will magically grow larger.
This Download is NOT part of your LearningUkulele.com membership level. Sign-up for a Site Access or Upgrade your current access level to download this PDF or your can purchase a copy for download.
Each PDF file is a formatted high resolution file that prints out great. You'll need Adobe Reader or a PDF viewing application to view your PDF file.
Alternating Thumb Style, Banjo Rolls on Ukulele
Previous lessons covered a lot of material. With all the patterns starting with the thumb on string four and also suggested exploring the patterns starting with the thumb on string three.
You can also start with the index or middle finger. This is a big part of the technique of rolls, very popular on banjo and styles of music such as bluegrass where the banjo is prominent instrument.
In bluegrass music, a banjo roll or roll is a repeated accompaniment pattern of eighth notes. Each roll pattern is a right hand fingering pattern, which can be played while holding any chord position.
Rolls are a core technique on banjo and can be adapted to ukulele. They sound especially cool on a ukulele in the high G, re-entrant 'C' tuning. The re-entrant tuning is a similar setup to the 5-string banjo's tuning with the lowest string not the lowest note.
Guitar
Called "Travis Picking" on Banjo the Alternating Thumbstyle techniques from this series of lessons and the Fingerpicking for Ukulele, Alternating Thumb Style can be applied.
As the ukulele has only one set of four adjacent strings, the Guitar has three sets of four adjacent strings. This means the same principles are directely applicable to the guitar. And can be adapted to the guitar's non-adjacent string sets.
For ukulele this is strings: ➁ ➂ ➃ ➄.
For guitar the adjacent four strings are: ➁ ➂ ➃ ➄.
An then the lower four strings: ➂ ➃ ➄ ➅.
Banjo
Called "Scruggs Style" on Banjo the Alternating Thumbstyle techniques from this series of lessons and the Fingerpicking for Ukulele, Alternating Thumb Style can be applied.
Download or View PDF for Complete Lesson
Download this lesson's PDF file for the latest, complete, and most up-to-date version of the lesson. As well as additional information not presented on-line.
Members and Active Students need to sign-in
to download this lesson's PDF for the complete lesson.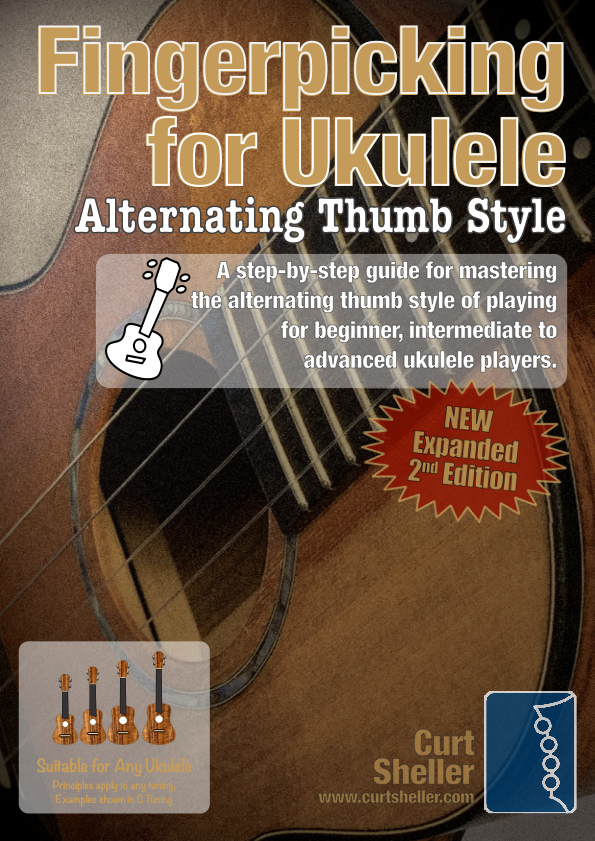 Fingerpicking for Ukulele - Alternating Thumb Style, 2nd Edition

Updated: Nov 15, 2019
Fingerstyle or Fingerpicking is the technique of playing by plucking the strings directly with the fingertips, fingernails, or fingerpicks. Fingerpicking for Ukulele - Alternating Thumb Style focuses on the alternating thumb fingerpicking style through a series of graduated lessons-chapters incorporating your index and middle fingers with the alternating thumb. NEW 2nd Edition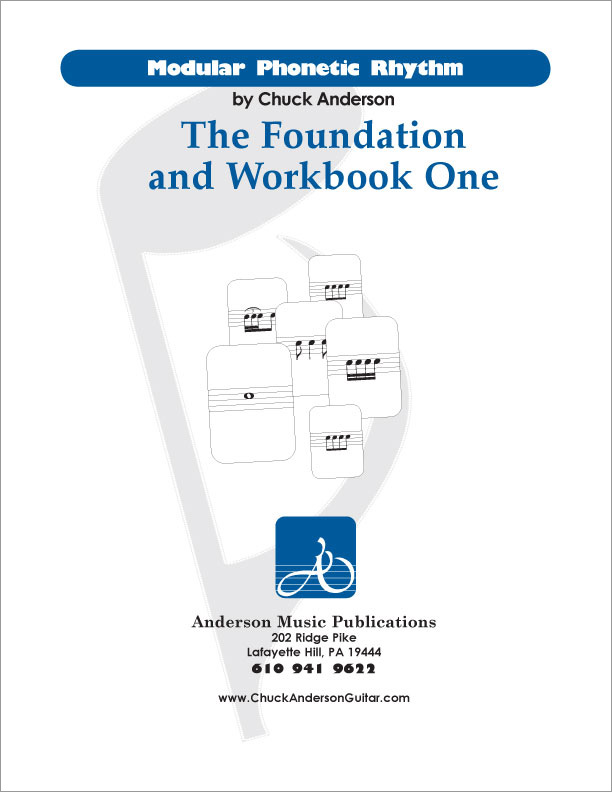 Modular Phonetic Rhythm, The Foundation and Workbook 1

Updated: Nov 9, 2015
Modular Phonetic Rhythm represents a significant advance in the teaching and application of rhythm. Eliminating many inefficient aspects of rhythm education, Modular Phonetic Rhythm streamlines the traditional educational approach, resulting in a reflexive reaction to rhythm.
NOTE: Each higher access level includes ALL the benefits of the lower levels. Private Lessons include all the benefits of a Premium Access Plans as long as you remain a student on the schedule.
---
Just browsing over both books, they look fantastic! I'm a guitarist and uke player for over 25 years and was thinking about writing a ukulele book but you've already written what I think are the best, most comprehensive and thorough books I've ever seen for the instrument. I just might end up buying every book you've written and I'll be giving my highest recommendation for your books to my friends and students. Thank you so much for taking the time to write such great books! — Peter Rhee
Aloha, Curt, All I can say is WOW! What you have accomplished is simply incredible! All the best — Glen Hirabayashi, The Aloha Boys
Folks, if you haven't stopped by Curt's site, do so right now! ..And get his books, they are fantastic. This guy knows his stuff and is able to pass it along too. — Alan Johnson Proprietor, The 4th Peg
I can highly recommend Curt's Uke books — I have four of them and they are excellent. — fatveg — Portland
Thanks for visiting and checking out the site!
Original Curtie Animation from 1987 for my first web site on a Macintosh II. 34 years ago. Man, does time fly.
"Built for myself (Curt), and sharing with the `Ukulele community!"
LearningUkulele.com has one of the largest collections of lessons, songs, and TABS, luthiers, ukulele builders, ukulele festival and club information, and, ukulele links on the web. I've been on the ®Internet since the early 1990's and This site just never stops growing!!!
Content is added and updated almost daily - so check back often. I really do need to get out more ;-)