Alternating Thumb Style, Additional Practice Material
Thumb variations, strng variations, naming patters, etc...
PUBLISHED: Oct 20, 2013 UPDATED: Aug 18, 2018 • VIEWS: 16 • LESSON CODE: ULFP117a-extra •
Instruments: ukulele Subjects: beginner • intermediate • advanced • fingerpicking
Alternating Thumb Style, Additional Practice Material
Additional Practice Material
Additional practice material for developing and exploring the possibilities of the alternating thumb on ukulele no found in the book.
Alternating Thumb Variations
In my book and the corresponding online lessons, the basic alternating thumb pattern is a quarter note rhythmic pattern with the thumb alternating between strings four and three. The fingering patterns can start on string four or string three.

String Variations
As the basic alternating thumb pattern is a two string pattern, any two strings can be used with the most common being strings four and three.
The two adjacent strings combinations of string four and three as, well as the adjacent strings combinations of string three and two seem to be the most viable with the alternating thumb style. For the non-adjacent string pairs, I would stick with the thumb handling string four and three. The index finger for string two and the middle finger for string one.
See the Possible Ukulele String Combinations lesson for all possible 1, 2, 3 and 4 string combinations.
Rhythm Variations
Any combination of quarter notes (one beat), half notes (two beats), dotted half notes (one and one-half beats) and whole notes (four beats) that all add to the number of beats required for the measure/bar can be used to create the fingerpicking pattern.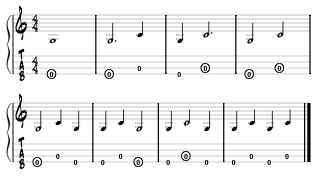 Naming Patterns
The name of some patterns such as the forward or backward roll can help in remembering and reproducing those particular patterns.
You'll probably find - as I did - the level IV pattern of t i t m on strings 4 2 3 1 alternating thumb pattern to feel somewhat natural and easy to play. When you try and perform the patterns starting on string three vs. four using 3 2 4 1, especially when switching to a new chord your fingerpicking hand might want to fall into the foundation 4 2 3 1 string pattern. I had students struggle with the same issue and found giving it a name helped. This allows you to send verbal commands the the fingers with specific directions to reproduce the sound you're looking for. Then when executed properly and getting the sound you want the ear takes over and all is golden until the next chord switch and you might need to send the commands again.
Inside/Outside
I found using the Inside/Outside name, referring the inside strings 3 2 and outside 4 1 relationship to help myself and my students. The opposite Outside/Inside refers to the outside strings 4 1 and inside 3 2 relationship to help as well. This basically sends a verbal-mental command to the fingers to reproduce the sound the inner ear is looking for.
This then lead to trying to come up with names for the other two level IV combinations, letters t i t m when starting with the thumb on either string four or three. As always it's best to start with trying to find a traditional music principle that is being used. For ukulele whether you're using a high or low string four throws in a bit of musical monkey wrench in the works, as contrary motion will work for a situation when using a low string four but not be the same when using a high string four.
This is where using standard music notation really helps.
Low G, C Tuning
Again, in a high G tuning these names, other then the inside / outside names that refer solely to string designation and musical direction, will not be the same.
High G, C Tuning
Graphically they both look the same. Physically the will fell pretty much the same with the only difference being the fell of string four - the low G it is it is not the same material as the other strings. Musically they sound different and are using different musically principles.
I have song arrangements that I can play on either a low or high string four tuning and they actually are different.
Final Thoughts
I'm a firm believer that your fingers – on purpose, will never do anything they haven't been trained to do. They might, at times do what they have done before but at the wrong time. So explore all the string and rhythmic possibilities and variations. This will provide you with a broad palette of possibilities for musical expression on ukulele.
---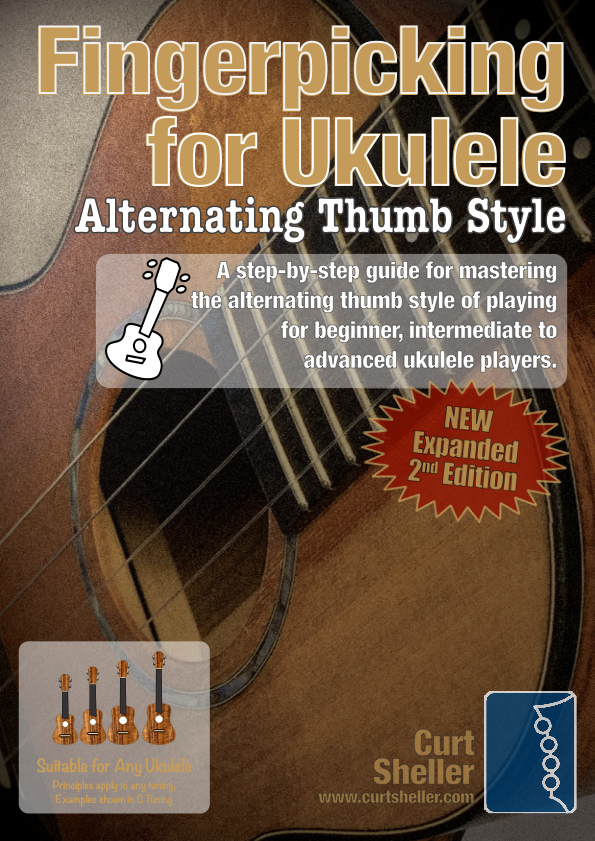 Fingerpicking for Ukulele - Alternating Thumb Style, 2nd Edition

Updated: Nov 15, 2019
Fingerstyle or Fingerpicking is the technique of playing by plucking the strings directly with the fingertips, fingernails, or fingerpicks. Fingerpicking for Ukulele - Alternating Thumb Style focuses on the alternating thumb fingerpicking style through a series of graduated lessons-chapters incorporating your index and middle fingers with the alternating thumb. NEW 2nd Edition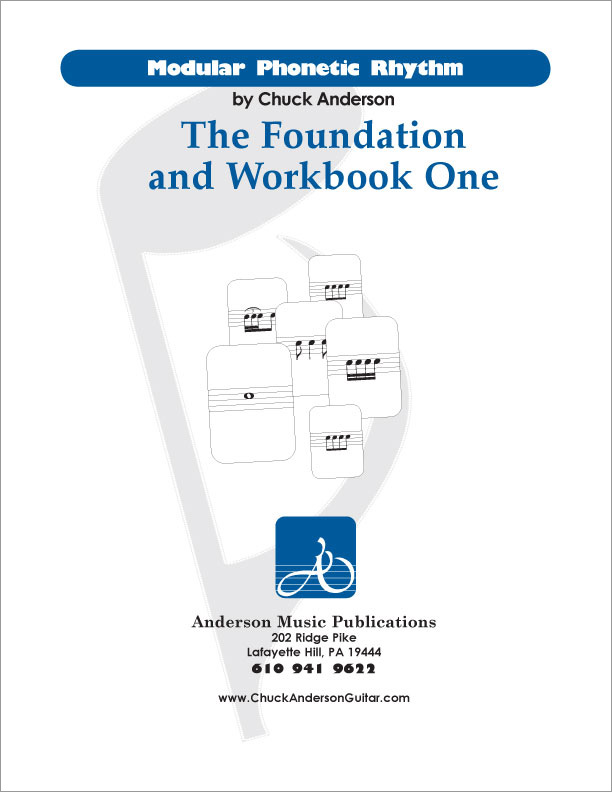 Modular Phonetic Rhythm, The Foundation and Workbook 1

Updated: Nov 9, 2015
Modular Phonetic Rhythm represents a significant advance in the teaching and application of rhythm. Eliminating many inefficient aspects of rhythm education, Modular Phonetic Rhythm streamlines the traditional educational approach, resulting in a reflexive reaction to rhythm.
NOTE: Each higher access level includes ALL the benefits of the lower levels. Private Lessons include all the benefits of a Premium Access Plans as long as you remain a student on the schedule.
---
Just browsing over both books, they look fantastic! I'm a guitarist and uke player for over 25 years and was thinking about writing a ukulele book but you've already written what I think are the best, most comprehensive and thorough books I've ever seen for the instrument. I just might end up buying every book you've written and I'll be giving my highest recommendation for your books to my friends and students. Thank you so much for taking the time to write such great books! — Peter Rhee
Aloha, Curt, All I can say is WOW! What you have accomplished is simply incredible! All the best — Glen Hirabayashi, The Aloha Boys
Folks, if you haven't stopped by Curt's site, do so right now! ..And get his books, they are fantastic. This guy knows his stuff and is able to pass it along too. — Alan Johnson Proprietor, The 4th Peg
I can highly recommend Curt's Uke books — I have four of them and they are excellent. — fatveg — Portland
Thanks for visiting and checking out the site!
Original Curtie Animation from 1987 for my first web site on a Macintosh II. 34 years ago. Man, does time fly.
"Built for myself (Curt), and sharing with the `Ukulele community!"
LearningUkulele.com has one of the largest collections of lessons, songs, and TABS, luthiers, ukulele builders, ukulele festival and club information, and, ukulele links on the web. I've been on the ®Internet since the early 1990's and This site just never stops growing!!!
Content is added and updated almost daily - so check back often. I really do need to get out more ;-)