Alternating Thumb Style, Additional Practice Material
Additional Practice Material
Additional practice material for developing and exploring the possibilities of the alternating thumb on ukulele no found in the book.
Additional Content
Available for Premium Site Access Plans Only
Alternating Thumb Variations
In my book and the corresponding online lessons, the basic alternating thumb pattern is a quarter note rhythmic pattern with the thumb alternating between strings four and three. The fingering patterns can start on string four or string three.

String Variations
As the basic alternating thumb pattern is a two string pattern, any two strings can be used with the most common being strings four and three.
The two adjacent strings combinations of string four and three as, well as the adjacent strings combinations of string three and two seem to be the most viable with the alternating thumb style. For the non-adjacent string pairs, I would stick with the thumb handling string four and three. The index finger for string two and the middle finger for string one.
See the Possible Ukulele String Combinations lesson for all possible 1, 2, 3 and 4 string combinations.
Rhythm Variations
Any combination of quarter notes (one beat), half notes (two beats), dotted half notes (one and one-half beats) and whole notes (four beats) that all add to the number of beats required for the measure/bar can be used to create the fingerpicking pattern.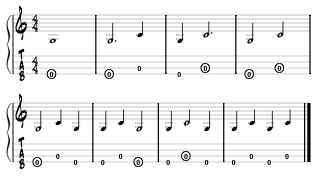 Naming Patterns
The name of some patterns such as the forward or backward roll can help in remembering and reproducing those particular patterns.
You'll probably find - as I did - the level IV pattern of t i t m on strings 4 2 3 1 alternating thumb pattern to feel somewhat natural and easy to play. When you try and perform the patterns starting on string three vs. four using 3 2 4 1, especially when switching to a new chord your fingerpicking hand might want to fall into the foundation 4 2 3 1 string pattern. I had students struggle with the same issue and found giving it a name helped. This allows you to send verbal commands the the fingers with specific directions to reproduce the sound you're looking for. Then when executed properly and getting the sound you want the ear takes over and all is golden until the next chord switch and you might need to send the commands again.
Inside/Outside
I found using the Inside/Outside name, referring the inside strings 3 2 and outside 4 1 relationship to help myself and my students. The opposite Outside/Inside refers to the outside strings 4 1 and inside 3 2 relationship to help as well. This basically sends a verbal-mental command to the fingers to reproduce the sound the inner ear is looking for.
This then lead to trying to come up with names for the other two level IV combinations, letters t i t m when starting with the thumb on either string four or three. As always it's best to start with trying to find a traditional music principle that is being used. For ukulele whether you're using a high or low string four throws in a bit of musical monkey wrench in the works, as contrary motion will work for a situation when using a low string four but not be the same when using a high string four.
This is where using standard music notation really helps.
Low G, C Tuning
Again, in a high G tuning these names, other then the inside / outside names that refer solely to string designation and musical direction, will not be the same.
High G, C Tuning
Graphically they both look the same. Physically the will fell pretty much the same with the only difference being the fell of string four - the low G it is it is not the same material as the other strings. Musically they sound different and are using different musically principles.
I have song arrangements that I can play on either a low or high string four tuning and they actually are different.
Final Thoughts
I'm a firm believer that your fingers – on purpose, will never do anything they haven't been trained to do. They might, at times do what they have done before but at the wrong time. So explore all the string and rhythmic possibilities and variations. This will provide you with a broad palette of possibilities for musical expression on ukulele.
---
End of Lesson - Thanks, Hope You Enjoyed It!
Related Lessons, Videos, Lesson Series, Songs, Books & Reference Charts, Resources & Assets, Workshops are below.
Related Books & Charts
Related Books for Alternating Thumb Style, Additional Practice Material.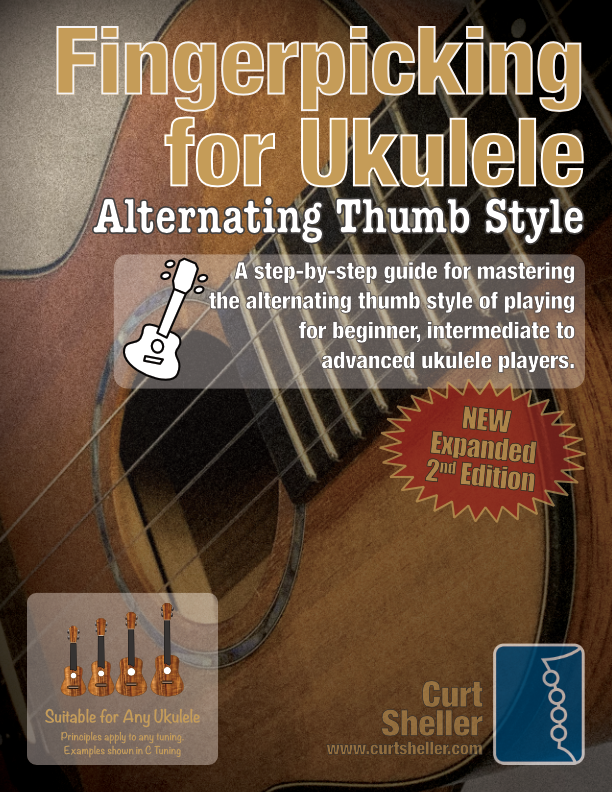 Fingerpicking for Ukulele - Alternating Thumb Style, 2nd Edition
Updated: 28 Sep 2021
Fingerpicking for Ukulele - Alternating Thumb Style, 2nd Edition is an new expanded edition which focuses on the alternating thumb fingerpicking style through a series of graduated lessons-chapters incorporating your index and middle fingers with the alternating thumb.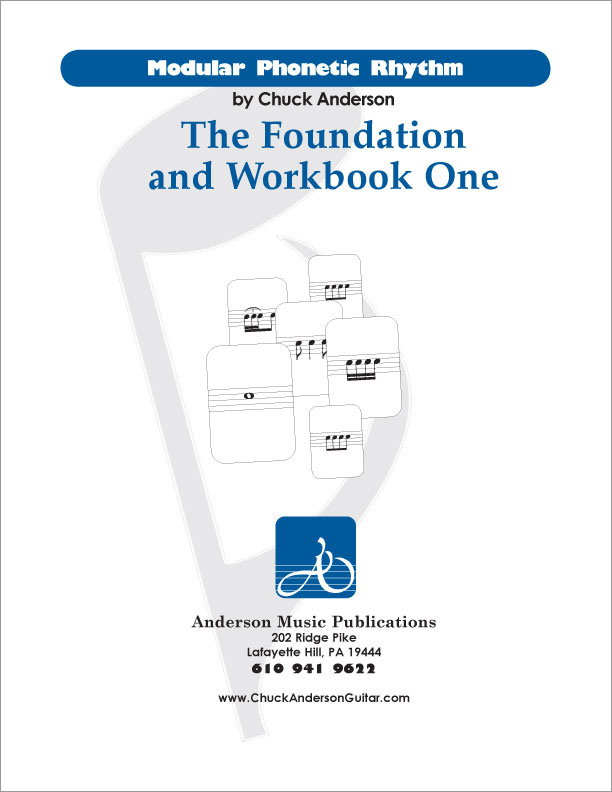 Modular Phonetic Rhythm, The Foundation and Workbook 1
Updated: 08 Dec 2021
Modular Phonetic Rhythm represents a significant advance in the teaching and application of rhythm. Eliminating many inefficient aspects of rhythm education, Modular Phonetic Rhythm streamlines the traditional educational approach, resulting in a reflexive reaction to rhythm.
Books
Reference Charts