LESSONSeries : Common Chord Progressions and Remembering Songs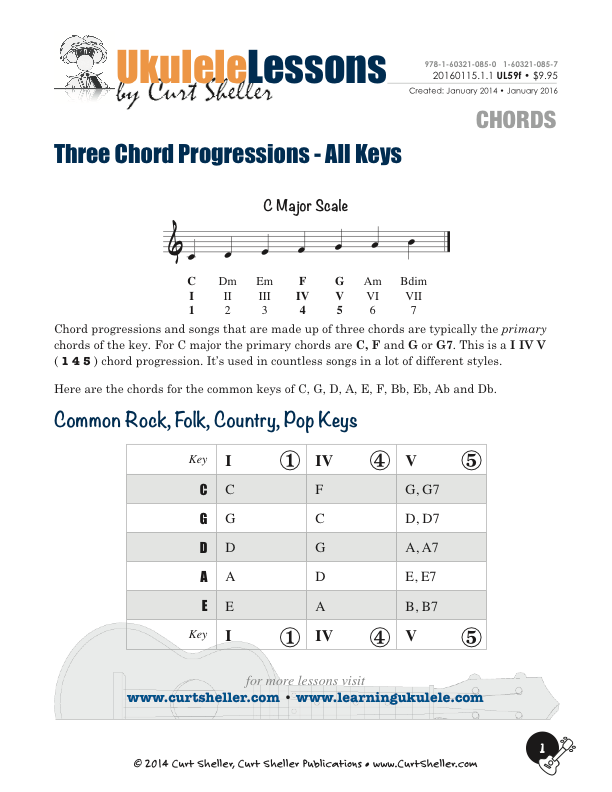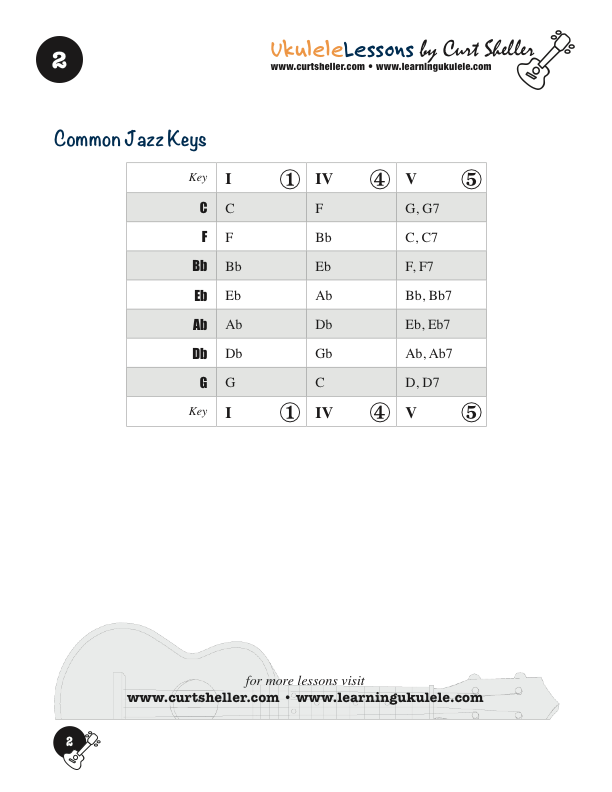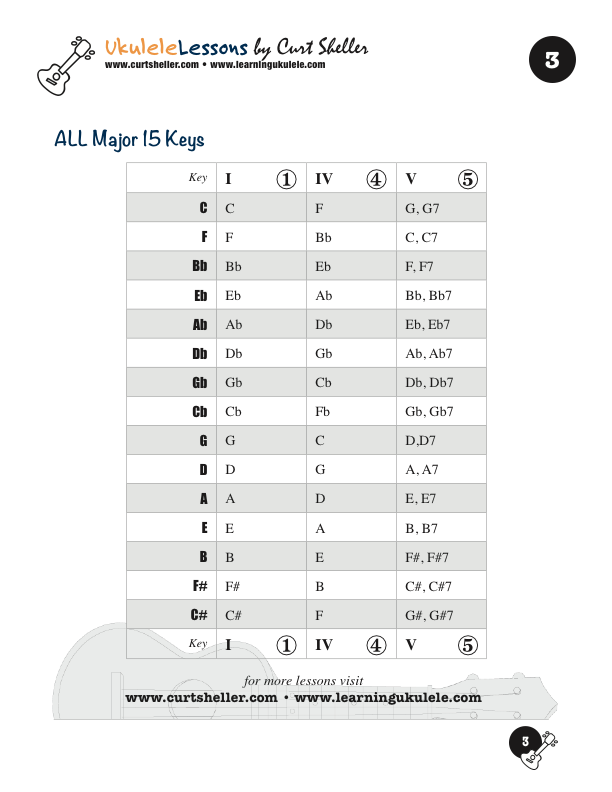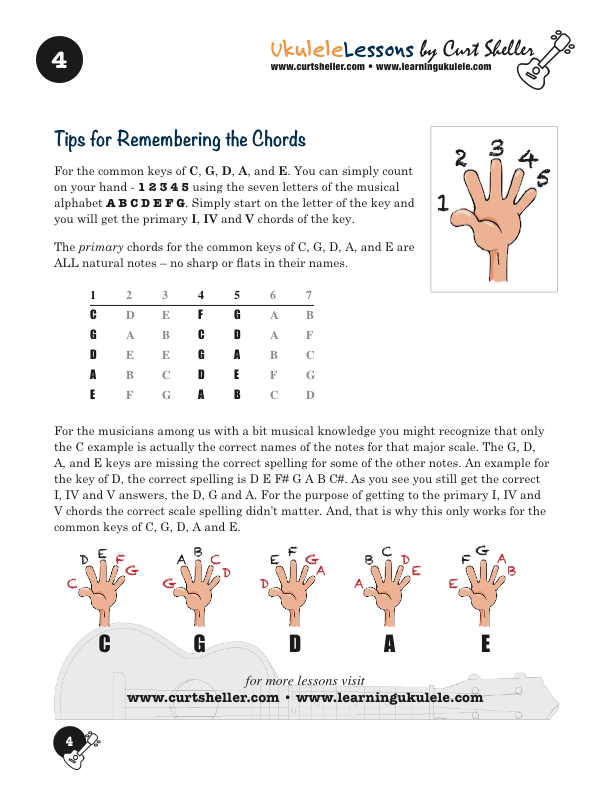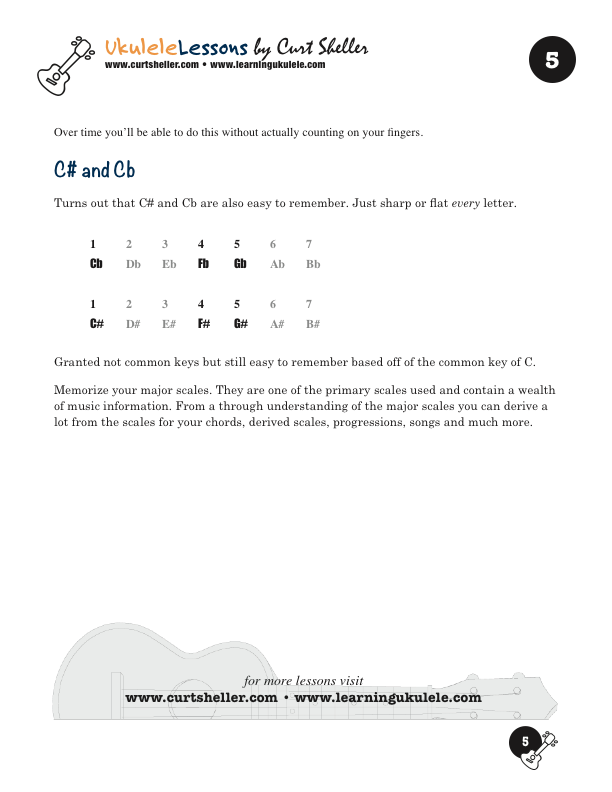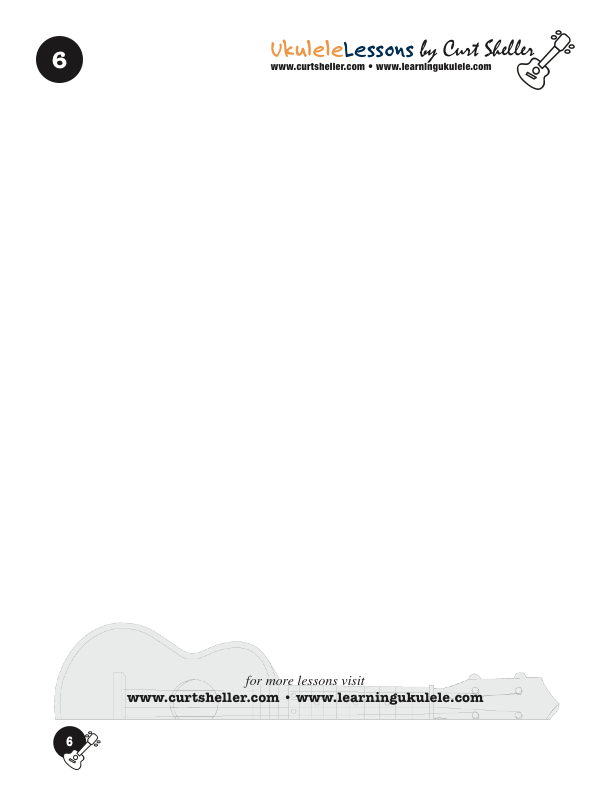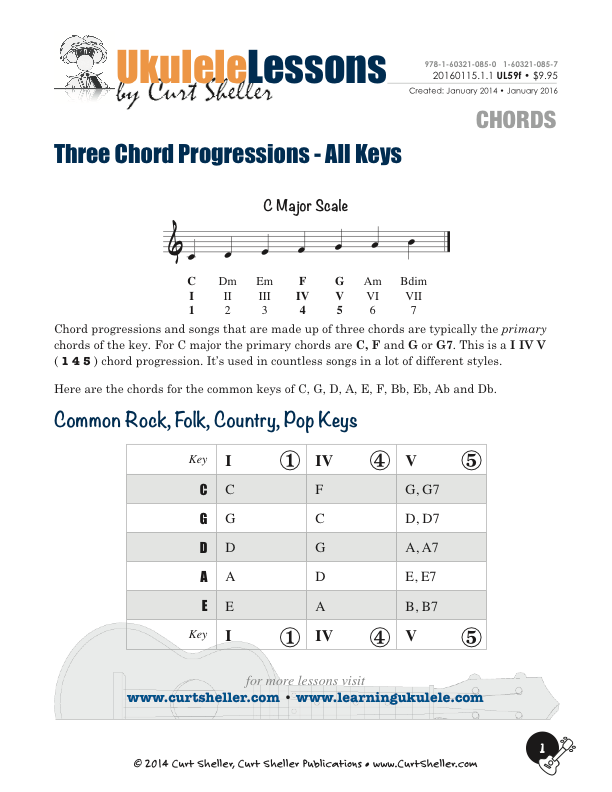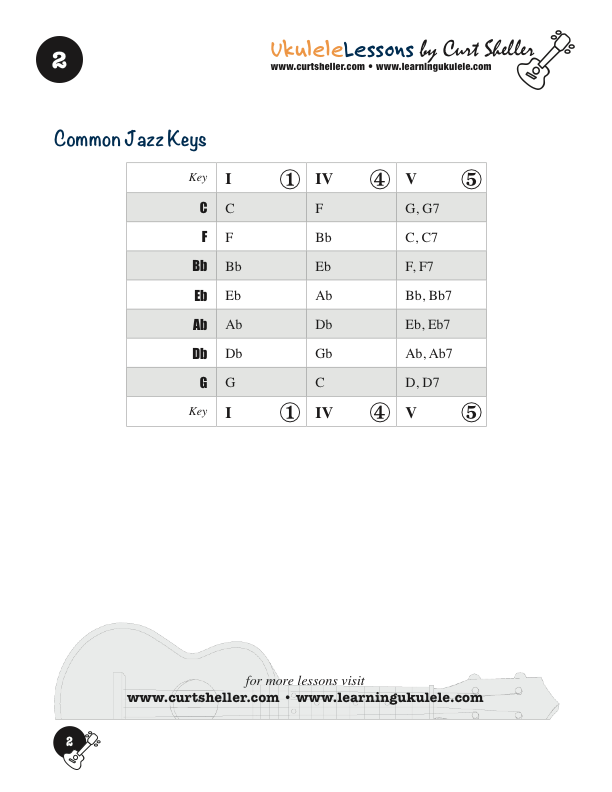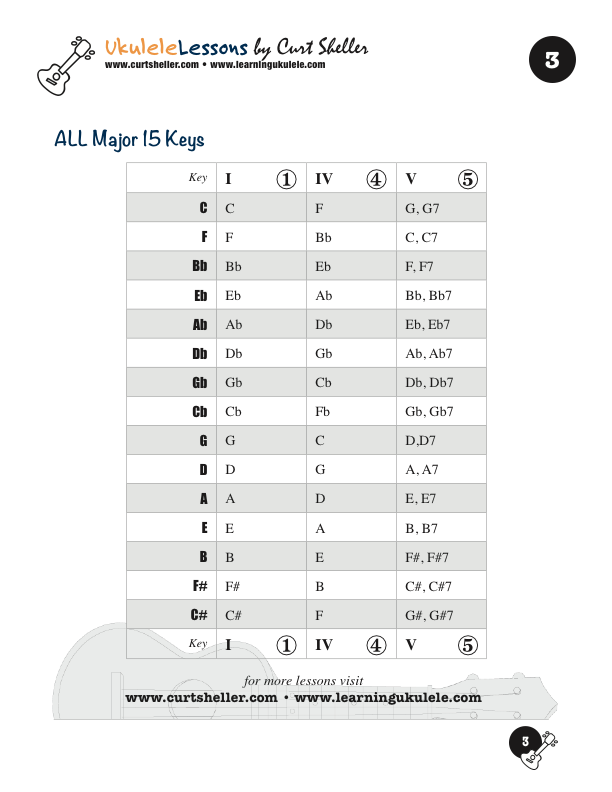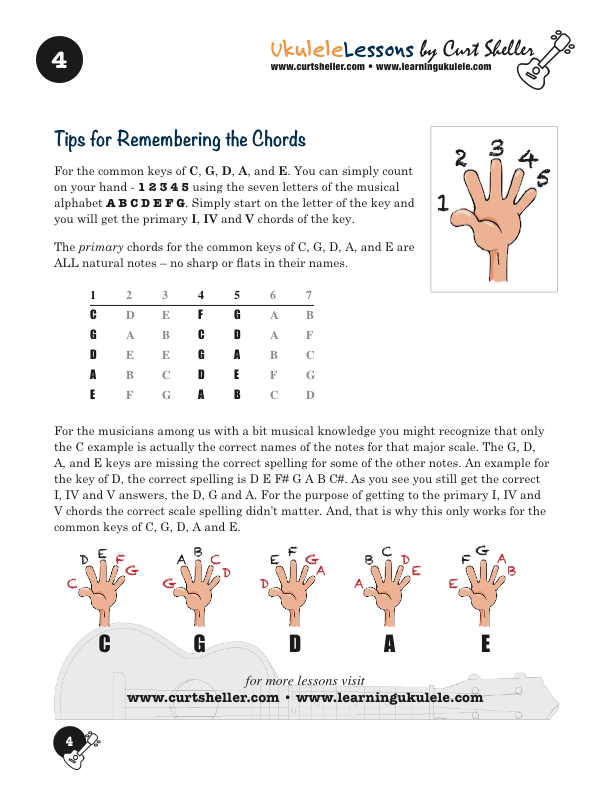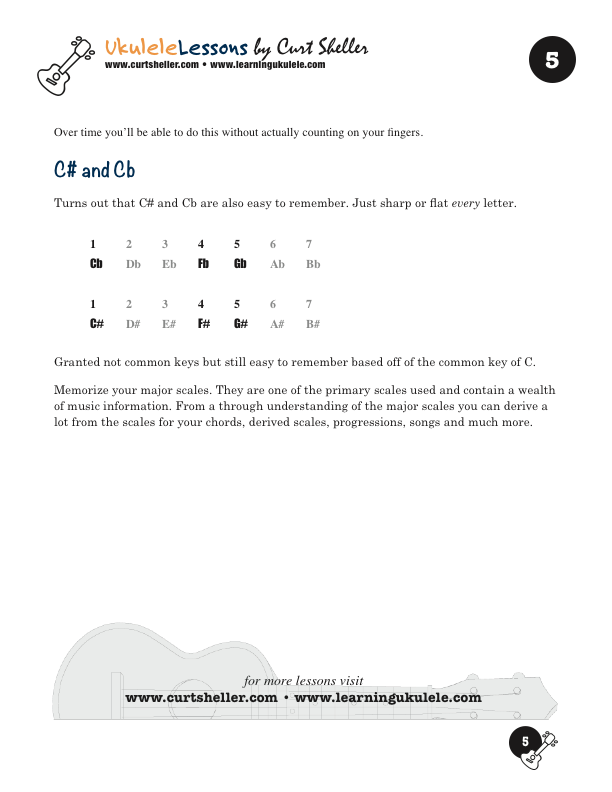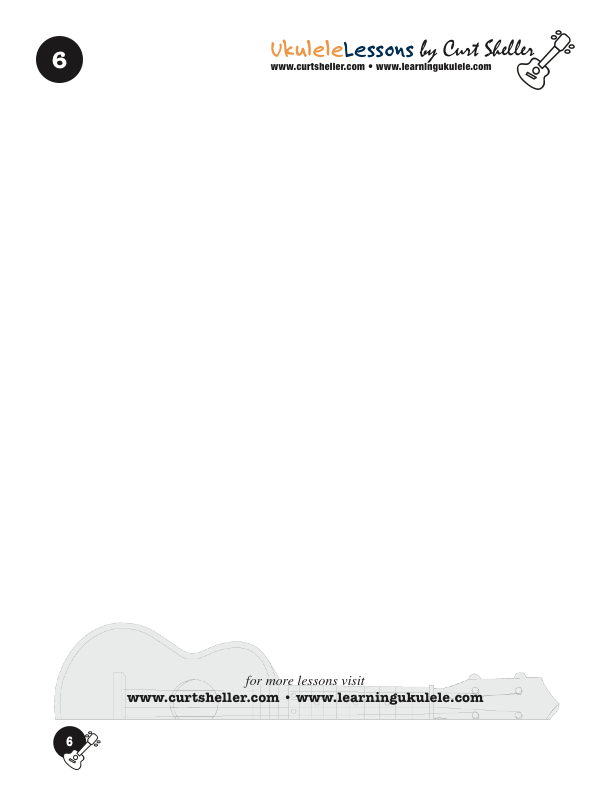 All 6 sample page(s) are viewable on-line.
If you are a registered site member, have verified your email address, and have the correct permissions you can view ALL the pages of this PDF or Samples pages at a larger size using the LearningUkulele.com Online PDF Viewer .
This Download is NOT part of your LearningUkulele.com membership level.
Sign-up for Premium Site Access or Upgrade Your Plan your current access level to download this PDF or your can purchase a copy for download.
After purchasing a PDF , a download link will be sent to you within 24hrs. Working on getting it to be automated.
Each PDF file is a formatted, high resolution file that prints out great. You'll need a PDF Reader or application capable of viewing PDF files to view the PDF.
Download the PDF file for the latest, complete, and most up-to-date version. As well as additional information not presented on-line.
Members and Active Students need to sign-in to download this lesson's PDF for the complete lesson.
Three Chord Progressions
Three-chord tunes, though, are more common, since a melody may then dwell on any note of the scale. Often the chords may be selected to fit a pre-conceived melody, but just as often it is the progression itself that gives rise to the melody.
Additional Content
Available for Premium Site Access Plans Only
The three-chord I — IV — V progression, a particularly popular kind of circle progression, can be placed into a four-bar phrase in several ways that have been put to endless use in popular music. Using the Nashville Numbering System, there are represented as 1 4 5.
I

–

IV

–

V

–

V

( examples in C: C F G G )

I

–

I

–

IV

–

V

( C C F G )

I

–

V

–

IV

–

V

( C G F G )

I

–

IV

–

I

–

V

( C F C G )

I

–

IV

–

V

–

IV

( C F G F )
The twelve bar blues and its many variants use an elongated, three-line form of the I – IV – V progression that has also generated countless hit records, including the most significant output of rock and rollers such as Chuck Berry and Little Richard. In its most elementary form (there are many variants) the chords progress as follows:
I

–

I

–

I

–

I

IV

–

IV

–

I

–

I

V

–

IV

–

I

–

I
WikipediA : Three Chord Progressions
Sign-IN — it's FREE — to view, un-blur this lesson.
Three Chord Progressions…
Songs
There are too many songs to list that only have three chords. Go to any music store and there will be books actually titles Three Chord Songs. but here are a few
All Shook Up
Amazing Grace
Away In a Manger
Battle Hymn of the Republic
Billy Boy
Blowin' In the Wind
Blue Suede Shoes
Bye, Bye, Love
Camptown Races
Chantilly Lace
Don't Be Cruel
Down By the Riverside
For He's a Jolly Good Fellow
Frankie and Johnny
Goodnight, Ladies
Hang On Sloopy
Hail, Hail, the Gang's All Here
He's Got the Whole World
How Much Is That Doggie...
Hound Dog
Jambalaya
La Cucaracha
London Bridge
Marianne
Mary Had a Little Lamb
Mexican Hat Dance
Row, Row, Row Your Boat
Skip to My Lou
Three Blind Mice
Tom Dooley
iRealPro Practice Progressions
Here are a few common harmonic cells, i.e., the chords that show up in basic songs.
You'll find that there a lot of common chord sequences that make of the songs that we all like and have heard many, many times over and over, over the years,
Use iRealPro and several different styles and transpose. What sound good in one style might not sound good in another style.
iReal Pro - Practice Made Perfect • The essential instrument for every musician. Master your art by practicing with the world's most versatile virtual band, tirelessly accompanying you in any style, tempo or key. With thousands of chord charts in your pocket, you'll always be prepared for the next jam session.
Available for iPhone, iPad, Mac, and Android.
NOTE: - I (Curt, LearningUkulele.com, Learning Ukulele with Curt) Have been using iReal Pro, bought and paid for on several platforms ever since it first came on to music scene. It is a great tool and one I use with all students as well in my daily, persons practice sessions. iReal Pro was made by a very small team of passionate people led by Massimo Biolcati, a jazz musician in NYC who taught himself to code for his first iPhone so that he could build his dream app.
---
Download the PDF file for the latest, complete, and most up-to-date version. As well as additional information not presented on-line.
End of Lesson - Thanks, Hope You Enjoyed It!
Related Lessons, Videos, Lesson Series, Songs, Books & Reference Charts, Resources & Assets, Workshops are below.
Related Lessons
Related Lessons for Three Chord Progressions.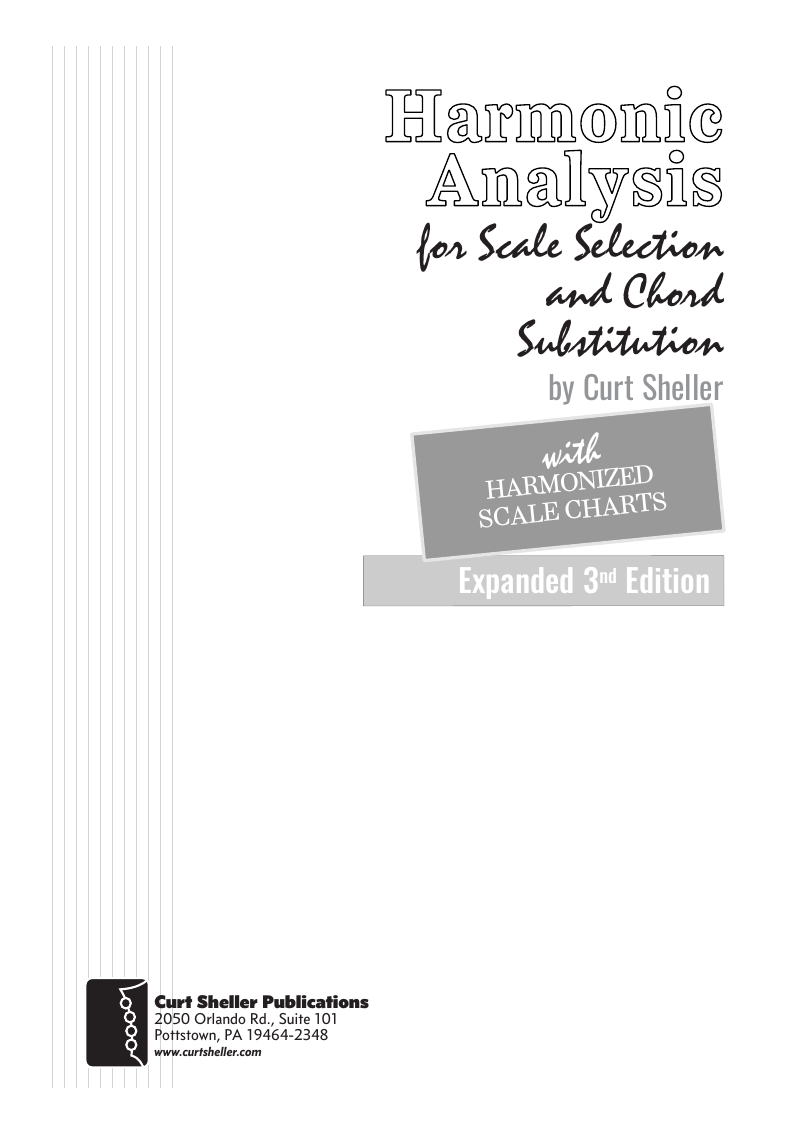 Harmonic Analysis Lesson Series
Updated: 06 Jan 2020
Harmonic Analysis ( HA ) is the process used to determine the harmonic function of chords within a chord progression. A chord progression is defined as a sequence of chords, each chord has a root and has a particular chord type. The relationship of a chord's root to a scale determines its function within that scale's tonality. Once a chord's function is identified, scale selections along with chord and scale substitutions can be made. This process is called Root Movement Analysis ( RMA ). This series of lessons are extracted from my book for use with individual private and on-line students. Each lesson directly corresponds the chapters in my book Harmonic Analysis for Scale Selection and Chord Substitution by Curt Sheller (me).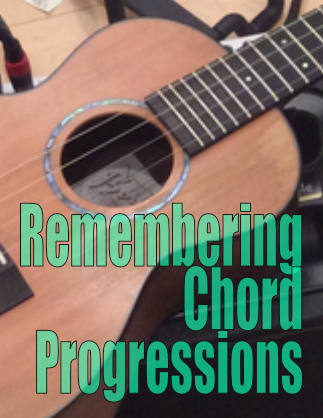 Remembering Songs
Updated: 01 Jun 2023
Listening to songs and wanting to play the same songs on ukulele – that's what draws most people to the ukulele. That and it looks like a load of fun and easy to play – which it is. Then you need to actually remember the songs that you're learning, so you can play them again. And, hopefully, not have to read them off a sheet all the time.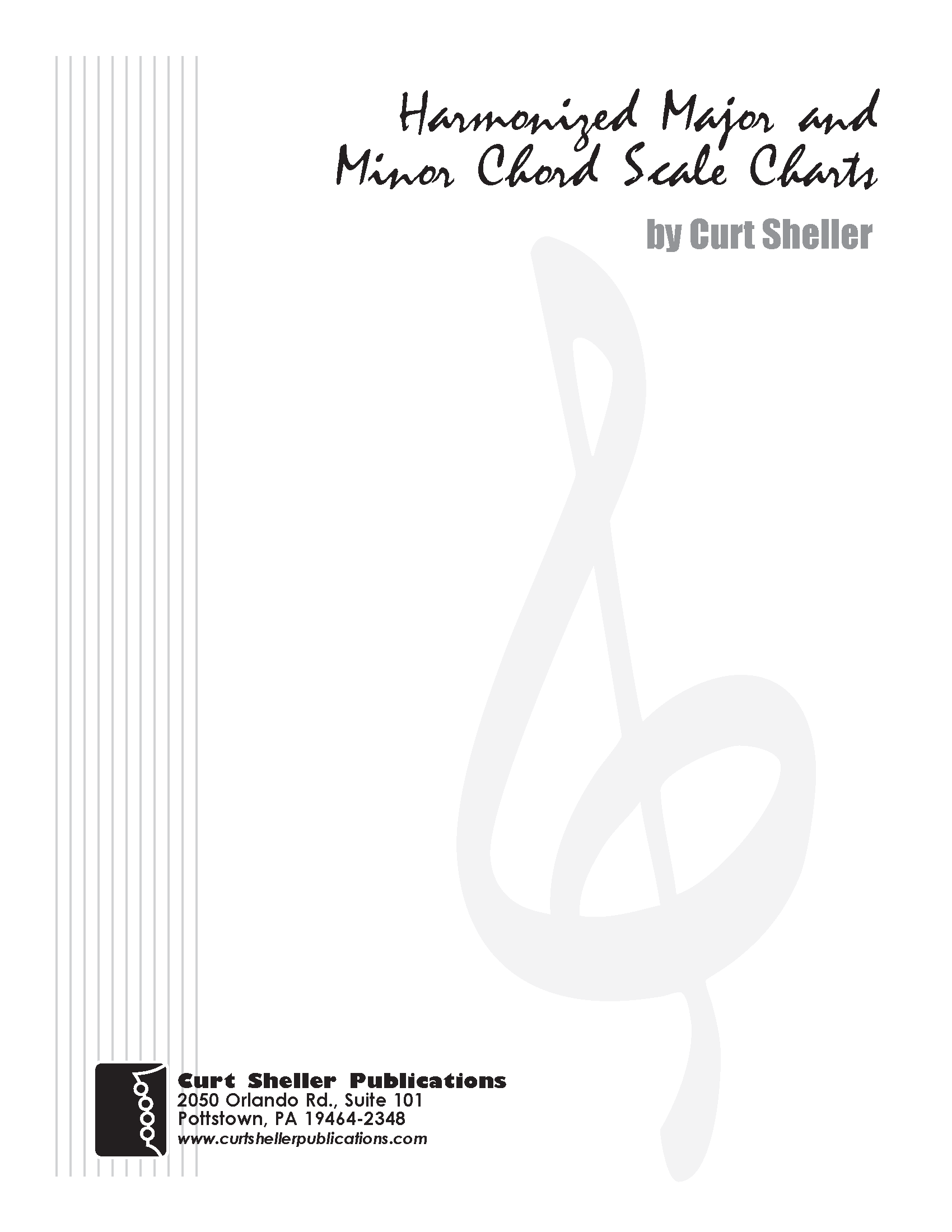 The Harmonized Major and Minor Scale Charts
Updated: 11 Jan 2022
The "Major Scale" or Ionian scale is a diatonic scale, made up of seven distinct notes, plus an eighth which duplicates the first one octave higher. In solfege these notes correspond to the syllables Do, Re, Mi, Fa, Sol, La, Ti/Si, (Do), the Do in the parenthesis at the end being the octave of the root.
Related Lesson Series
Related Lessons Series for Three Chord Progressions.
Harmonic Analysis for Scale and Chord Selection
Updated: 09 Jun 2023
Harmonic Analysis (HA), also known as the study of chord relationships, is the method used to identify the harmonic role of chords within a chord progression or song. A chord progression refers to a sequence of chords, with each chord having a root note and belonging to a specific chord type. The function of a chord within a particular scale's tonality is determined by its relationship to that scale.
Common Chord Progressions and Remembering Songs
Updated: 08 Jun 2023
Understanding the similarities between chord progressions and songs can greatly enhance your ability to remember and play a wide variety of songs. It's fascinating how much common ground exists among different musical compositions.
Related Books & Charts
Related Books for Three Chord Progressions.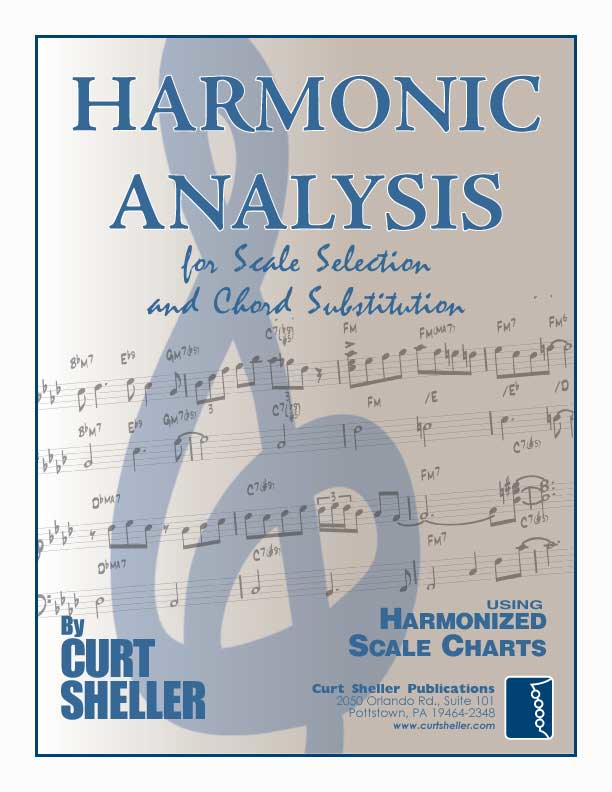 Harmonic Analysis for Scale Selection and Chord Substitution
Updated: 10 Jun 2021
Harmonic Analysis is the understanding of the functional sequence of chords. It is the process used to analyze the harmonic structure of a progression, song or composition. This analysis is then used to make scale selections for improvisation and chord substitution.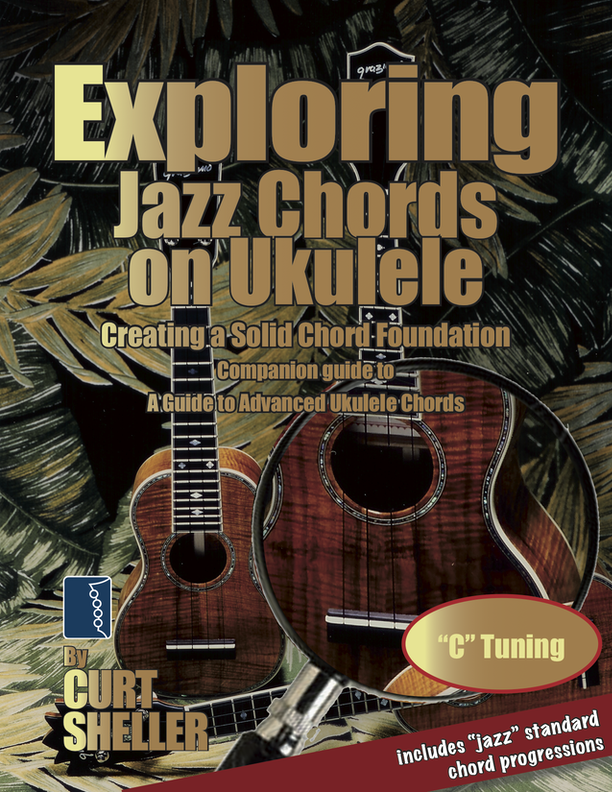 Exploring Jazz Chords on Ukulele
Updated: 20 Apr 2022
Exploring jazz chords using a variety of common chord progressions based on songs from the standard jazz repertoire. Core Chords are the basic set of chords needed to play a wide range of music, in a variety of styles. This set of chords includes basic open position chords, basic movable form chords and the core 4-part "jazz" chords.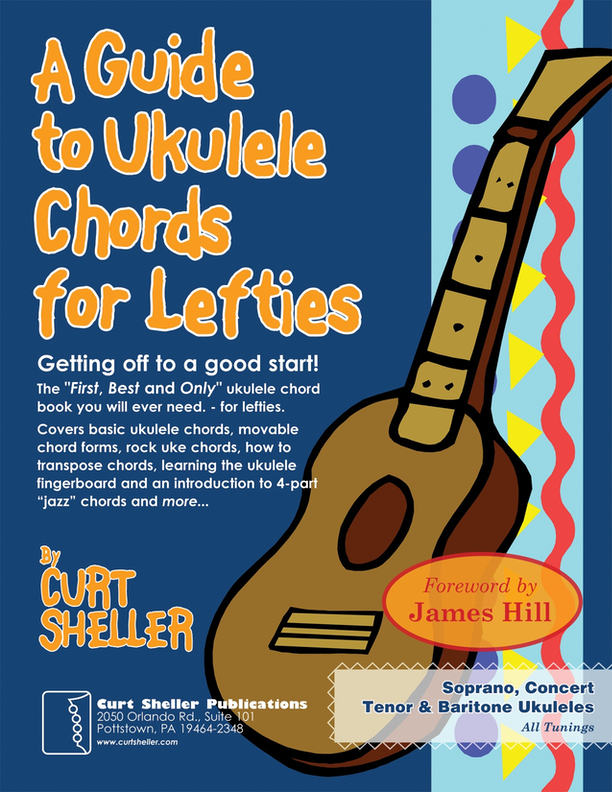 A Guide to Ukulele Chords for Lefties
Updated: 10 Jan 2020
Covering basic ukulele chords that ALL uke players MUST know, movable chord forms, rock uke chords, how to transpose chords, learning the ukulele fingerboard and an introduction to 4-part jazz chords and more... FOR LEFTIES - Tunings: C, G, or D Tunings. Low or high string four variations.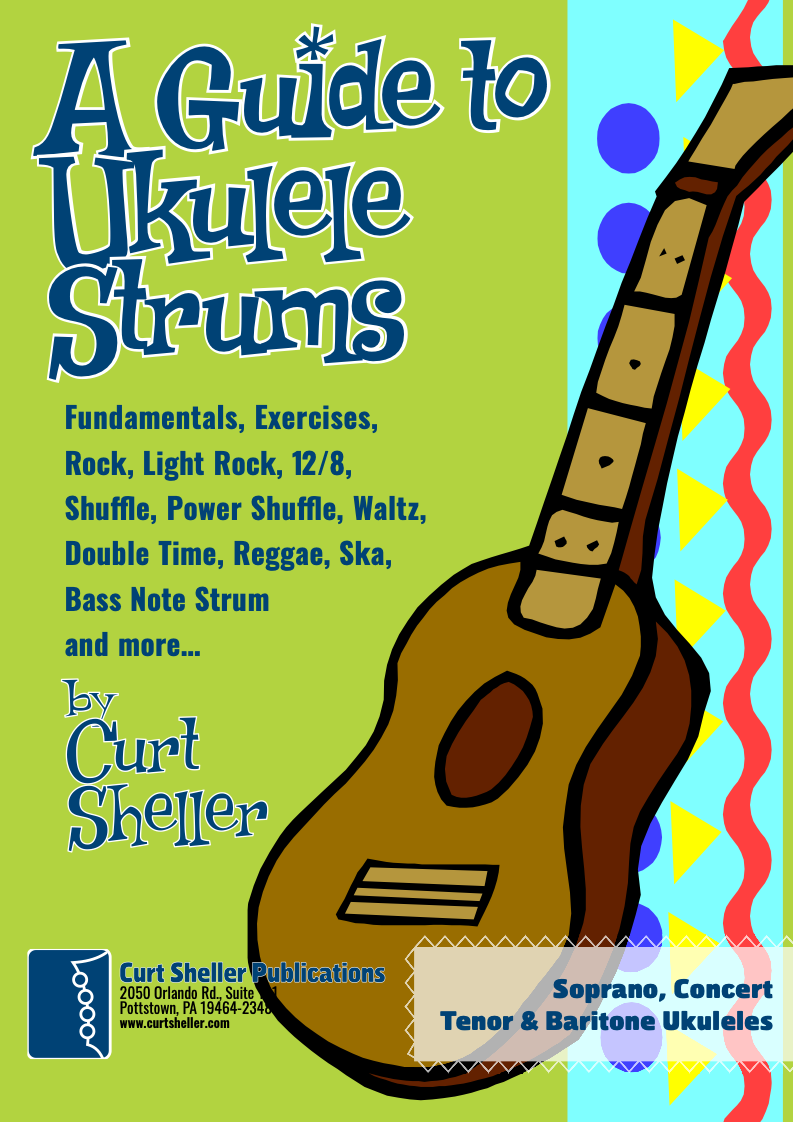 A Guide to Ukulele Strums
Updated: 11 Apr 2019
Learn a variety of strums and rhythmic patterns in wide range of musical styles. One of the first skills a ukulele player learns is the art and craft of strumming, playing rhythm. This refers to an accompaniment technique suitable for the singer, singer - songwriter or someone who plays a support role for another instrument.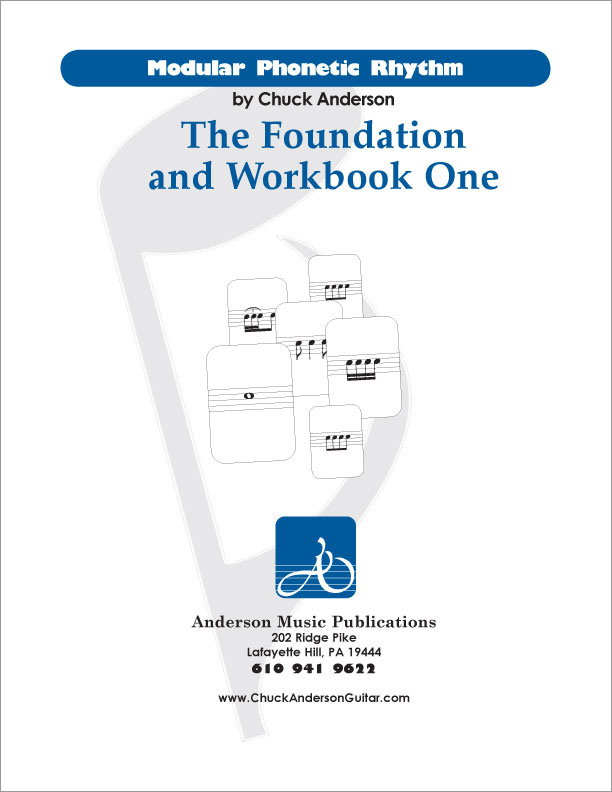 Modular Phonetic Rhythm, The Foundation and Workbook 1
Updated: 08 Dec 2021
Modular Phonetic Rhythm represents a significant advance in the teaching and application of rhythm. Eliminating many inefficient aspects of rhythm education, Modular Phonetic Rhythm streamlines the traditional educational approach, resulting in a reflexive reaction to rhythm.
Books
Reference Charts
Related Lesson Files, Resources and Assets
Related Assets for Three Chord Progressions.