LESSONSeries : Common Chord Progressions and Remembering Songs
Pachalbel's Canon Progression
In the key of C major Pachelbel's Canon is: C G Am Em F C F G. This is a I V VI III IV I IV V in harmonic analysis notation. In Nashville Numbering it's 1 5 6 3 4 1 4 5.
C G Am Em F C F G
1 5 6 3 4 1 4 5
Pachelbel's Canon is a full diatonic progression with all the chords coming from it's parent major scale. A bit of a variation of the famous Four Chord Pop chord progression. Or, should we say the famous Four Chord Pop Progress is derived from Pachalbel's Canon. Some food for thought.
Pachelbel's Canon is the name commonly given to a canon by the German Baroque composer Johann Pachelbel in his Canon and Gigue for 3 violins and basso continuo. It is his most famous composition. It was originally scored for three violins and basso continuo and paired with a gigue (dance). Both movements are in the key of D major.
Pachelbel's Canon combines the techniques of canon and ground bass. Canon is a polyphonic device in which several voices play the same music, entering in sequence. In Pachelbel's piece, there are three voices engaged in canon, but there is also a fourth voice, the basso continuo, which plays an independent part.
Example Songs
The Who - Pictures of Lily (the chorus)
The Beatles - In My Life (the piano break)
Bee Gees - Spicks and Specks
Petula Clark - Don't Sleep In The Subway
David Bowie - Changes
David Bowie - All the Young Dudes
Oasis - Whatever
The Monkees - It's Not Too Late
Green Day - Basket Case
Vitamin C - Graduation Friends Forever
Dennis Lambert & Brian Potter - One Tin Soldier
Belle & Sebastian - Get Me Away From Here, I'm Dying
My Chemical Romance - The Black Parade
Blues Traveler - Hook
The Polyphonic Spree - Light And Day / Reach for the Sun
Coolio - C U When U Get There
Joe Jackson - Hometown
Tupac - Life Goes On
Therapy Sisters - Pachelbel's Tantrum
The Farm - All Together Now
First Class - Beach Baby
Traditional - My Jesus I Love Thee
Mary-Kate and Ashley - Imagine
Relient K - Operation
The Farm - All Together Now
The Polyphonic Spree - Section 9
Happa-tai - Yatta
Delerium - Paris
Aphrodite's Child - Rain and Tears
Lutricia McNeal - Rise
Menelik - Je Me Souviens
Libera - Sanctus
Ozone - Dragostea Din Tei
Additional Song
---
End of Lesson - Thanks, Hope You Enjoyed It!
Related Lessons, Videos, Lesson Series, Songs, Books & Reference Charts, Resources & Assets, Workshops are below.
Related Lessons
Related Lessons for Pachalbel's Canon Progression.
Related Lesson Series
Related Lessons Series for Pachalbel's Canon Progression.
Harmonic Analysis for Scale and Chord Selection
Updated: 09 Jun 2023
Harmonic Analysis (HA), also known as the study of chord relationships, is the method used to identify the harmonic role of chords within a chord progression or song. A chord progression refers to a sequence of chords, with each chord having a root note and belonging to a specific chord type. The function of a chord within a particular scale's tonality is determined by its relationship to that scale.
Related Books & Charts
Related Books for Pachalbel's Canon Progression.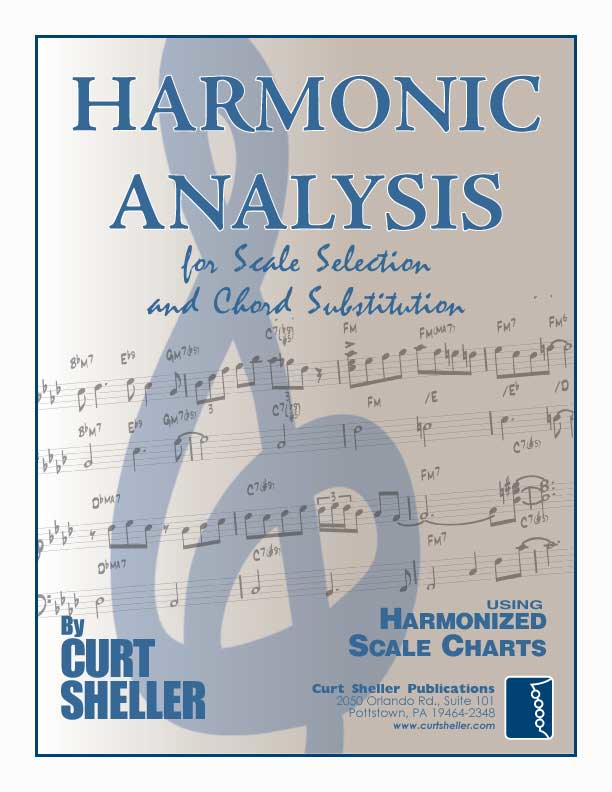 Harmonic Analysis for Scale Selection and Chord Substitution
Updated: 10 Jun 2021
Harmonic Analysis is the understanding of the functional sequence of chords. It is the process used to analyze the harmonic structure of a progression, song or composition. This analysis is then used to make scale selections for improvisation and chord substitution.
Books
Reference Charts