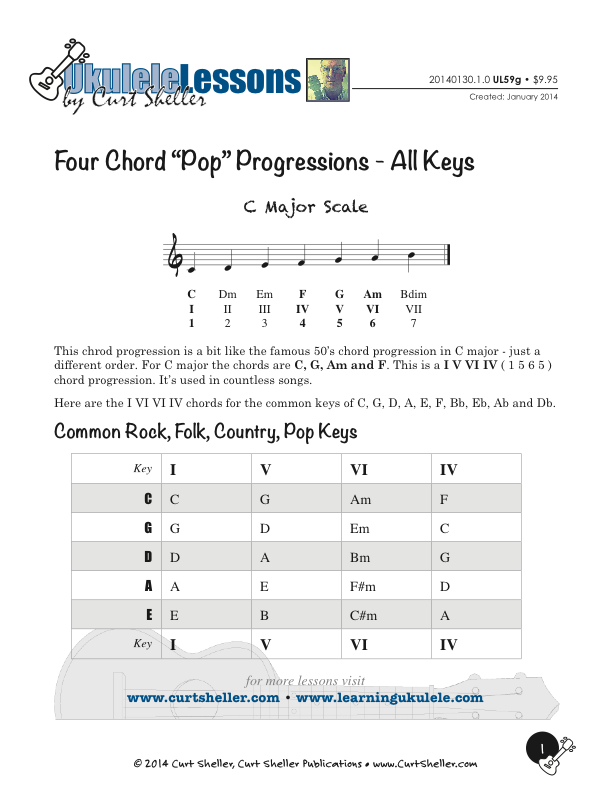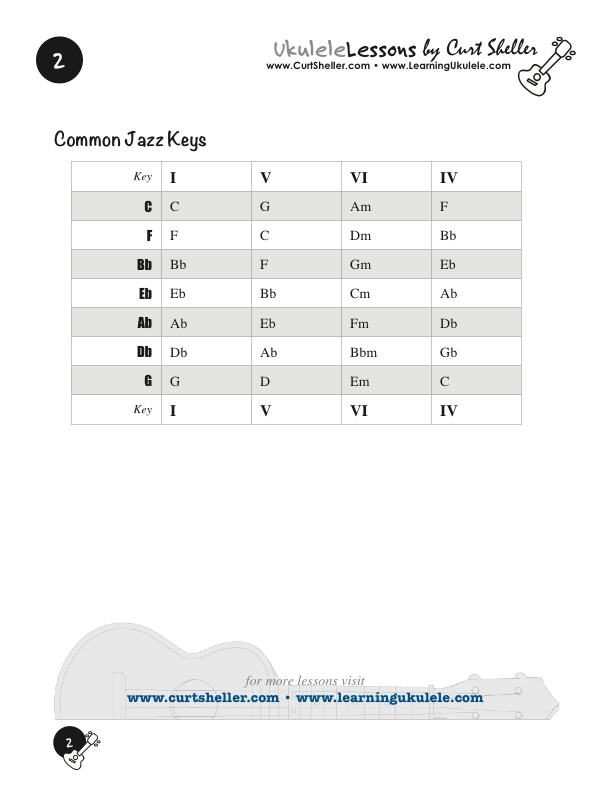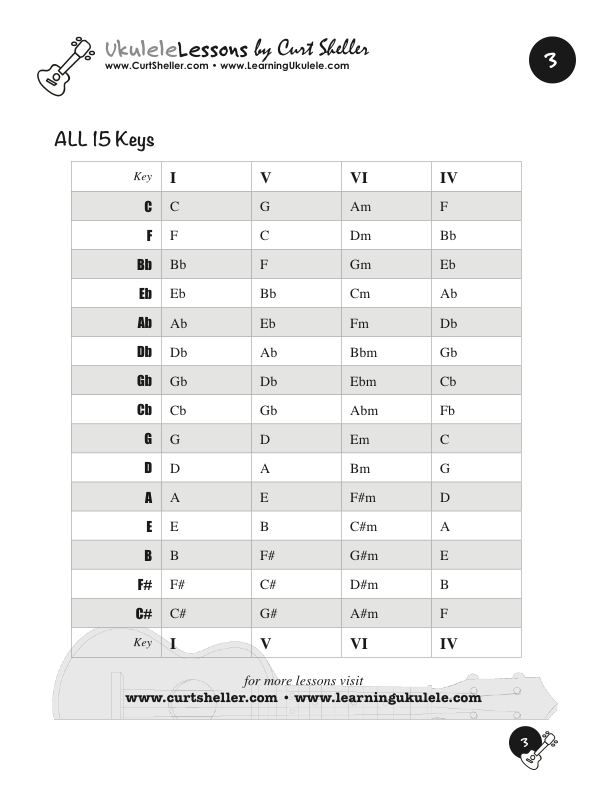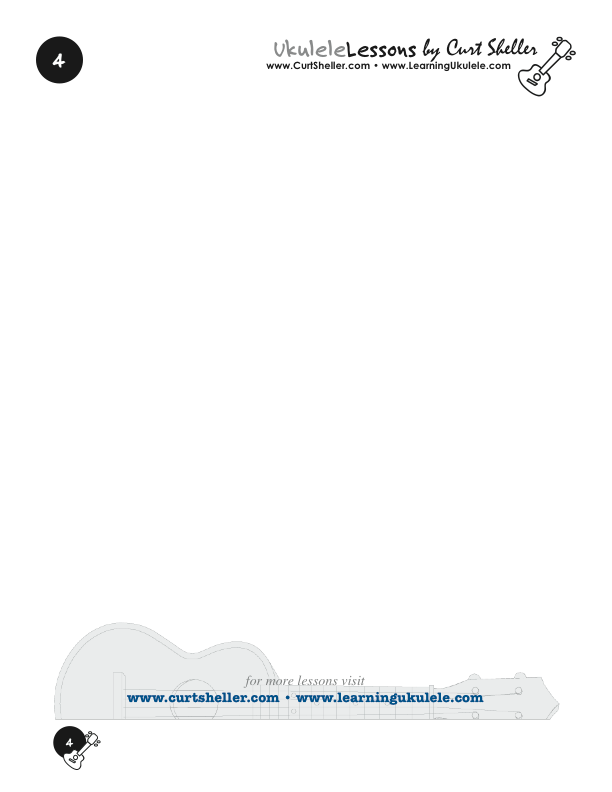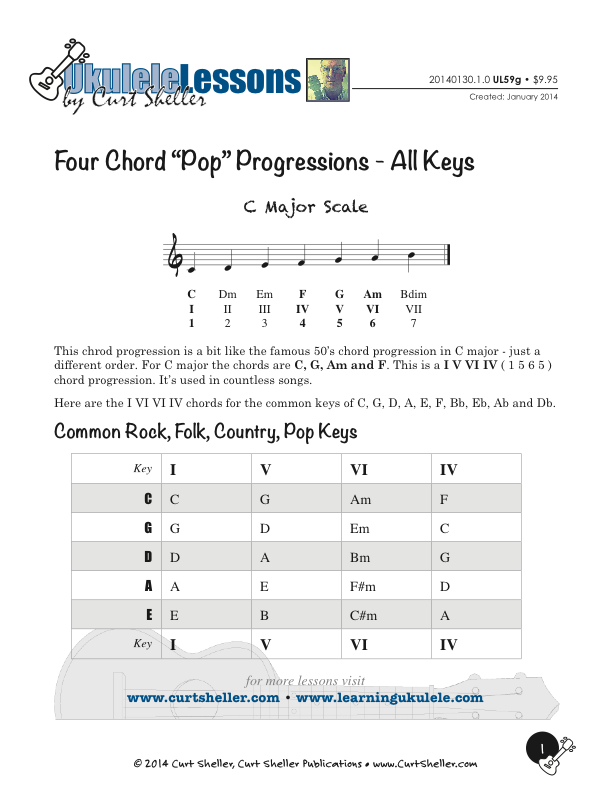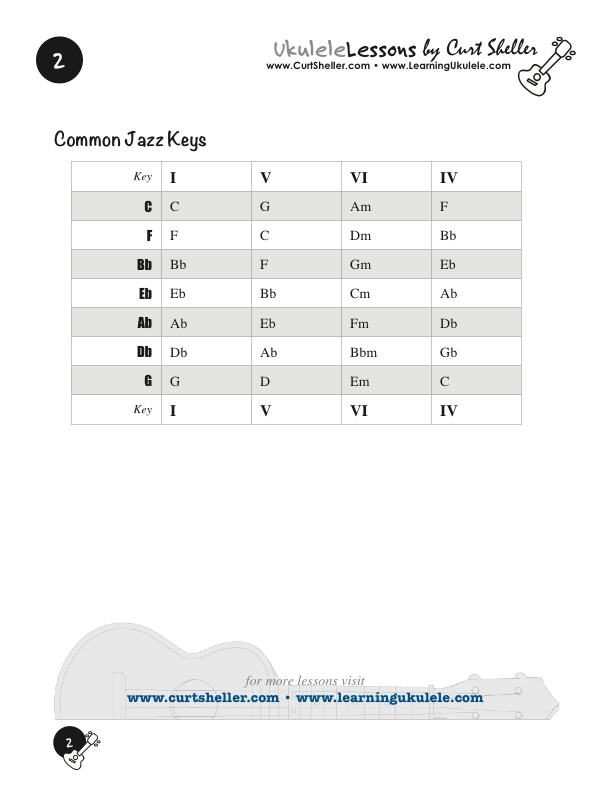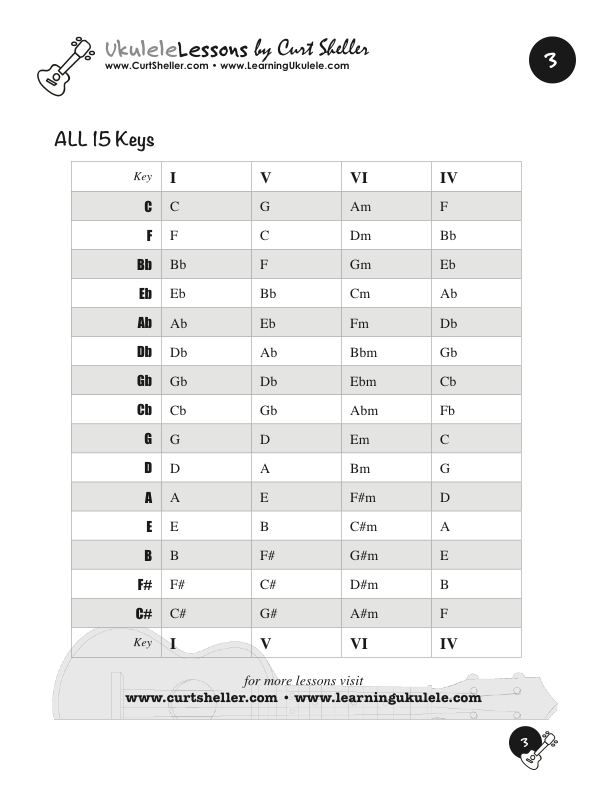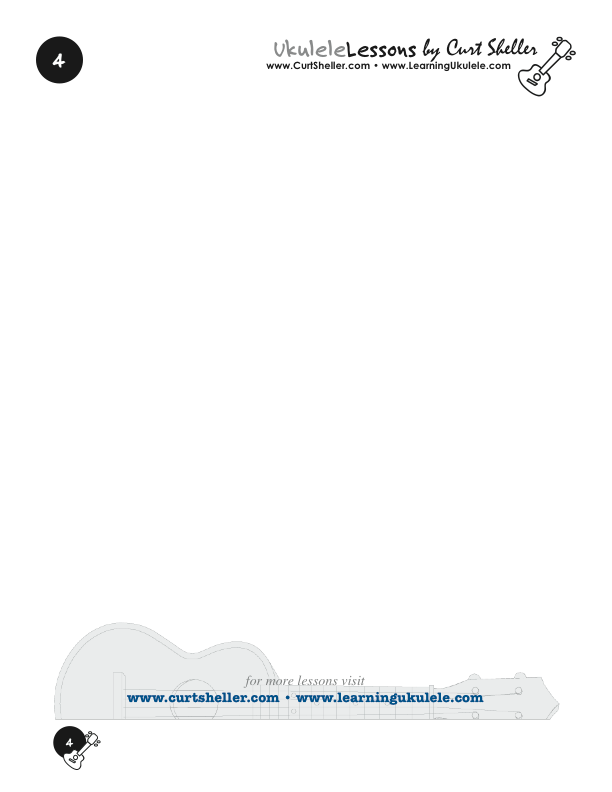 All 4 sample page(s) are viewable on-line.
To view the pages at a larger size you can resize the browser window smaller to a tablet or phone size and the pages will magically grow larger. If you are a registered member and have the correct permissions.
This Download is NOT part of your LearningUkulele.com membership level. Sign-up for a Site Access or Upgrade your current access level to download this PDF or your can purchase a copy for download.
Each PDF file is a formatted high resolution file that prints out great. You'll need Adobe Reader or a PDF viewing application to view your PDF file.
Four Chord Pop Progressions - I V VI IV ( 1 5 6 4 )
This is the most popular chord progression in use today. It has replaced the most common chord progression that was used in the 50s, the 1 6 2 5 chord progression.
In the key of C major this is: C G Am F.
In the Nashville Number System the sequence is:
1 5 6 4
A 2009 recording by the comedy group The Axis of Awesome, their "Four Chord Song", in E major ( E B C#m A ), is a widely viewed clip on YouTube.
The V is often replaced by III. In the key of C major this is: C Em Am F.
I V VI IV
In the key of C major this progression is: C G Am F.
A 2009 recording by the comedy group The Axis of Awesome, their "Four Chord Song", in E major (E B C#m A), is a widely viewed clip on YouTube .
The V is often replaced by III. In the key of C major this is: C Em Am F.
As you can see from the list below here there are quite a few songs that use this progression for the entire song or part of the song.
If the 1 5 6 4 progression where in the key of C major the 1 6 4 5 chords are: C G Am F. For the key of G major the 1 5 6 4 chords are: G D Em C.
Africa - Toto
Apologize - Timberland featuring One Republic
Auld Lang Syne - Robert Burns
Barbie Girl - Aqua
Beautiful - Akon
Behind These Hazel Eyes - Kelly Clarkson
Birdplane - The Axis of Awesome
Bullet With Butterfly Wings - The Smashing Pumpkins
Can You Feel The Love Tonight - Elton John (from The Lion King)
Complicated - Avril Lavigne
Dammit - Blink 182
Don't Matter - Akon
Don't Stop Believing - Journey
Double Rainbow - The Gregory Brothers
Forever Young - Alphaville
Hey Soul Sister - Train
I'm Yours - Jason Mraz
If I Were A Boy - Beyonce
In My Head - Jason DeRulo
It's My Life - Bon Jovi
Kids - MGMT
Land Down Under - Men At Work
Let It Be - The Beatles
Love the Way You Lie - Eminem featuring Rihanna
No Woman No Cry - Bob Marley
One Of Us - Joan Osborne
Otherside - Red Hot Chili Peppers
Paparazzi- Lady Gaga
Pictures of You - The Last Goodnight
Pokerface - Lady Gaga
Save Tonight - Eagle Eye Cherry
Scar - Missy Higgins
Self Esteem - The Offspring
Sex and Candy - Marcy Playground
She Will Be Loved - Maroon Fivev
Superman - Five for Fighting
Take Me Home, Country Roads - John Denver
Take On Me - A Ha
Taylor - Jack Johnson
Theme from America's Funniest Home Videos
Time To Say Goodbye - Andrea Bocelli
Two Become One - Spice Girls
When I Come Around - Green Day
Where Is the Love - Black Eyed Peas
Wherever You Will Go - The Calling
With Or Without You - U2
You're Beautiful - James Blunt
You're Gonna Go Far Kid - The Offspring
Songs that part of the songs are using this progression.
American Pie - Don McLean
The Call - Regina Spektor
Say - John Mayer, from the movie "The Bucket List"
The Show - Lenka
Best Friend - Dog Party
Here's a web site that has links to videos of many of the songs on this list.
As you can see you can learn quite a few songs by simply learning this common chord progression in all 15 keys. Especially the common keys of C, G, D, E, A. And on ukulele F and Bb are also common.
All 15 Keys ( 1 5 6 4 )
Sharp Keys
|G | G | D/F# | Em | C |
|D | D | A/C# | Bm | G |
|A | A | E/G# | F#m | D |
|E | E | B/D# | C#m | A |
|B | B | F#/A# | G#m | E |
|F# | F# | C#/E# | D#m | B |
|C# | C# | G#/B# | A#m | F# |
Flat Keys
|F | F* | C/E | Dm | Bb |
|Bb | Bb | F/A# | Gm | Eb |
|Eb | Eb | Bb/D | Gm | Ab |
|Ab | Ab | Eb/G | Fm | Db |
|Db | Db | Ab/C | Bbm | Gb |
|Gb | Gb | Db/F | Ebm | Cb |
|Cb | Cb | Gb/Bb | Abm | Fb |
Slash Chords
Slash Chords - A slash chord is indication that a chord voicing with the note after the slash should be the bass note of the voicing. In the case of this common 1 5 6 4 progression is creates a descending bass line. On ukulele unless you using a low string four tuning slash chord are commonly ignored and the fundamental chord, the name before the slash are played.
---
Download the lesson's PDF file for the latest, complete and most up-to-date version of the lesson. As well as additional information not presented on-line.
Members and Active Students need to sign-in
to download the premium lesson PDFs for the complete lesson.
Related Books
Related Books for Four Chord Pop Progressions - I V VI IV ( 1 5 6 4 ) at this time.
Related Lesson Series
Related Lessons Series for Four Chord Pop Progressions - I V VI IV ( 1 5 6 4 ) at this time.
Harmonic Analysis for Scale and Chord Selection

Updated: Jan 1, 2003
Harmonic Analysis is the process used to determine the harmonic function of chords within a chord progression or song. A chord progression is defined as a sequence of chords, each chord has a root and is a particular chord type. The relationship of a chord's to a scale determines its function within that scale's tonality.
Related Lesson Files, Resources and Assets
Related Assets for Four Chord Pop Progressions - I V VI IV ( 1 5 6 4 ) at this time.
NOTE: Each higher access level includes ALL the benefits of the lower levels. Private Lessons include all the benefits of a Premium Access Plans as long as you remain a student on the schedule.
Just browsing over both books, they look fantastic! I'm a guitarist and uke player for over 25 years and was thinking about writing a ukulele book but you've already written what I think are the best, most comprehensive and thorough books I've ever seen for the instrument. I just might end up buying every book you've written and I'll be giving my highest recommendation for your books to my friends and students. Thank you so much for taking the time to write such great books! — Peter Rhee
Aloha, Curt, All I can say is WOW! What you have accomplished is simply incredible! All the best — Glen Hirabayashi, The Aloha Boys
Folks, if you haven't stopped by Curt's site, do so right now! ..And get his books, they are fantastic. This guy knows his stuff and is able to pass it along too. — Alan Johnson Proprietor, The 4th Peg
I can highly recommend Curt's Uke books — I have four of them and they are excellent. — fatveg — Portland
Thanks for visiting and checking out the site!

Original Curtie Animation from 1987 for my first web site on a Macintosh II.
33 years ago.
"Built for myself (Curt), and sharing with the `Ukulele community!"
LearningUkulele.com has one of the largest collections of lessons, songs, and TABS, luthiers, ukulele builders, ukulele festival and club information, and, ukulele links on the web. I've been on the ®Internet since the early 1990's and This site just never stops growing!!!
Content is added and updated almost daily - so check back often.