Guitar (applies to `Ukulele also) Fingering and Creativity
This is a guest lesson/article by internationally renowned jazz guitarist and educator <b>Chuck Anderson</b>
Normally, we think of fingering as a technical subject. Using a good and efficient fingering makes sense. It should make anything that you play easier and more dependable. It has value to the reading guitarist because the guitar fingerboard is a treacherous trap of options. The same notes are in too many places. The same C note is on string two, fret one and string three, fret five and string four, fret ten and string five, fret fifteen. Unlike the piano which has one location for each note, the guitar compounds the problem with too many options and then throws in open strings to further confuse the issue. When reading is positional and stays within a four fret region, it's much easier to read. However, writers and arrangers don't attempt to stay within a four fret region of the guitar. They typically do not know or care about the guitar's fingering option issues.
Fingering is organized by a series of motion principles that allow you to connect notes all over the instrument. These principles are: Basic – a four fret span with one finger per fret. Slide – the same finger used twice in a row on the same string at different frets. Pass – a reset of four fret span generally along the same string. It's possible to use the reset principle as you change strings as well. Stretch – the lengthening of the four fret span resulting in a shift into a new four fret span. The stretch can also remain in the original four fret span. Contraction – the opposite of stretch. A contraction shortens the four fret span resulting in a new four fret span. Leap – the repositioning of the four fret span after using an open string. The leap can also be a non connected shift of position.
With an awareness of these principles, you can "work out" a good fingering for any reading situation. This is particularly helpful in reading Bebop heads which were not written with guitar fingering in mind. Although it's a tedious process in the beginning, it does gradually become reflexive.
All these comments and principles apply to improvisation as well. A good guitarist moves smoothly all over the neck. The sound is connective and flowing. Without the application of the six fingering principles, solos are often limited because they suffer from the "box" restriction. Learn the notes on the neck and don't rely on tablature to get you through the maze.
---
Reprinted by permission from Chuck Anderson • www.ChuckAndersonJazzGuitar.com
End of Lesson - Thanks, Hope You Enjoyed It!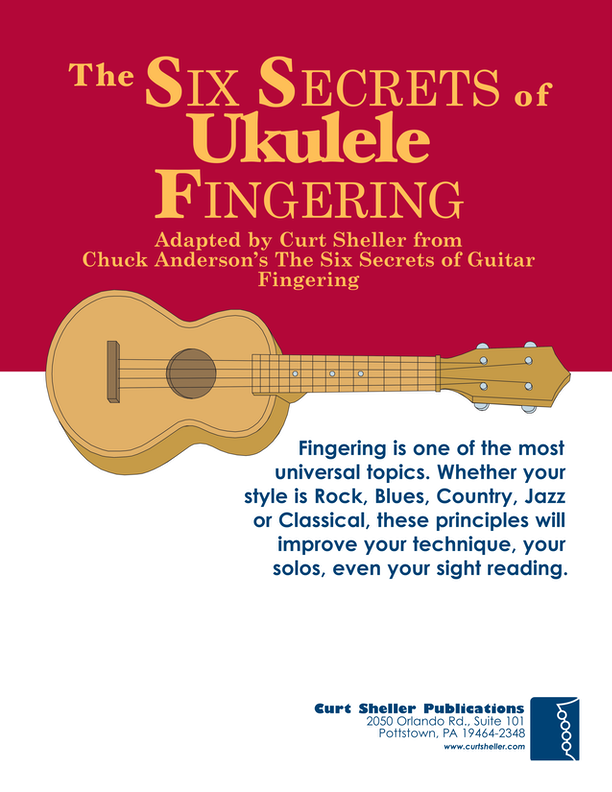 Six Secrets of Ukulele Fingering

Updated: Dec 22, 2020
Learn the six fingering principles to navigating the ukulele fingerboard. Fingering is one of the most universal topics. Whether your style is Rock, Blues, Country, Jazz or Classical, these principles will improve your technique, your solos, even your sight reading. Think of fingering as a series of pathways. When you learn to connect these pathways, there are benefits not only to technique but also to creativity.
QuickStart Scale and Arpeggio Fingering Series
Updated: Jan 1, 2003
QuickStart Scale and Arpeggio Fingering Series are a concise, well-organized series of books and lessons ideal for any ukulele, guitar or fretted string player beginning to explore scales and arpeggios. Unlike so many other instruction books on the market, QuickStart Scale and Arpeggio Fingering Series keeps a sharp focus on the six critical scales, their fingerings and their related chords. All material is covered in every key.
NOTE: Each higher access level includes ALL the benefits of the lower levels. Private Lessons include all the benefits of a Premium Access Plans as long as you remain a student on the schedule.
---
Just browsing over both books, they look fantastic! I'm a guitarist and uke player for over 25 years and was thinking about writing a ukulele book but you've already written what I think are the best, most comprehensive and thorough books I've ever seen for the instrument. I just might end up buying every book you've written and I'll be giving my highest recommendation for your books to my friends and students. Thank you so much for taking the time to write such great books! — Peter Rhee
Aloha, Curt, All I can say is WOW! What you have accomplished is simply incredible! All the best — Glen Hirabayashi, The Aloha Boys
Folks, if you haven't stopped by Curt's site, do so right now! ..And get his books, they are fantastic. This guy knows his stuff and is able to pass it along too. — Alan Johnson Proprietor, The 4th Peg
I can highly recommend Curt's Uke books — I have four of them and they are excellent. — fatveg — Portland
Thanks for visiting and checking out the site!
Original Curtie Animation from 1987 for my first web site on a Macintosh II. 34 years ago. Man, does time fly.
"Built for myself (Curt), and sharing with the `Ukulele community!"
LearningUkulele.com has one of the largest collections of lessons, songs, and TABS, luthiers, ukulele builders, ukulele festival and club information, and, ukulele links on the web. I've been on the ®Internet since the early 1990's and This site just never stops growing!!!
Content is added and updated almost daily - so check back often. I really do need to get out more ;-)