Open position Gm and its movable form and variations.
---
Additional Content Available for Site Members Only
This lesson is a Premium / Gold Member lesson and part of the LearningUkulele.com Site Membership and Study with Curt - On-line and Private Lesson Program. To view additional content for this lesson you'll need to either login, sign-up for a site membership or upgrade your membership level from your user profile.
Login or SignUp to View Complete Lesson
Open Position Chord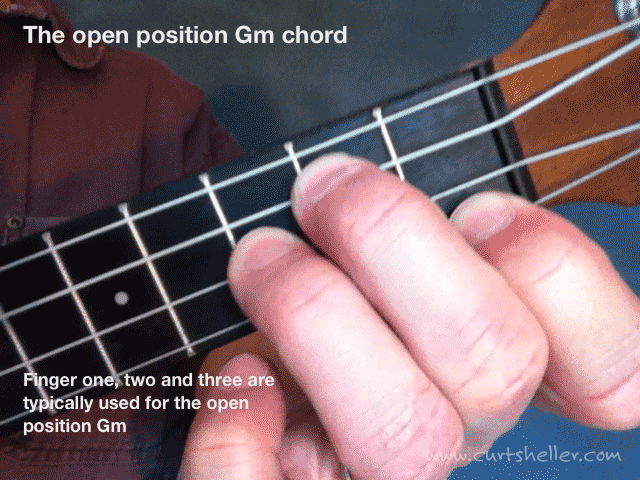 Movable Form Chord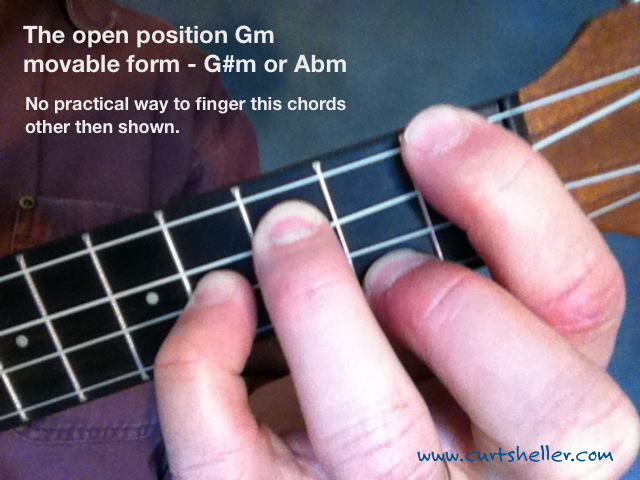 Alternate Fingering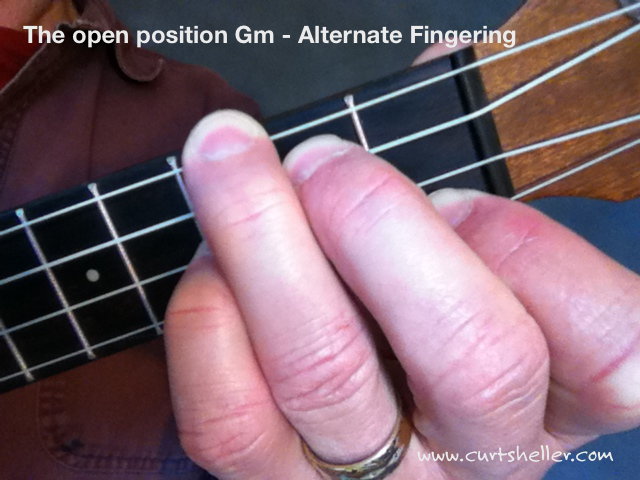 Movable Chord Forms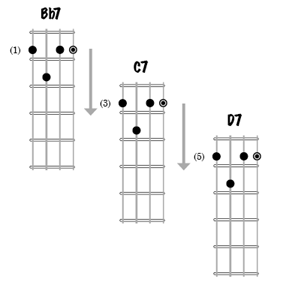 Movable chord forms are chords containing no open strings. These chords are transposable to different keys by moving the chord form the same number of frets up and down the neck.
Each movable form is based on a common open position chord. These movable forms allow you to play chords not found in the open position.
Movable form chords allow you to play in any key and transpose chords, progressions and songs to any key. From basic movable form chords more advanced chords can be created.
The functional range of a movable form chord up the fingerboard of your ukulele depends on the ukulele's size (soprano, concert or tenor), the number of frets to the body (10, 12, 14, etc) and whether you have a cut-away for access to higher frets. Not all chords can be transposed a complete octave (12 frets).
Movable form chords can be used along with open position chords. As you learn more movable form chords you'll have a variety of alternate voicings for any given chord.
Movable form chords can be transposed up and down the fingerboard using the root of the chord and a transposition chart.
Transposing Movable Form Chords

These lessons use the root of a chord to transpose to different keys.
Determine what string the root is on or would be on if not present in the chord's voicing.
Chord Transposition Chart
This transposition chart can be used for any chord where the root, or letter name of the chord is on string G.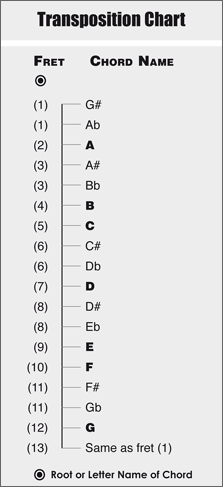 The root is on string 4, the G string.

Use the Root or implied root of the chord to transpose to different keys.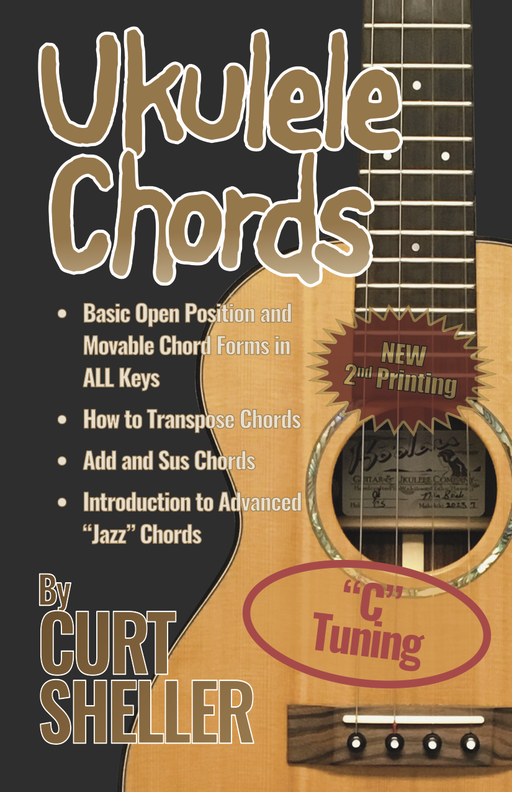 A larger sized transposition chart is available in my book Ukulele Chords. This is the book these chord lessons are based on.
Chord Tones - G Bb D
The chord tones of a G minor ( Gm ) chord are the 1st, flatted 3rd and 5th scale degrees of the G Major Scale ( G A B C D E F# G' ) or G Bb D
1 - the Root or letter name of Gm is G
b3 - the flat third of Gm is Bb
5 - the fifth of Gm is D
---
Relative voicings
The movable form of this chord is a little tough to finger. An alternate voicing of the position ( Gm ). I has the same chord tones in a different voicing. It is also a little easier to finger and transition from one chord to another.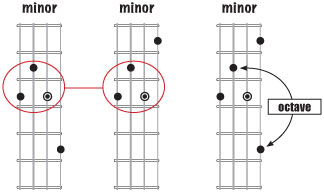 ---
Chord Fingering
Chord fingering is dependent on several factors. The chord your on, the previous chord, the next chord, your hand and fingers. All chord fingerings shown are recommended fingerings and not mandatory. Most chords have alternate fingerings dependent on the context. The same chord might even be fingered one way in one part of a song or progression and an alternate fingering in another part.
---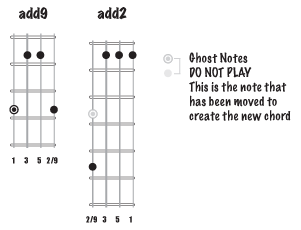 sus or suspended Chords
A sus chord implies the *suspension* of the third of a major, minor or seventh chord. The most common and historical use of this suspension involves raising the third of a major or seventh chord to the fourth for a sus4, or 7sus4. In some contemporary music, the suspension can also be accomplished by lowering the third of a major or minor chord to a second for a sus2 chord.
add2/add9 Chords
Technically the add 2 and add 9 are different chords. Both the 2 and the 9 are the same letters but in different octaves. For all practical purposes, you can treat both the add2 and add9 chords as the same. Depending on whether you are using a low "G" or high "G", C tuning the added ninth might be a second. Whether you call it an add9 or add2 depends on whether the added note is in the same octave as the root of the chord.
Power Five Chords
A Power 5 chord contains the root and fifth of a major scale. With an optional octave of the root added for a three note power 5 chord. A power 5 chord is technically not a chord in the traditional sense but a dyad or interval. It's more of an implied chord sometimes major and sometimes minor.
A a sus or suspension displaces the third of a chord. An Am sus4 or Am sus2 would be the same as the sus4 and sus2 chords in lesson one's A major chord.
---

---
No related lessons for Gm - Open Position and Movable Forms at this time.
No additional assets for Gm - Open Position and Movable Forms at this time.
No related lesson series for Gm - Open Position and Movable Forms at this time.
No related songs for Gm - Open Position and Movable Forms at this time.
No videos for Gm - Open Position and Movable Forms at this time. Filming a lot of videos for various lessons, songs and books.
FREE Plan - A limited selection of basic lessons ( currently over 140 ) and 100+ songs for ukulele as well as basic general music reference material — Completely FREE — Simply Register/Signup to access associated lessons, books, songs and their related assets.
---
NOTE: Each higher membership level includes ALL the benefits of each of the lower levels of membership. The Private Lesson Plans include all the benefits of the Premium Access Plans
Just browsing over both books, they look fantastic! I'm a guitarist and uke player for over 25 years and was thinking about writing a ukulele book but you've already written what I think are the best, most comprehensive and thorough books I've ever seen for the instrument. I just might end up buying every book you've written and I'll be giving my highest recommendation for your books to my friends and students. Thank you so much for taking the time to write such great books! — Peter Rhee
Aloha, Curt, All I can say is WOW! What you have accomplished is simply incredible! All the best — Glen Hirabayashi, The Aloha Boys
Folks, if you haven't stopped by Curt's site, do so right now! ..And get his books, they are fantastic. This guy knows his stuff and is able to pass it along too. — Alan Johnson Proprietor, The 4th Peg
I can highly recommend Curt's Uke books — I have four of them and they are excellent. — fatveg — Portland
Thanks for visiting and checking out the site!

Original Curtie Animation - 1987 for my first web site
31 years ago years ago.
Content is added and updated almost daily - so check back often.
LearningUkulele.com has one of the largest collections of lessons, songs, and TABS, luthiers, ukulele builders, ukulele festival and club information, and, ukulele links on the web. I've been on the ®Internet since the early 1990's and This site just never stops growing!!!