Main Song Download(s)
The main downloads for this Song.
Related Lessons
Related Lessons for QuickStart Blues Playalong Tracks.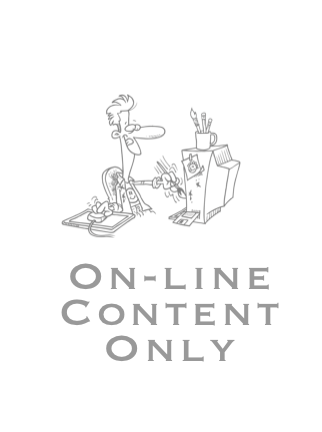 Blues Chord Progressions
Updated: 14 Jul 2022
The twelve bar blues and its many variants use an elongated, three-line form of the I - IV - V chord progression that has also generated countless hit records, including the most significant output of rock and rollers such as Chuck Berry and Little Richard.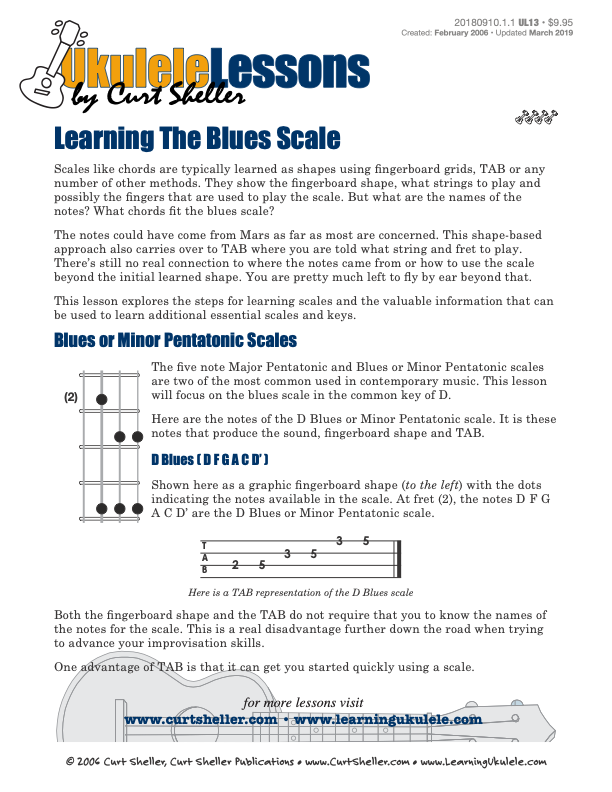 Learning The Blues Scale on `Ukulele
Updated: 12 Feb 2019
Learn the Blues ( Minor Pentatonic ) and Pentatonic ( Major Pentatonic ) scales on ukulele. A practical approach to learning theses two essential scales using the Blues. These five note scales, the Major Pentatonic and the Blues or Minor Pentatonic scales are two of the most common scales used in contemporary music.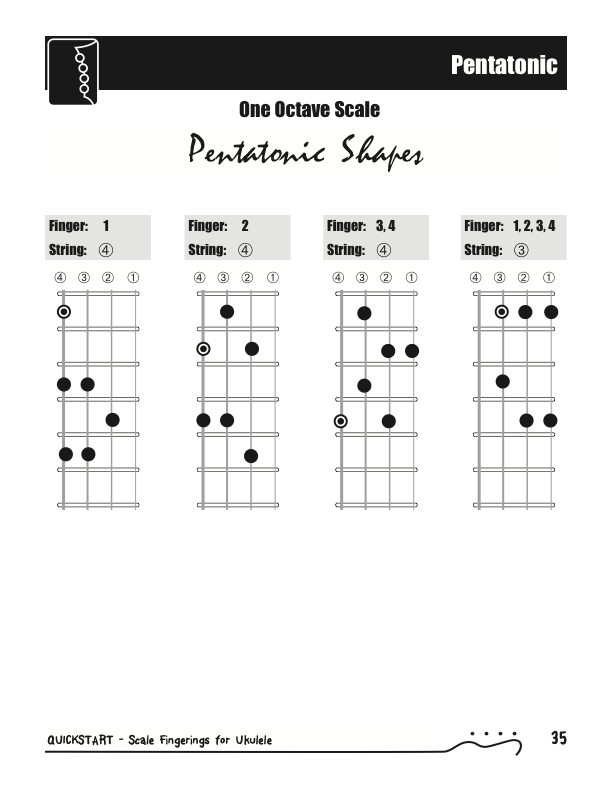 Six Essential Scales - Pentatonic/Major Pentatonic QuickStart Scale Shapes
Updated: 07 Feb 2013
QuickStart scale shapes summary for Pentatonic/Major Pentatonic, one of the six essential scales that every ukulele player should know. The scale formula for this scale, based on the major scale is: 1 2 3 5 6 8`.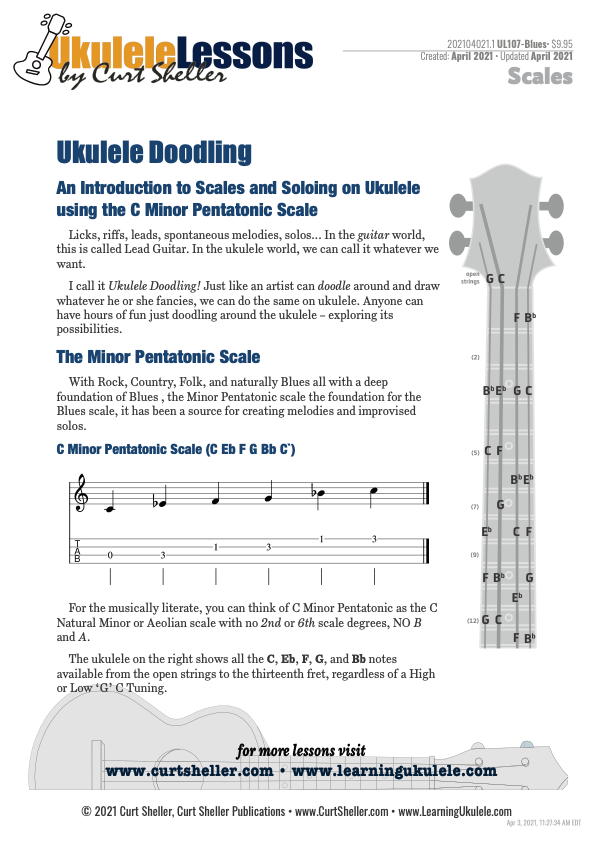 Introduction to Scales and Soloing on `Ukulele - Minor Pentatonic
Updated: 03 Apr 2021
An Introduction to Scales and Soloing on Ukulele using the C Minor Pentatonic Scale. Taking what you might already know and using it in different ways. Exploring the entire ukulele fingerboard. Anyone can have hours of fun just doodling around and exploring the ukulele's possibilities.
Related Lesson Series
Related Lessons Series for QuickStart Blues Playalong Tracks.
Related Songs
Related Songs for QuickStart Blues Playalong Tracks.
Related Books & Charts
Related Books for QuickStart Blues Playalong Tracks.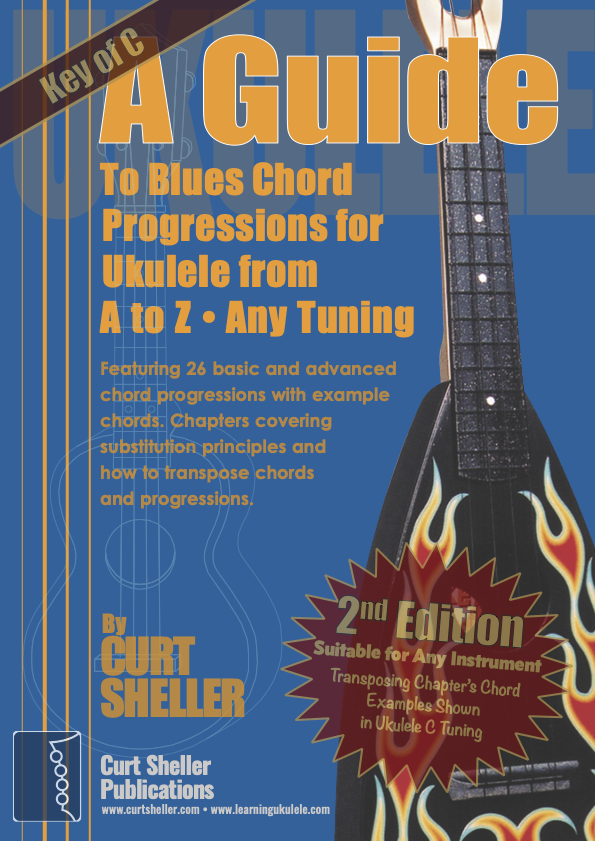 A Guide to Blues Chord Progressions for Ukulele A to Z
Updated: 15 Jun 2006
The Blues are at the heart of all American music. It has influenced Country, Rock, Folk, Jazz, Bluegrass and just about every form of American music we listen to today. 26 blues progression in C and G tuning, progressing from basic to advanced jazz progression, with chord grids and substitutions explained.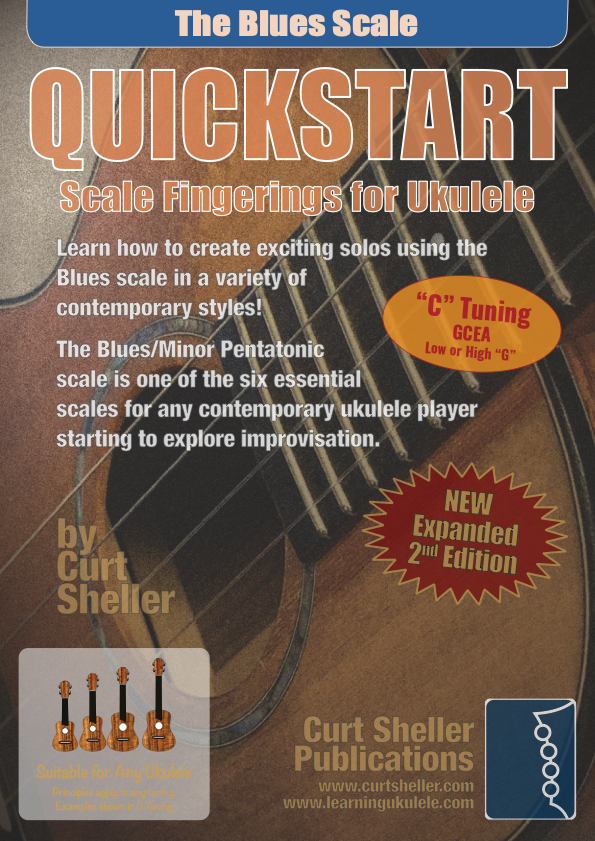 QuickStart Scale Fingerings for Ukulele, C Tuning - Blues Scale
Updated: 08 Jan 2023
The Blues or Minor Pentatonic is one of six essential scales for ALL ukulele players. One octave scale fingering solutions for strings four and three and any finger with the Blues scale chords are covered in all keys. Sample chord progressions for practice are included. Tunings: C with low or high G - (GCEA or gCEA).