Technique
Technique is the manner and degree to which one employs the technical skills of an endeavor.
For ukulele or any instrument that use of the hands, it's the motor skills and the efficient application of the motor skills for the specific musical tasks that are needed and required for performance.
Technique in involves with hands, the fretting hand and the plucking or picking hand. Both hands need to be developed independently and together.
As the ukulele typically doesn't use a pick a strumming and fingerstyle approach is most often used.
Checkout ALL the lessons for:
I've organized the related lessons in to their relevant series:
Ukulele Fingering Gymnastics
End of Lesson - Thanks, Hope You Enjoyed It!
Related Lessons, Videos, Lesson Series, Songs, Books & Reference Charts, Resources & Assets, Workshops are below.
Related Lessons
Related Lessons for Technique.
Related Lesson Series
Related Lessons Series for Technique.
Alternating Thumb Fingerpicking on Ukulele
Updated: 01 Jan 2003
This is the common alternating thumb and two finger strumming style utilizing the thumb, index and middle fingers. Commonly called "Travis" picking in the guitar world. This series of lessons explores and adapts this style to ukulele. Travis Picking is a finger-style made famous by Merle Travis and Chet Atkins. This style is commonly played on steel string acoustic guitars.
Related Songs
Related Songs for Technique.
Related Books & Charts
Related Books for Technique.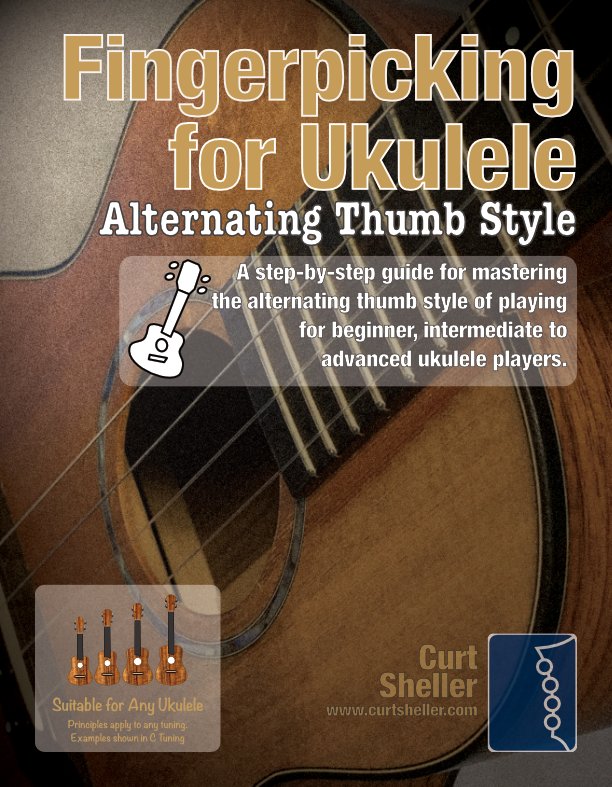 Fingerpicking for Ukulele - Alternating Thumb Style
Updated: 07 Aug 2018
Fingerpicking for Ukulele - Alternating Thumb Style, 2nd Edition is a new expanded edition that focuses on the alternating thumb fingerpicking style through a series of graduated lessons-chapters incorporating your index and middle fingers with the alternating thumb.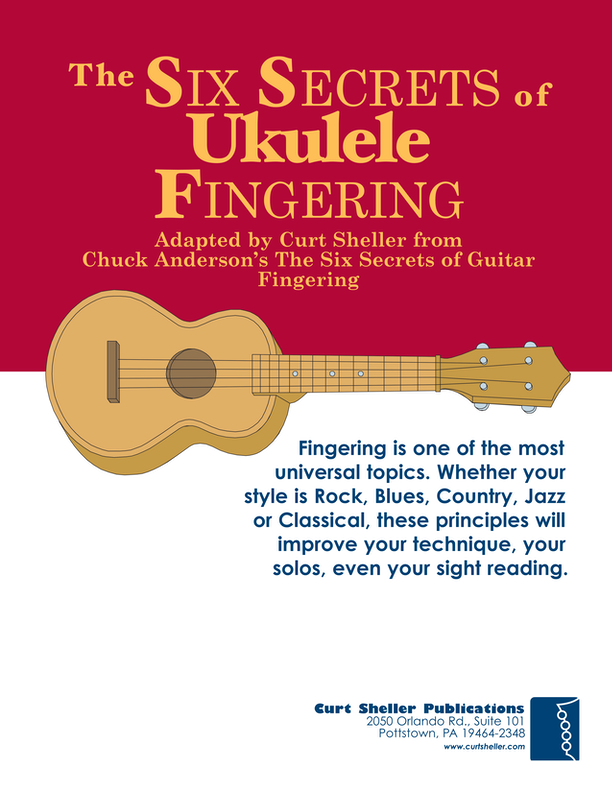 Six Secrets of Ukulele Fingering
Updated: 03 Oct 2022
Learn the six fingering principles to navigating the ukulele fingerboard. Fingering is one of the most universal topics. Whether your style is Rock, Blues, Country, Jazz or Classical, these principles will improve your technique, your solos, even your sight reading. Think of fingering as a series of pathways. When you learn to connect these pathways, there are benefits not only to technique but also to creativity.