USA Teachers and Resources
Ukulele teachers across the USA listed by state.
USA



Hiram Bell
Musicians
Hailama Uke Institute Private lessons are offered for Ukulele, Guitar, Bass, Harmonica and Piano. Class 60 minutes and are available every day between the hours of 9am to 7pm. Lessons are available for all ages, all levels and all styles of music. To schedule a lesson contact Hiram Bell at hikabe@aol.com or call 650 873-1999



Michelle Kiba
Musicians
Michelle Kiba's ability to think big has resulted in an amazing career as a full time ukulele entertainer, recording artist, music educator and music therapist. Michelle first embarked on a creative path as a visual artist, in graphic design. But a repetitive wrist injury forced her to make a drastic career change. Michelle became a certified nursing assistant, earned a teaching credential, and eventually took a job as an Activity Director. It was through her work that Michelle's inner performer found an unlikely outlet.



Fred Sokolow
Musicians
Fred Sokolow is best known as the author of a library of instructional books and DVDs for guitar, banjo, Dobro, mandolin, lap steel and ukulele. There are currently over a hundred and twenty of his books or DVDs in print, sold all over the world. Fred has long been a well-known West Coast multi-string performer and recording artist, particularly on the acoustic music scene. The diverse musical genres covered in his books and DVDs, along with several bluegrass, jazz and rock CDs he has released, demonstrate his mastery of many musical styles. Whether he's playing Delta bottleneck blues, bluegrass or old-time banjo, Hawaiian lap steel, 30s swing guitar or screaming rock solos, he does it with authenticity and passion.



Ukulele Jams
School
Rodney Takahashi was born and raised in Hawaii, on the island of Oahu. Rodney was taught under the direction of the well known Roy Sakuma Studios. Today Rodney has his own little studio in the heart of San Jose's Japan Town. There he teaches with hopes and dreams that the art of playing the ukulele will carry on. "The best feeling an instructor can have is when you hear them play something you've taught.' I am truely blessed to have such great and talented students. Thank you all for making Ukulele Jams what it is today.



Jason Myers
Musicians
I'm a professional musician & instructor in Los Angeles. I was trying to take the survey on your site so I could be one on the recommended teachers, but when I go to check a box nothing happens. I'm currently teaching two uke classes at the Eagle Rock Music Center, and have a solid private guitar & uke instruction practice. I'm looking to make contact with the greater local uke community.



D Ville Jim
Musicians
At age 43 after ten years of trying to memorize banjo tab and then play it back, my wife's grandmother gave me a 70 year old Columbia Hawaiian soprano ukulele that had been in her closet for more than 50 years. To please grandma, I took the uke and bought an instruction book. But I was tired of memorizing music out of books!



Stu Herreid
Musicians
Stu grew up around music: his father, ( see pics) Byron Herreid used to play with Lawrence Welk and Desi Arnez in the 40's and 50's. In 1962, Byron started Herreid Music in Redding, California. Stuâ's very first job (at 8 years old) was to dust all the pianos and organs before he walked to school.


Colorado School of Ukulele
Schools
Growing up in Hawaii, Stuart Yoshida started playing guitar in 1975. In college he studied Mechanical Engineering and also took time to learn music theory. After moving to Colorado, Stuart began performing as a professional musician starting in 1990. While visiting the Big Island in 1999, he commissioned a custom made ukulele from David Gomes. Ever since then, he has been polishing his skills and teaching about the famous "dancing flea." Stuart uses his background as a Six Sigma Process Black Belt to give his students the best possible musical experience. He is one of the finest ukulele players in the state.



Peter W Zaccagnino (Uncle Zac)
Musicians
Uke Teacher in Fairfield County private or group lessons - your location or mine beginner to advanced intermediate - all types of music students 9 yrs old to 82 yrs old ( younger please call ) available for lessons, performances or uke presentations ( especially senior centers - assisted living ) please call 203-219-2230 or e-mail unclezac@aol.com for info & references.



Kimo Hussey
Musicians

As a young boy growing up in Hawaii, ukuleles were all around Kimo. Yet, it wasn't until his Uncle Richard took him under his wing at age 5 that Kimo learned to play and love the ukulele a love that has only grown over time. As Kimo says "Emotion is the key in nurturing ukulele because people around the world enjoy the instrument because it is fun, first and foremost, and therefore provides a moving emotional reward." His music is deliberately slow, a style that he is often sought out for as a teacher and instructor. For Kimo, however, he grew up with this ukulele sound all around me. It was somewhat characteristic to all those local ukulele players to whom I ascribed a ton of respect.



Jody Kamisato
Musicians
Jody Kamisato was born and raised on the island of Oahu. Kamisato began singing with the Honolulu Boy Choir at the age of eight. After graduating from Kaiser High School in 1995, he began his journey into the world of ukulele, learning from ukulele masters Jake Shimabukuro, Troy Fernandez, Peter Moon and Roy Sakuma.


Gallery Kauai, Center for Hawaiian Studies & Performing Arts
Gallery
Gallery Kauai is located in Rochester, New York. It was founded in 2001 by Kumu Victoria Kaiulani Visiko and her husband, Wayne Kimo Knox. Kaiulani has been involved in Hula for over 44 years. She has been influenced by and has studied with several Kumu hula (hula masters) on the Islands. Slack Key Guitar & Ukulele Lessons with Rochester's Kimo Knox



Roy Sakuma
Musicians
Roy Sakuma credits the ukulele, a song and inspirational mentors with helping him turn his young life around after being kicked out of high school. In 1964, when he heard a hit song, "Sushi", by master ukulele virtuoso Herb "Ohta-San" Ohta, he sought him out and became an avid student. Roy wore out the frets of his ukulele, practicing eight to 10 hours a day. At the age of 16 he set out to become the best ukulele player in the world.


Ukulele Grove
Dealers
In each soul, lies our intrinsic essence connected with music…. Here in Hawai'i a special and distinctive musical blending has developed over many years with the 'ukulele. Our vision here at 'Ukulele Essence is to share our unique musical style and knowledge with all those who share in our love for the 'ukulele.



Ukulele Hale
Schools
Ukulele Hale is not just a studio. Ukulele Hale is a place that enriches the lives of students through a fun, positive, personal experience in a relaxing atmosphere. Founded in 2007 by Jody Kamisato, the Kaimuki studio´s mission is to introduce students to music theory, chords, notes, strumming, picking techniques, rhythm, improvisation, and performance skills.



Byron Yasui
Musicians
Byron Yasui has been on the music faculty at the University of Hawai'i in his native Honolulu since 1972, where he teaches music theory, composition, and jazz improvisation. His experiences as a classroom instructor of 'ukulele include workshops at the 'Ukulele Hall of Fame Museum Expositions of 2001, 2002, and 2003 (all on the east coast), the 2004 UkeFestWest in Santa Cruz, California, the 'Ukulele Guild of Hawai'i annual conventions of 2002, 2003, and 2004, countless workshops at the University of Hawai'i Windward Community College since 2002, the Aloha Music Camps of 2004 and 2005 (Moloka'i), and various one day workshops on all of the Hawaiian islands since 2000. Many of these workshops were tied in with his participation as an 'ukulele soloist in concerts at the various venues.



Brad Bordessa
Musicians
Live 'Ukulele (as in living with your 'ukulele, not "Live 'Ukulele" like a concert) was created by two homeschooled students who can't get enough 'ukulele and Hawaiian music. The goal of this site is to provide free tabs, lessons, and advice to all levels of 'ukulele players. Live 'Ukulele is one of the top 10 'ukulele sites in the world



Ohta Herb Jr
Musicians
The 'Ukulele is the best-known Hawaiian instrument. In the 1950's and 60's all the bands had 'ukulele players. Some of the great musicians that made the instrument very popular were: Eddie Kamae, Ohta-san, Lyle Ritz, Don Baduria, Sr., John Lukela, Jesse Kalima, Kahauanu Lake, and Peter Moon.



Old Town School of Folk Music
Schools
Founded in 1957, the Old Town School of Folk Music provides a wide range of music, dance, theater, and visual arts courses to people of all ages, abilities, and backgrounds. Whatever one's interest, the Old Town School provides broad access to more than 700 accredited class offerings, private lessons, and workshops that span an array of artistic genres.


Blue Stone Folk School
Lutherie
Folk Schools have been operating in Scandinavia since the middle of the 19th century. Folk schools developed in during a period of economic and political changes in Europe. The aim of these schools was to give people an opportunity to develop new skills as their agricultural opportunities dwindled and moved to the cities.



West Bend Music
Dealers
West Bend Music prides itself in its diversity in teaching students of all ages. Recent research has found that music uses both sides of the brain, a fact that makes it valuable in all areas of development. Music affects the growth of a child's brain academically, emotionally, physically and spiritually. Learning an instrument helps keep the mind and body active for older adults as well. Our goal at West Bend Music is to bring a community closer together thru the gift of music. All ages are encouraged, it is never too early or too late to chime in. Come join us in the celebration of music that is the human experience.



Nani Lowery
Musicians
Nani Lowery—From Hawaii, for over 40 years, Nani, is a self taught ukulele player. My teaching style three fold:1) listening to learn 2) good chord transition techniques and 3) economy of motion with strumming. To keep students interests, we choose songs that they want to learn besides songs that would help them in their learning. Does not do much music theory. Concentration is for beginner ukulele players through intermediate lessons. Individual and group lessons are available with Nani. She leads the Monthly Maryland Ukulele Jam that meets in Gaithersburg and also leads the Litz Ukulele Club.



New York Ukulele School
Schools
The New York Ukulele School was started in 2007 by Mark Michaels, a musician and music educator with over 25 years of experience. Equally adept on ukulele, guitar and bass in pop, rock, blues, folk, jazz, and country, Mark has been involved in music education since the 70's, and was instrumental in developing online instruction for guitar and piano in the '90s. Mark has been featured in Newsday, Billboard, The Hartford Courant and Variety, leading the life of a journeyman musician, from accompanying blues great Freddie King at 20 years of age to playing with Madonna in the early days of her career to playing folk great Phil Ochs' guitarist in the film "Chords of Fame." He also produced and composed the #12 hit dance single in 1979, "Umbrella Man," which Billboard magazine called "sharp…concise…a mastermind." The New York Ukulele School offers instruction in all styles of ukulele.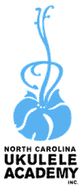 North Carolina Ukulele Academy
Dealers
Instructor Kent Knorr enjoys expanding his students' cultural horizons by blending lively music instruction with the history of the ukulele and an understanding of the concept of Aloha We teach the ukulele to inspire creative expression. To open minds. To plant the seed of lifelong learning. And to share with everyone the exhilaration of playing music. Our program gives all ages the power to make music. We teach the skills that open the door to improvisation, ease of playing and the confidence to play for others. And it's all with the ukulele, one of the easiest stringed instruments to learn and play.



Marianne Brogan
Musicians
Marianne Brogan has been teaching for 8 years and specializes in beginners of all ages, private lessons & group instruction offered. Marianne travels with loaner ukuleles and teaches regularly at music camps, senior centers and group events. Is there a music lover inside of you yearning for expression? Consider the ukulele, instrument of liberation! Learn the joys of ukulele playing with the founder of Portland's Ukulele Association, Marianne Brogan.



James Clem
Musicians
As a teenager learning the guitar in the suburbs of Los Angeles, James became interested in blues around 1966; while listening to many of the great originals such as Bukka White, Lightnin' Hopkins, Mance Lipscomb and Johnny Shines, at the Ash Grove folk club in L.A. He formed one of the city's first blues bands, playing a primitive Hubert Sumlin-style lead, and slide guitar in a Muddy Waters/Elmore James vein.



Curt Sheller
Musicians
As an author and published I created Curt Sheller Publications in 1998 as a small pubishing company catering to the needs of musicians, guitar players and ukulele players worldwide. Curt Sheller Publications provides for the resources and information to develop as a musician. Curt Sheller has over 40 years of playing experience, 20 plus years of teaching experience and publishing for over 10 years.



Uke Lady Music
Musicians
Noel Tardy is a lifelong music lover. She played and sang in elementary, junior and senior high school band, orchestra and chorus prior to attending Texas Woman's University as music major. In addition to her major emphasis of classical guitar, she was awarded a stage band music scholarship for her work with the TWU Serenaders as a guitar and bass player. ( Sadly Noel Tardy passed a way in 2017-11-17 )



Kevin Carroll
Musicians
Kevin Carroll is a certified State of Texas Elementary Educator, instructs at ukulele workshops internationally, is a performing and recording artist, and teaches both private and group music lessons to all ages and levels in Austin, TX. He has launched a ukulele-based music education charity called edUKEcation.org which brings lessons and instruments to schools and students with limited resources. Equally passionate about music, education and ukulele, Kevin seeks to inspire and empower students to exercise their birthright of making music. Kevin has recently completed his third and final year of course study in the James Hill Ukulele Initiative Teacher Certification Program. This training has served to make Ukulele in the classroom a popular and successful learning approach in Austin.



Joyce Flaugher
Musicians
Have loved music and dance all my life. Enjoy all kinds of music, but my favorite is Hawaiian. I have been playing and teaching ukulele since 1985. I plunk at piano for my own amazement and have taken private and class lessons on that instrument. I am a closet percussionist and recently began playing simple tunes on harmonica. I have taken steel guitar lessons, but haven't made time to practice. I am a songwriter and enjoy the creative process. I also dance and teach hula, which may explain why I don't have time to practice music. ;-)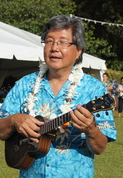 Glen Hirabayashi
Musicians
Uncle Glen was born a long time ago on O'ahu. His family lived in Lanikai at first, but moved to a tiny house with a huge yard on the beach in Kailua with 100 coconut trees lining the driveway. He then moved to Kaua'i when he was in the second grade. He lived in Kilauea, Kaumakani, Kekaha, and Waimea on Kaua'i and spent a lot of time in a family cabin in Koke'e. His first musical instrument was the ukulele. Charlie Kaneyama used to come to the elementary schools on the west side of Kaua'i after school to teach ukulele. He remembers listening to the kanikapila sessions under the hau tree near Poipu Beach on Sundays. He didn't play much Hawai'ian music until he arrived on the East Coast the second time. He then really started playing a lot when his kids starting dancing hula with Halau O 'Aulani. That's where the Aloha Boys were born. Glen has been in the Washington, D.C.area (this time) since 1986. His wife, Donna, and two daughters, Ashley Hokunani Spaulding and Amy Melenani, support his Aloha Boys habit. Ashley is a graduate of Virginia Tech and resident of Dallas, Texas. Amy is a recent graduate of Virginia Tech and is traveling the world with Adventures in Mission. Hokunani and Melenani dance the hula for Aloha Boys performances whenever possible. With mixed emotions, Glen retired as an attorney for the U.S. Tax Court in 2012.
NOTE: Each higher access level includes ALL the benefits of the lower levels. Private Lessons include all the benefits of a Premium Access Plans as long as you remain a student on on the schedule.
Just browsing over both books, they look fantastic! I'm a guitarist and uke player for over 25 years and was thinking about writing a ukulele book but you've already written what I think are the best, most comprehensive and thorough books I've ever seen for the instrument. I just might end up buying every book you've written and I'll be giving my highest recommendation for your books to my friends and students. Thank you so much for taking the time to write such great books! — Peter Rhee
Aloha, Curt, All I can say is WOW! What you have accomplished is simply incredible! All the best — Glen Hirabayashi, The Aloha Boys
Folks, if you haven't stopped by Curt's site, do so right now! ..And get his books, they are fantastic. This guy knows his stuff and is able to pass it along too. — Alan Johnson Proprietor, The 4th Peg
I can highly recommend Curt's Uke books — I have four of them and they are excellent. — fatveg — Portland
Thanks for visiting and checking out the site!

Original Curtie Animation from 1987 for my first web site on a Macintosh II.
33 years ago.
"Built for myself (Curt), and sharing with the `Ukulele community!"
LearningUkulele.com has one of the largest collections of lessons, songs, and TABS, luthiers, ukulele builders, ukulele festival and club information, and, ukulele links on the web. I've been on the ®Internet since the early 1990's and This site just never stops growing!!!
Content is added and updated almost daily - so check back often.