Navigating the C Major Scale
Every Finger, Every String
PUBLISHED: Sep 19, 2018 UPDATED: Feb 4, 2019 • VIEWS: 70 • LESSON CODE: UL6SUF-CMaj •
Instruments: ukulele Subjects: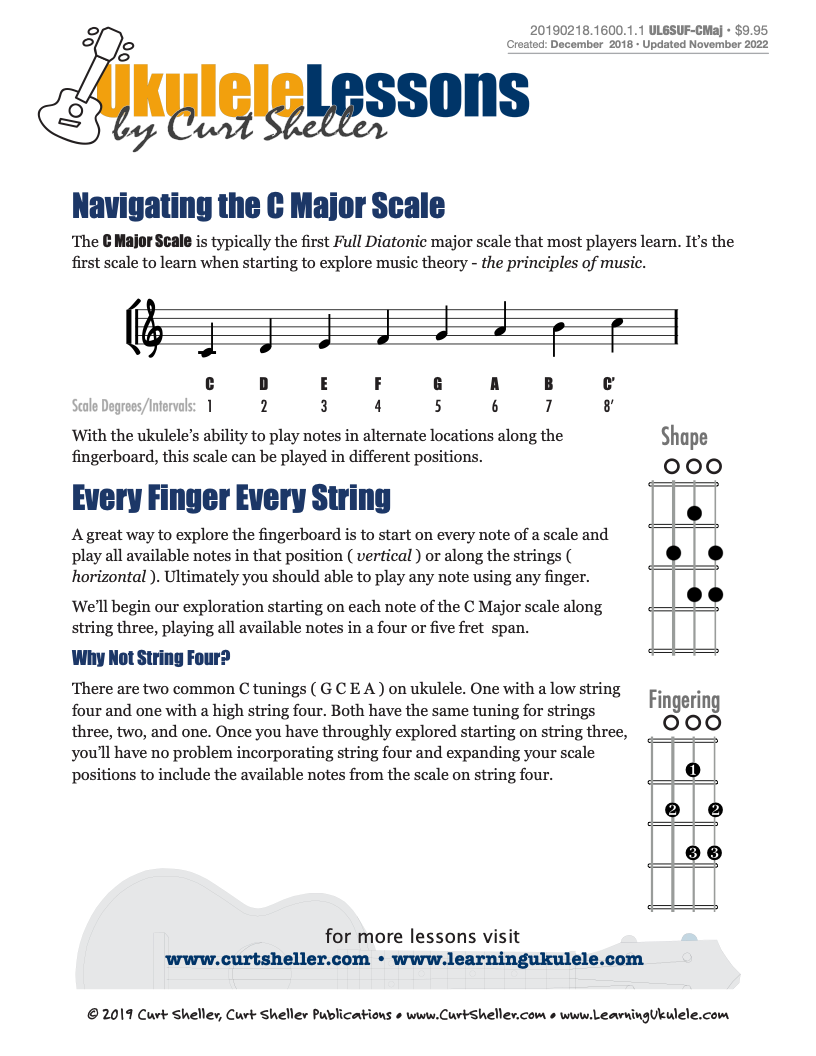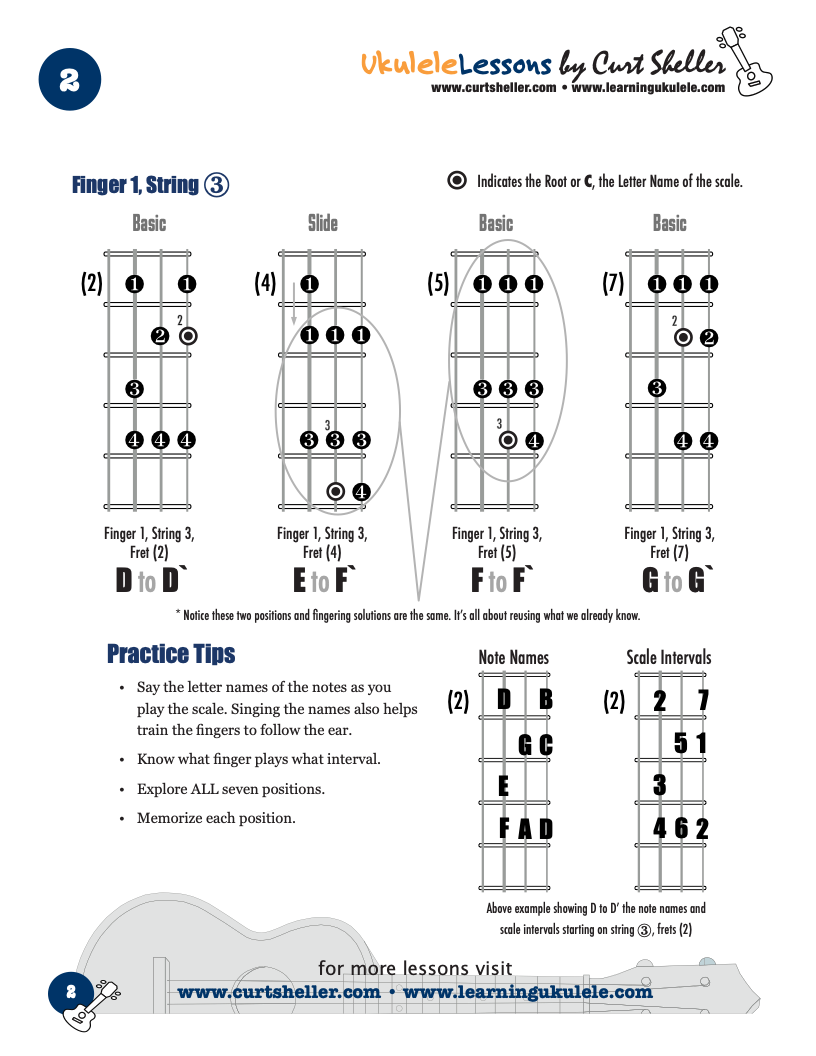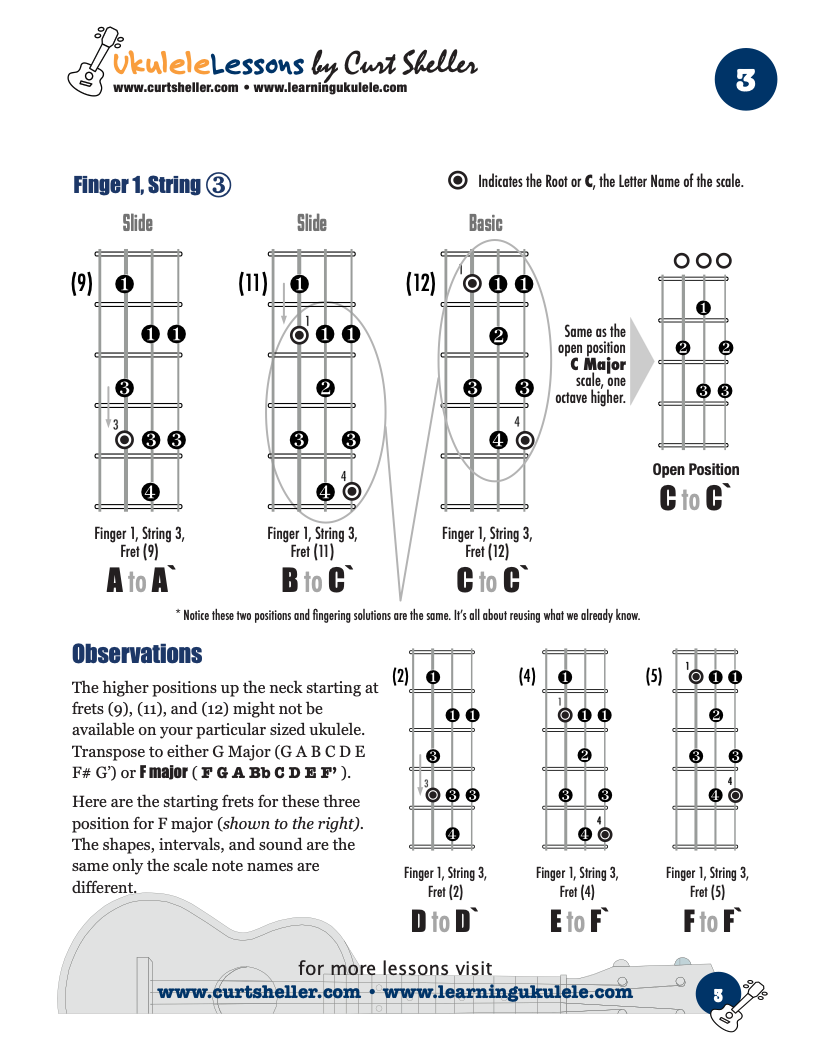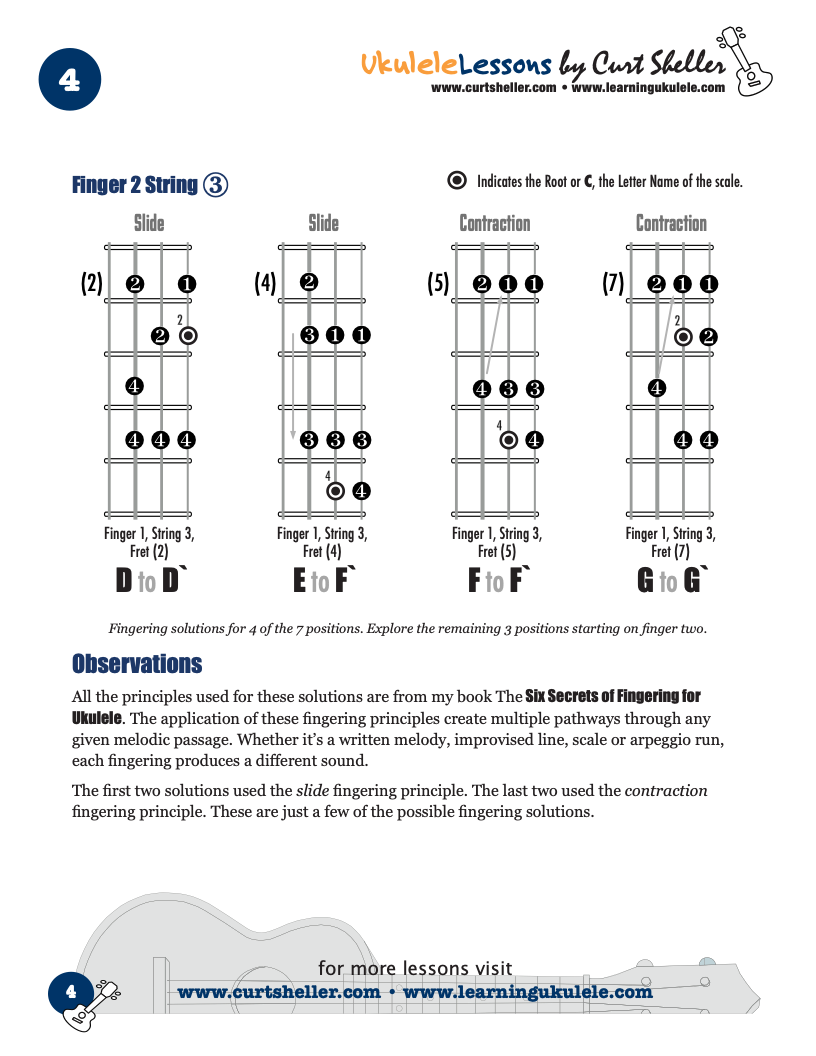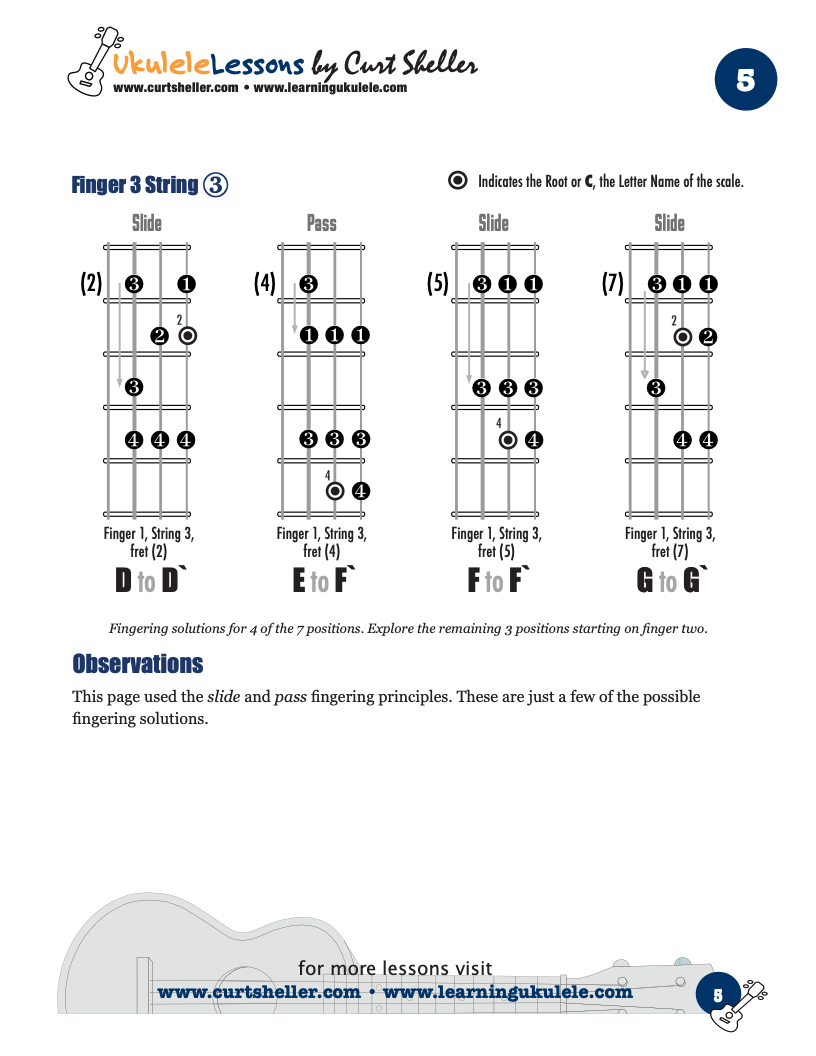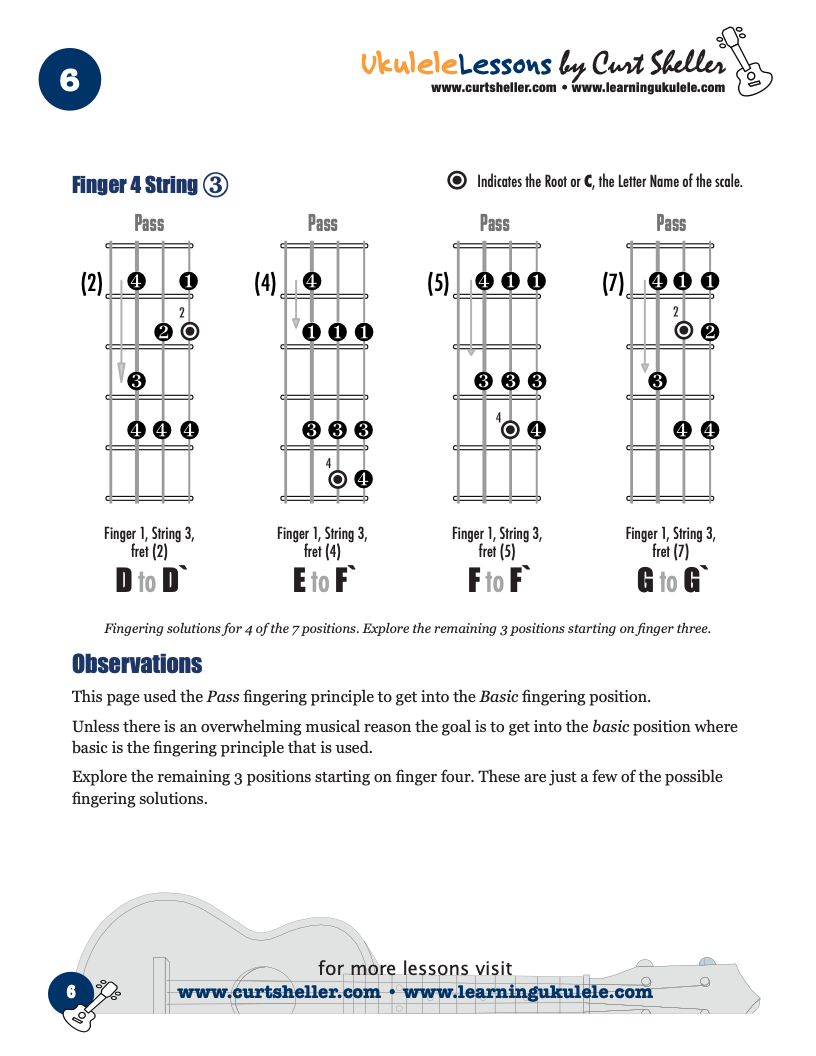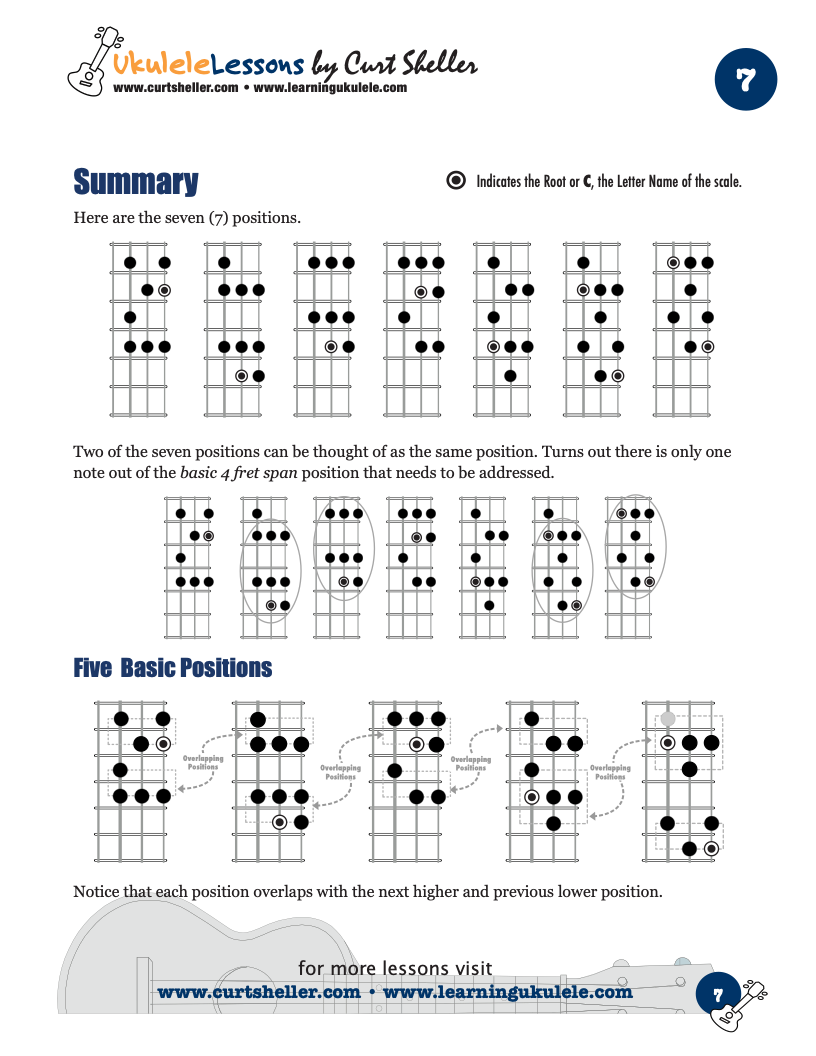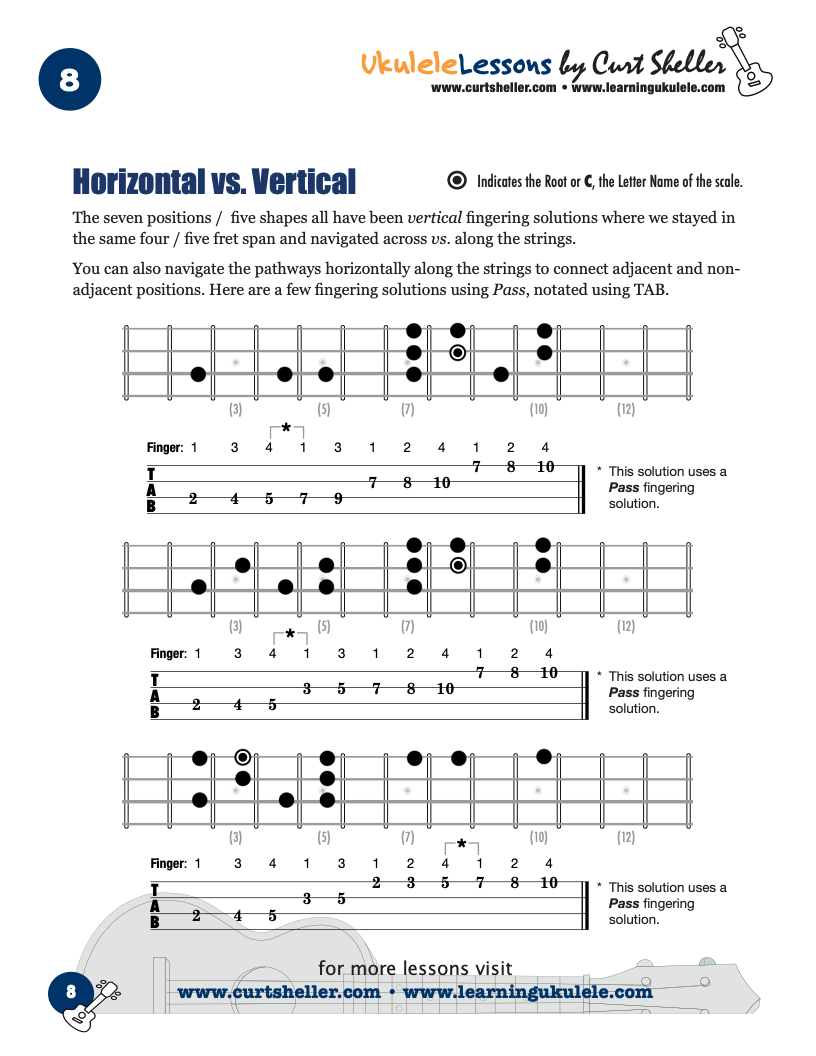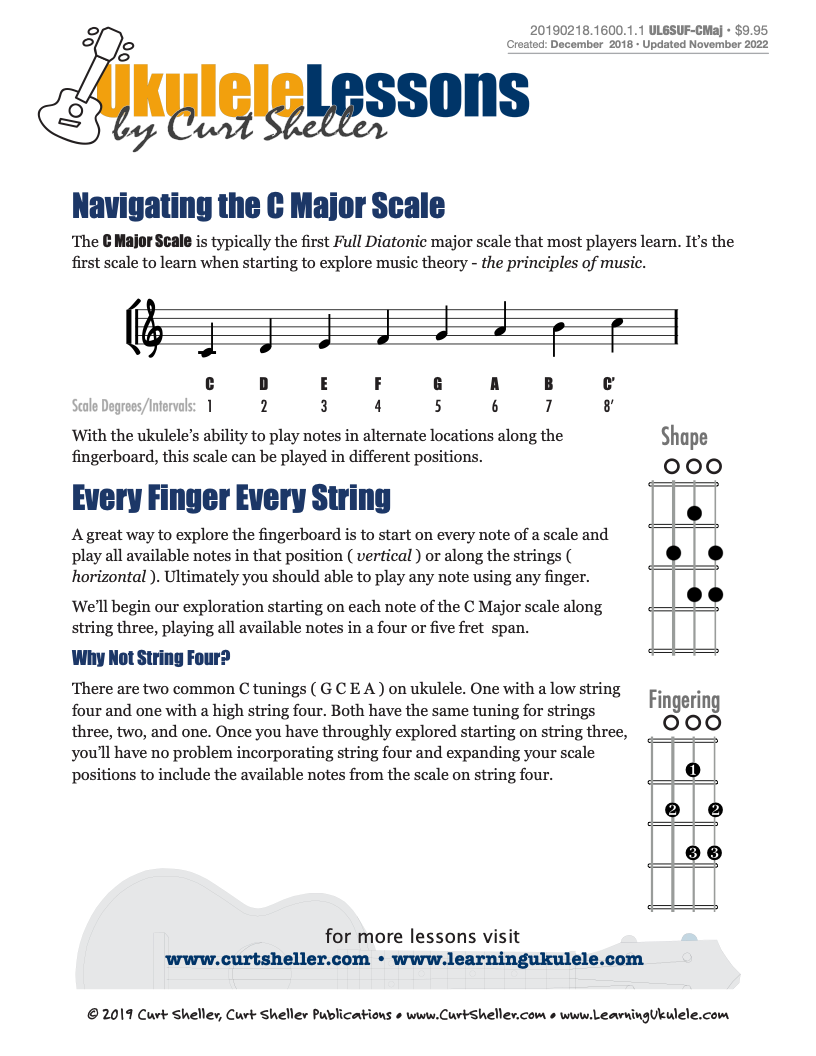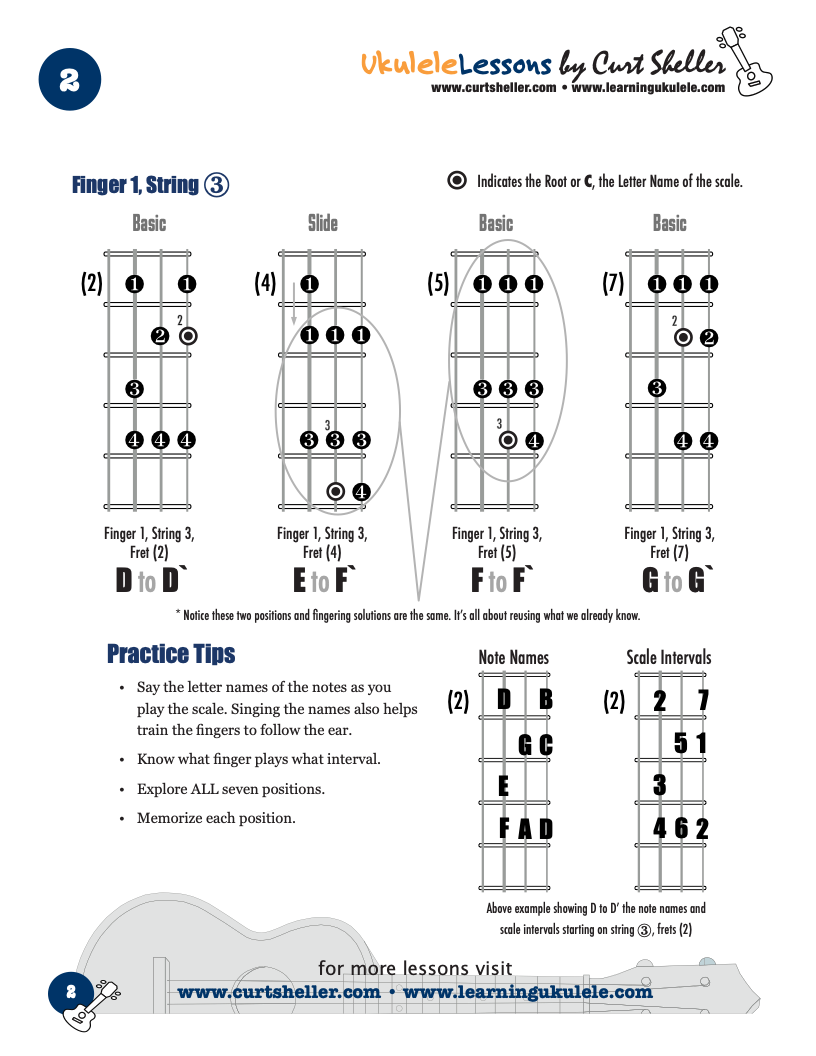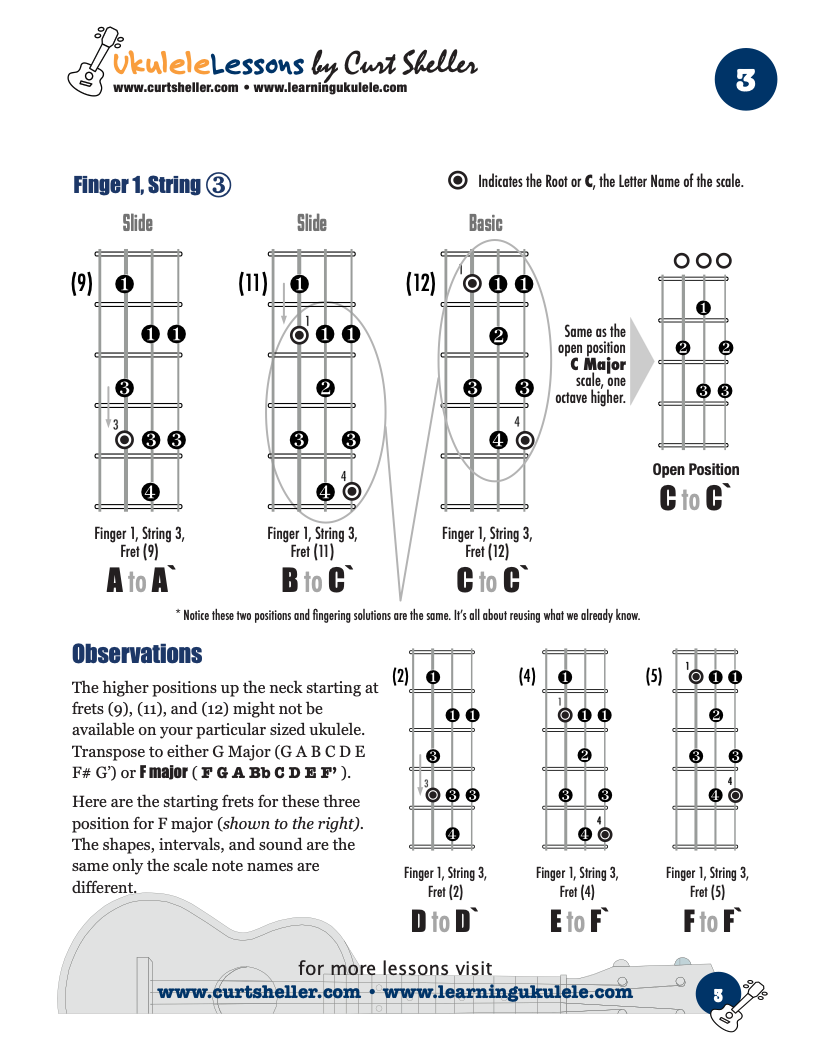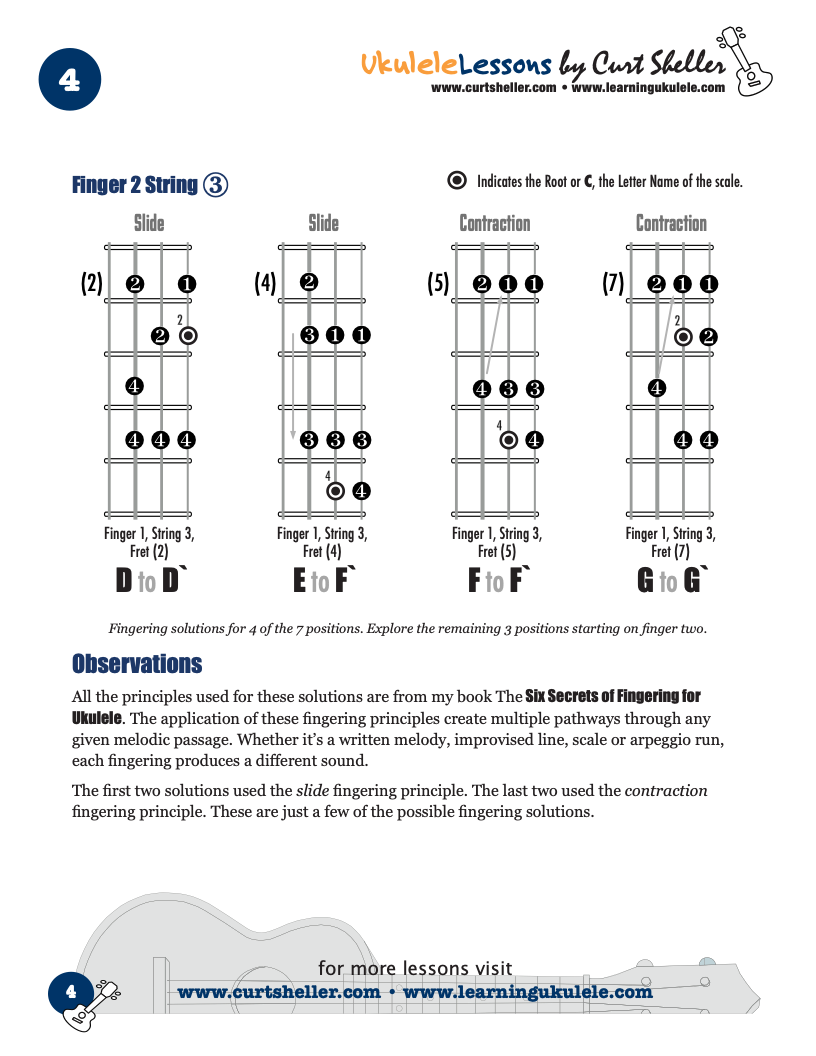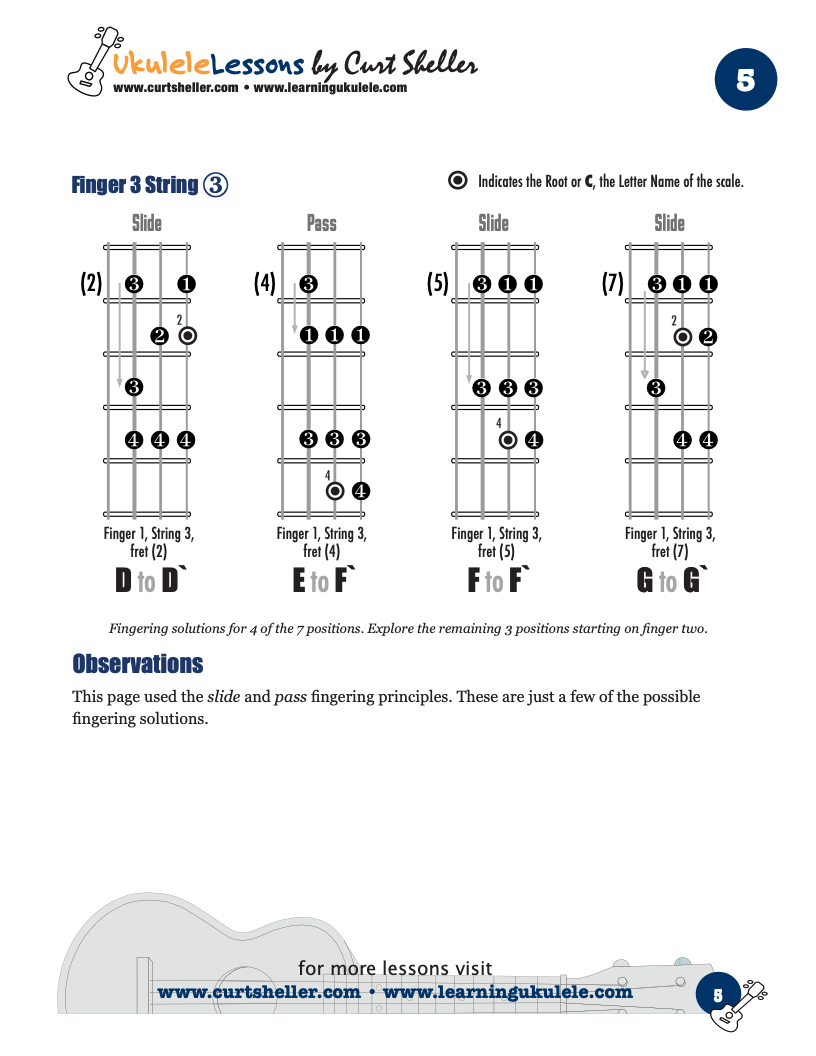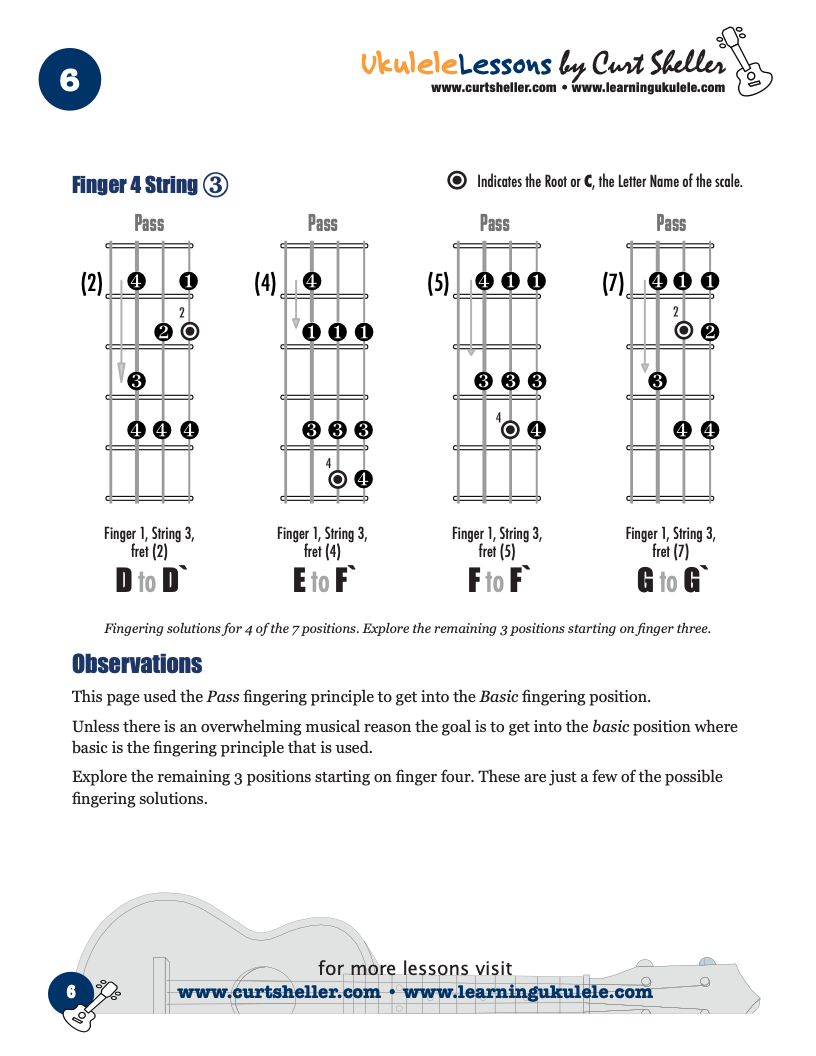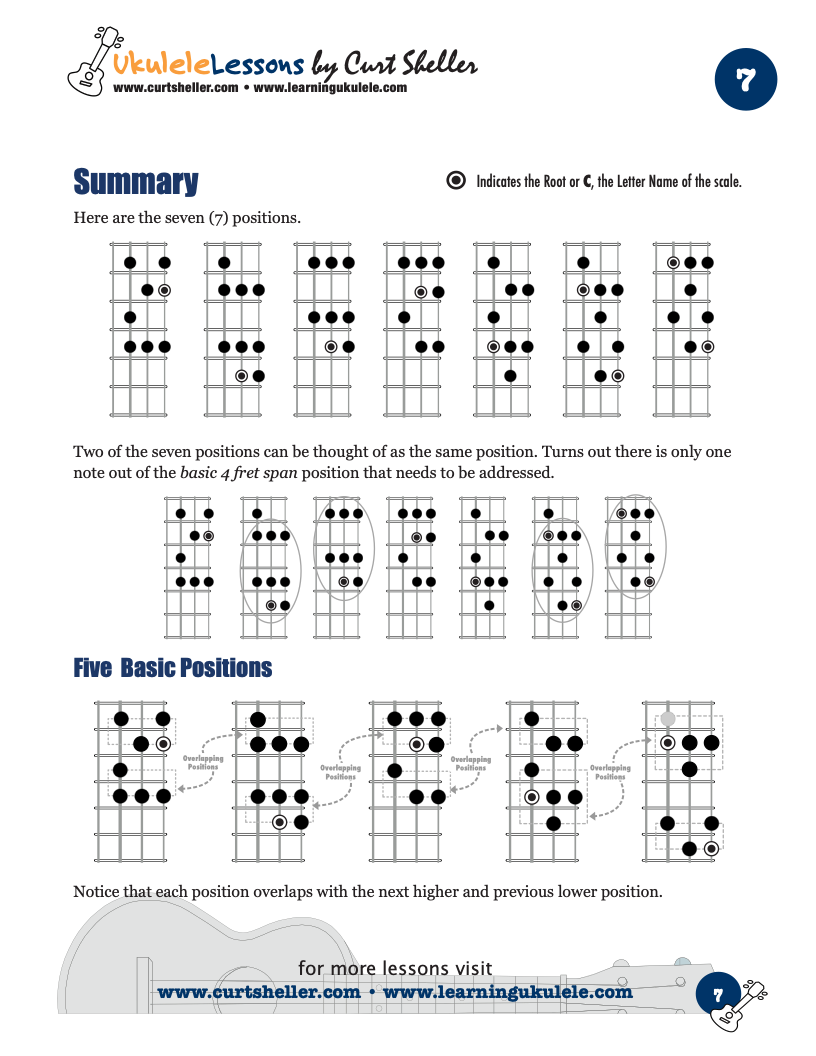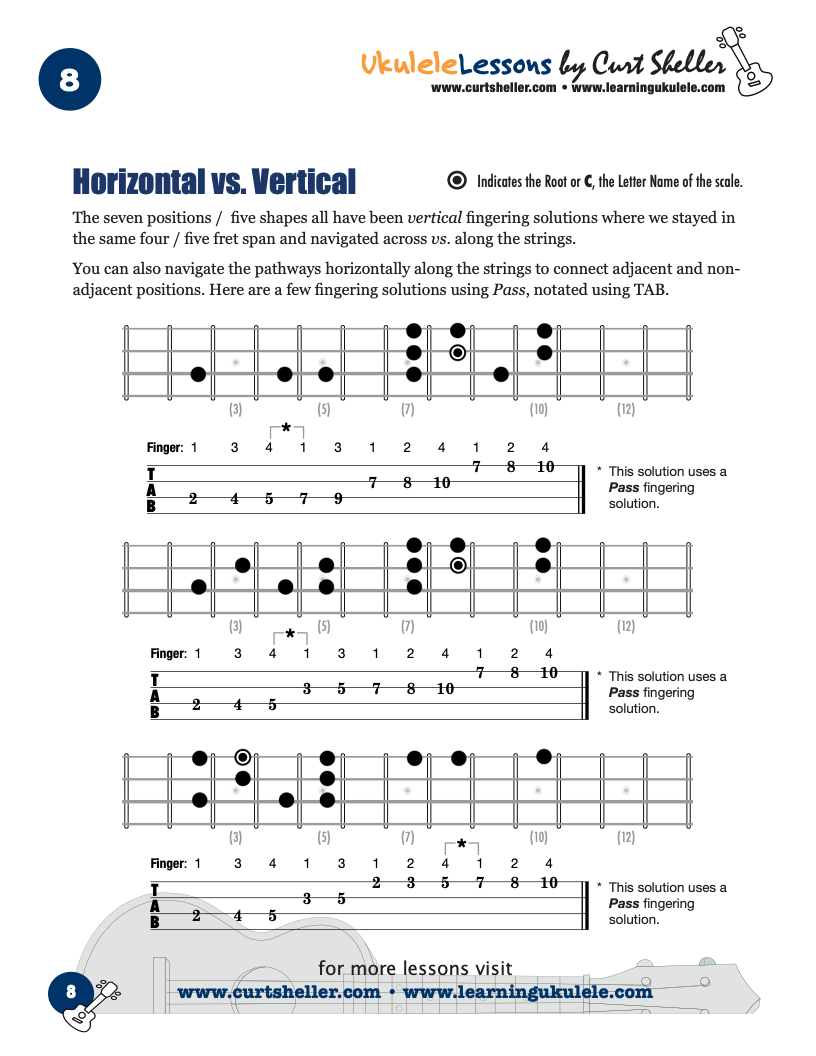 All 8 sample page(s) are viewable on-line.
To view the pages at a larger size you can resize the browser window smaller to a tablet or phone size and the pages will magically grow larger. If you are a registered member and have the correct permissions.
This Download is NOT part of your LearningUkulele.com membership level. Sign-up for a Site Access or Upgrade your current access level to download this PDF or your can purchase a copy for download.
Each PDF file is a formatted high resolution file that prints out great. You'll need Adobe Reader or a PDF viewing application to view your PDF file.
Navigating the C Major Scale
Navigating the C Major Scale
The C Major Scale is typically the first Full Diatonic major scale that most players learn. It's the first scale to learn when stating to explore music theory - the principles of music.
With the ukulele's ability to play notes in alternate locations along the fingerboard this scale can be played in different positions.
Every Finger Every String
Ultimately you should able to play any note using any finger. A great way to explore the fingerboard is to start on every note of a scale and play all available notes in that position ( vertical ) or along the strings ( horizontal ).
We'll start our exploration using the C major scale and starting on each note of the scale along string three , playing all available notes in a four or five fret span.
End of Lesson - Thanks, Hope You Enjoyed It!
Download the lesson's PDF file for the latest, complete and most up-to-date version of the lesson. As well as additional information not presented on-line.
Members and Active Students need to sign-in
to download the premium lesson PDFs for the complete lesson.
Related Lessons
Related Lessons for Navigating the C Major Scale at this time.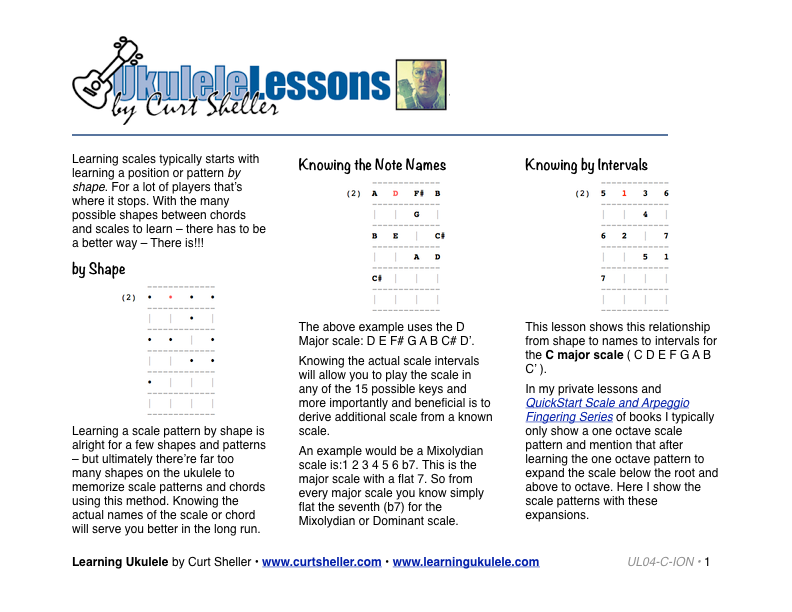 Essential C Major Scale Patterns for `Ukulele
• Updated: Feb 24, 2014
Essential C Major scale patterns for ukulele.
Learning scales typically starts with learning a position or pattern by shape. For a lot of players that's where it stops. With the many possible shapes between chords and scales to learn - there has to be a better way - There is!!!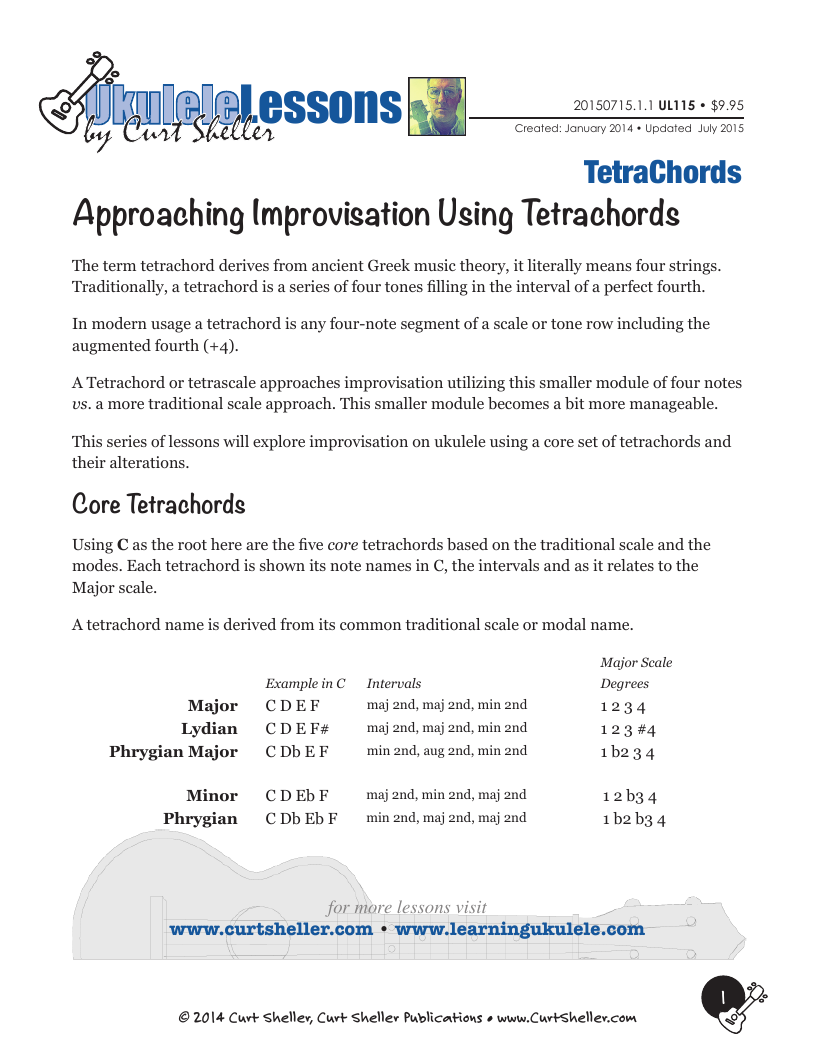 Exploring Improvisation on `Ukulele Using Tetrachords
• Updated: Jan 12, 2014
Traditionally, a "Tetrachord" is a series of four tones filling in the interval of a perfect fourth. In modern usage a tetrachord is any four-note segment of a scale or tone row including the augmented fourth (+4). The term tetrachord derives from ancient Greek music theory, it literally means four strings.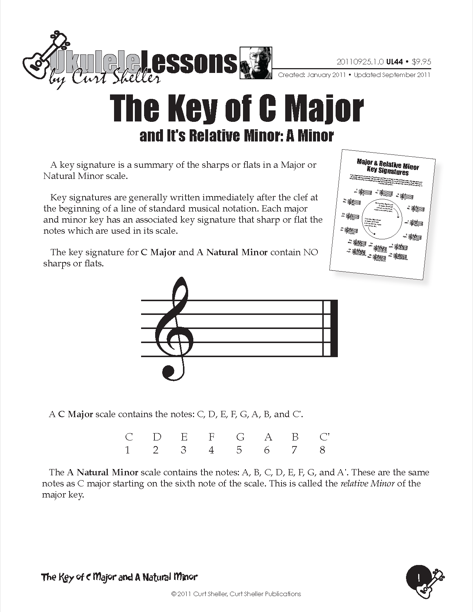 Key Signatures - C Major and A Minor
• Updated: Sep 21, 2011
Learn the recognize the key signature for C Major and A Minor. Learn their corresponding Major and Natural Minor scales with basic ukulele chords for each scale. Sometimes called the learning key, the key of C Major is one of the easiest keys to memorize and begin using.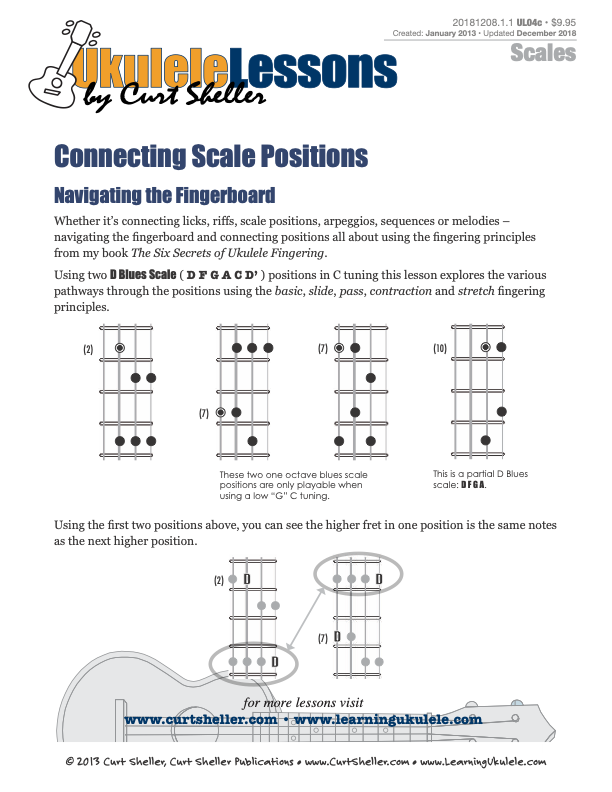 Connecting Scale Positions on `Ukulele
• Updated: Dec 8, 2018
Whether it's connecting licks, riffs, scale positions, arpeggios, sequences or melodies – navigating the fingerboard and connecting the various positions - it's all about using sound fingering principles. I've adapted Chuck Anderson's, The Six Secrets of Guitar Fingering to the ukulele in my book The Six Secrets of Ukulele Fingering. It's from these six fingering principles that connecting positions and navigating the multitude of possible pathways on the ukulele can become second nature.
Related Books
Related Books for Navigating the C Major Scale at this time.
Related Songs
Related Songs for Navigating the C Major Scale at this time.
Related Lesson Series
Related Lessons Series for Navigating the C Major Scale at this time.
NOTE: Each higher access level includes ALL the benefits of the lower levels. Private Lessons include all the benefits of a Premium Access Plans as long as you remain a student on the schedule.
Just browsing over both books, they look fantastic! I'm a guitarist and uke player for over 25 years and was thinking about writing a ukulele book but you've already written what I think are the best, most comprehensive and thorough books I've ever seen for the instrument. I just might end up buying every book you've written and I'll be giving my highest recommendation for your books to my friends and students. Thank you so much for taking the time to write such great books! — Peter Rhee
Aloha, Curt, All I can say is WOW! What you have accomplished is simply incredible! All the best — Glen Hirabayashi, The Aloha Boys
Folks, if you haven't stopped by Curt's site, do so right now! ..And get his books, they are fantastic. This guy knows his stuff and is able to pass it along too. — Alan Johnson Proprietor, The 4th Peg
I can highly recommend Curt's Uke books — I have four of them and they are excellent. — fatveg — Portland
Thanks for visiting and checking out the site!

Original Curtie Animation from 1987 for my first web site on a Macintosh II.
34 years ago.
"Built for myself (Curt), and sharing with the `Ukulele community!"
LearningUkulele.com has one of the largest collections of lessons, songs, and TABS, luthiers, ukulele builders, ukulele festival and club information, and, ukulele links on the web. I've been on the ®Internet since the early 1990's and This site just never stops growing!!!
Content is added and updated almost daily - so check back often.